Complex visions require creative solutions and Valet Custom Cabinets & Closets prides itself in providing exceptional designs tailored to each specific space and then delivering them with superior craftsmanship and service.
When fighting for every inch of space, a cookie-cutter solution just won't meet the mark. Homeowners trust Valet to design fully integrated and customized wall-to-wall space enhancement solutions that take advantage of the layout of any room. You can forget the headache of trying to select parts or pieces for a modular system that limits you to standardized sizes and shapes. Custom built-in cabinetry can create efficiency despite any quirks or obstructions in the room and impart visual harmony to any previously cluttered or crowded area. Valet's straightforward process makes an art of totally transforming your unique space with an equally unique and elegant solution.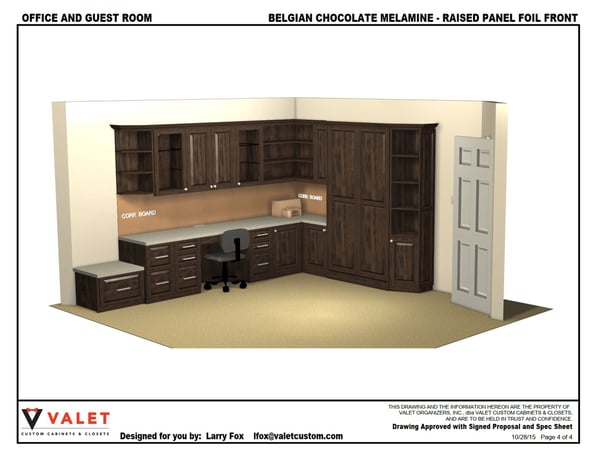 The advantages of custom-designed cabinetry are well demonstrated in this home office and guest room combination installed in a Danville home. Watch our video below to see the start to finish transformation of this room in only two days. Our design is all about maximizing as many functions and features as possible within the footprint of the available space; however, you'd never guess that utility was the priority when looking at it. It seems tailored for luxury, with a rich Belgian Chocolate laminate finish, raised panel door and drawer fronts, and display cabinets with glass inset doors and accent lighting. A paper shredder is neatly concealed on a roll out shelf within one of the base cabinets, and what appears to be tall wardrobe doors actually pull down a wall bed. These details serve to not only enhance the space visually, but functionally as well.
Other companies might have simply cut off the cabinetry before the window, but not Valet! The addition of a small bench beneath it serves as a place where a friend or family member could comfortably sit and converse with someone working at the desk. And within the bench is lateral file storage, so not a single inch of possible space goes unutilized. By seeking out a custom solution for this hybrid space, the clients had no need to compromise on style or on functionality. They were able to create a solution that was not only beautiful to look at, but had enough features to make it both a productive work space and a comfortable guest room. If you're seeking a company who prides themselves on award-winning design and service, please reach out to Valet for a complimentary consultation. We'd love to show you how custom design can transform your space.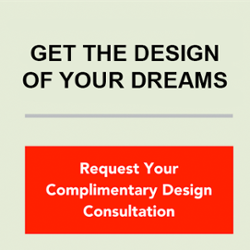 ---
Valet Custom Cabinets & Closets designs, manufactures and installs custom organizational solutions that enhance the functionality of your living space while complementing the décor of your home.
Our talented design team creates unique solutions tailored to your specific needs, style, and budget. We are independently owned and a direct manufacturer.
Our areas of specialty include Home Offices, Wall Beds, Media Centers, Closets, Pantries, Garage Cabinetry, and much more.
Exceptionally Designed & Styled * Expertly Crafted with 5-Star Execution
---
About Larry Fox, President
Larry is a graduate of the University of Southern California School Of Business. After receiving his degree he returned to the Bay Area and spent 18 years working in his family's 100+ year old metals recycling business. Upon the sale of that business in 2000, Larry and his wife Audrey purchased Valet. Larry has become a leader in the industry and is a past president of the National Closet Group. Larry loves turning people's dreams into reality, and remains as enthusiastic about the business today as he was when he first acquired it.
This post was written in collaboration with Sierra Nichols, Valet's Showroom Coordinator.