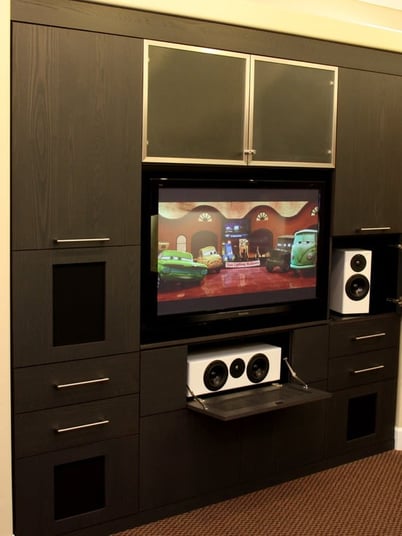 A modern, elegant media center uses
premium wood veneer in midnight ash to hide speakers
and other equipment and to provide storage.
Image Source: Valet Custom Cabinets & Closets
Driving around in Pleasanton, you notice a few things. First of all, it's a great place for families, as all the people leisurely walking down Main Street let us know. USA Today even says it is the 4th-best place to live in the country (though residents might question why it's not first). The second thing you notice is that construction of new houses is a booming business. Pleasanton homes tend to be roomy, with 3-and-4 bedroom homes having more square footage than the national average. Houses that size need a center, a focal point for family and friends. For many, and especially for families in Pleasanton, that choice is the room with the media center. It's where you gather to watch TV, and where the kids can play video games, or watch a documentary that helps them with their homework. It's a room that's going to get a lot of use, and it's important to get it right. Given that media alcoves in newly constructed homes range from 48-96" wide, finding furniture pieces to fit properly can be difficult, even if the space is already fully wired for power, internet and television. That makes custom cabinetry the perfect solution.
That's where a custom luxury media center comes in. For such an important room, you need an entertainment setup that's both beautiful and functional. This happens through a collaboration between the homeowner and the cabinet maker to make sure that what you end up with is exactly what you want. When designed and crafted by the best, a media center is a focal point, and an area that is so much more than just a place for a TV. A custom-designed entertainment center can be the capstone to a beautiful house in Pleasanton or anywhere in the Bay Area, and more a work of art than whatever show you have on.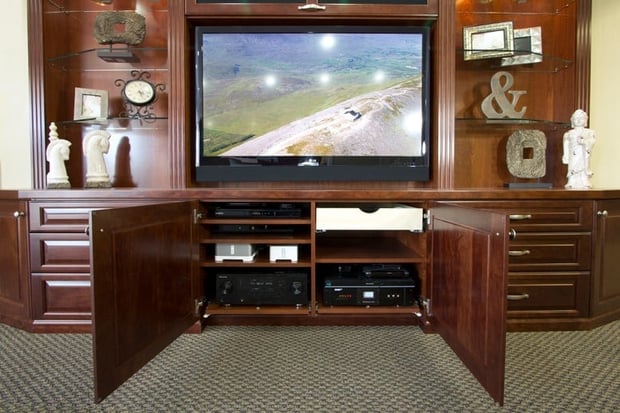 Component storage can be custom designed to fit the equipment you want, whether it's a PS4 or your record player.
Image Source: Valet Custom Cabinets & Closets
The Media Center: Where Architecture, Electrical Design, and Furniture Design Intersect
The media center has evolved from a cabinet for your TV to an integrated part of a modern lifestyle. That's partly due to the increasingly complexity of our technology. A TV can have multiple inputs, from cable to streaming devices to video game systems and more. While wireless networks are the wave of the future, everything still needs to be plugged in, and that includes speakers, stereo equipment, and whatever else you use to make your room a place to relax and have fun.
The many components of an entertainment system is why it is a good idea to have a custom design for your cabinet. A home entertainment center should take into account how every family is different, and how they all have their unique needs. For example:
An older couple with no kids may want a great stereo system, but have no need for video game consoles

One family may love watching TV and want it to be the central focal point in a room for their movie nights.

Another family may want to keep the TV discreet. They want it to be available for watching without being the focus of the room. A custom-designed cabinet can hide the TV and other A/V equipment when not in use.
All these considerations are going to factor into how your room will be designed and wired to maximize functionality. We'll add cutouts to the back of cabinets for your cables, so you have easy access to outlets and can keep power conditioners and surge protectors out of sight. At Valet Custom Cabinets & Closets, we make sure to guide our clients through the whole process so that their media center is exactly how they want it. That means being comprehensive.
Creative Design Makes the Right Entertainment Center for Your Family
Instead of thinking about what you want in your media center after it's built, build it to do what you and your family want. That means talking about your goals for the room with your designer and finding out what they can do to personalize your setup. Here are some creative ideas we've seen, that homeowners love--for entertaining or just relaxing on the weeknight.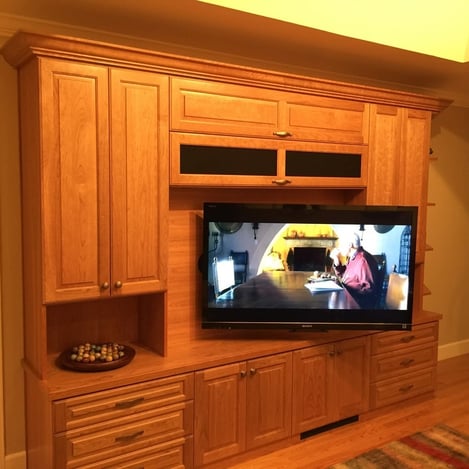 A full motion TV Mount lets you view the screen anywhere in the room. This type of equipment needs to have easy access to electrical sockets.
Image Source: Valet Custom Cabinets & Closets
Full Motion TV Mount
The full motion TV mount is great if you like to move around the TV to watch in different places. In order to install a full motion mount inside cabinetry, we have carefully engineered our TV box to accommodate heavy duty brackets and bolts and provide chaseways for wires and cables. A full-motion mount requires strength and structural integrity, which we can provide. We had one client who loved watching television while she prepared dinner in the kitchen, so we designed the media center to allow her to swivel the TV so she could see it from her countertop. Then we partnered with her electrician to hook up a speaker in the kitchen, and voila--she could watch HGTV all she wanted while whipping up a healthy dinner for the family.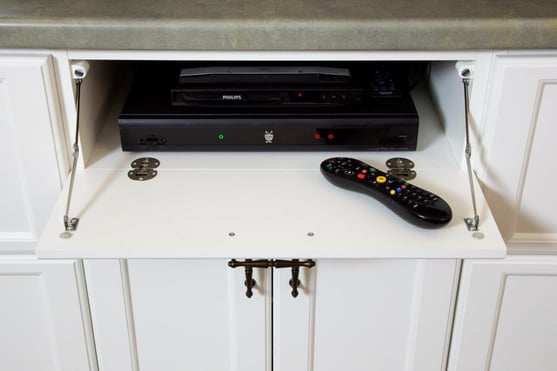 Flip-down storage keeps entertainment equipment neatly stowed.
Image Source: Valet Custom Cabinets & Closets
Flip-Down Storage for DVD Players and Gaming Systems
Nothing drives parents crazy like having their living room perpetually strewn with auxiliary cables, game controllers, and video game consoles. That's made these flip-down storage solutions for game systems extremely popular. They can also be used for a DVD player or Tivo, like the drawer shown above.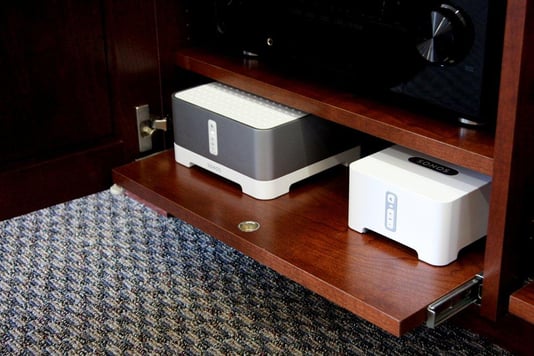 Roll-out speaker shelves make it easy to access your sound system, whether you're entertaining or just hanging out.
Image Source: Valet Custom Cabinets & Closets
Roll-Out Speaker Shelves
The roll-out shelf is particularly convenient for things like your iPod speaker dock or CD player, that you always use in the same place. One of our clients was a real social butterfly, and loved to host parties in his living room. He had a full bar set up, finished with belgian chocolate thermally fused laminate and a media center built-in. With roll-out speaker shelves in his media center, he could DJ from his iPod dock without having to leave his station at the bar. You can do the same in your media room, whether you're doing it for a neighborhood party night or a kid's 10th birthday.
Once you look over the product options, and make a plan with your designer to tailor the media center to suit your lifestyle, we'll partner with A/V specialists who can work out how your design will function with the other elements in the room.
We Make Your Media Center the Center of Your House
We've been in this business a long time, and it's fun for us to make clients' ideas into reality and to offer them a full-service experience. We can help you understand how to maximize your space, and how to really conceptualize what it is you want from your media center. If old cabinets need to be taken out and torn down, we'll work with the best professionals to do that. We've also seen many people who want a great media center, but aren't really tech-savvy and are unsure of what to put in it. In that case, we'll bring in an A/V professional who can buy them on your behalf, and even install them (which is a relief to many).
Pleasanton is one of those towns where you make friends, your kids meet new people, and where families get together. Watching the game, listening to music, playing video games, or getting together for Game of Thrones night is part of being neighborly. Valet Custom Cabinets & Closets can make those nights perfect.
---
Valet Custom Cabinets & Closets designs, manufactures and installs custom organizational solutions that enhance the functionality of your living space while complementing the décor of your home.
Our talented design team creates unique solutions tailored to your specific needs, style, and budget. We are independently owned and a direct manufacturer.
Our areas of specialty include Home Offices, Wall Beds, Media Centers, Closets, Pantries, Garage Cabinetry, and much more.
Your Space - Exceptionally Designed - Uniquely Styled - Expertly Crafted
---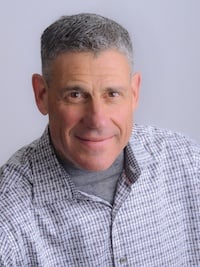 About Larry Fox, President
Larry is a graduate of the University of Southern California School Of Business. After receiving his degree he returned to the Bay Area and spent 18 years working in his family's 100+ year old metals recycling business. Upon the sale of that business in 2000, Larry and his wife Audrey purchased Valet. Larry has become a leader in the industry and is a past president of the National Closet Group. Larry loves turning people's dreams into reality, and remains as enthusiastic about the business today as he was when he first acquired it. View Larry's Houzz Page.