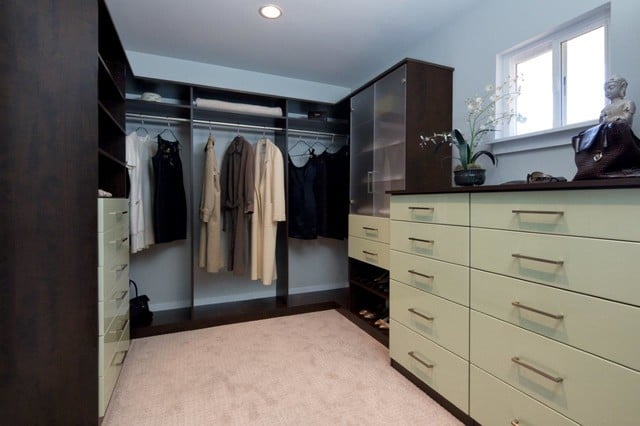 Belgian chocolate thermally fused laminate makes a beautiful and modern walk-in closet.
Image source: Valet Custom Cabinets & Closets
Any time we do work in Los Gatos, we see the same thing: families strolling around the beautiful, walkable downtown, people getting ready to hike the Santa Cruz foothills, and friends having brunch at the Los Gatos Cafe. It's a great area, and since it's within commuting distance of the tech businesses in San Francisco and Silicon Valley, it's an ideal place to live, especially for people who are moving out of the city and starting a family, and they're looking for more space. But we also see people whose big houses simply don't have enough storage and clothing space because the builder made the closet an afterthought.
Closets are often not well thought-out in these gorgeous houses, and we find many Los Gatos families needing a custom-designed closet that takes advantage of the space. When you're designing the closet for your dream house, approaching the details of style and functionality with care can elevate the room from a storage space to your new personal sanctuary. Hideaway features like pull-out clothes racks, hidden ironing boards, and LED lighting place your clothing and accessories at your fingertips, and careful attention to materials and hardware make the space feel elegant and inviting. Having the right design means having space for the family you have, and room to grow to the size you want. The once-lowly closet might just be the dark horse that wins out as your new favorite room in the house.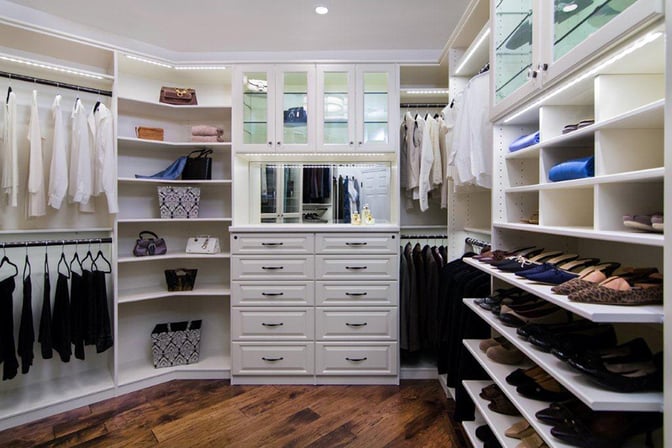 This white thermal fused laminate closet is designed with decorative raised panel fronts, and has shelving with ergonomic roll out functionality, placing your shoes within easy reach.
Image source: Valet Custom Cabinets & Closets
Thoughtful Functionality
In a walk-in closet, ergonomics and thoughtful design are of paramount importance. The space should be designed to feel as natural as possible--you reach out for something and it's exactly where you expect it to be. The idea that details define your experience in a space applies not only to decor, but to functionality. When you outfit your walk-in closet with custom shelving, a good furniture designer will actually work with you to tailor the details to fit your clothes, your expectations, and even your body. For example, how tall are you? What height of shelving feels natural for you to reach? How many shoes do you have? Does most of your clothing hang, or do you prefer more drawers and shelves?
Pull-Out Clothes Racks: Extendable clothing racks are designed to feel like a natural extension of your current space. Like a touchscreen phone where the easy gesture of swiping your screen to the left opens a new window, pull-out clothes racks are designed to open up additional storage exactly where it's most needed. Especially in Los Gatos, where your morning commute might entail driving out to San Jose, any amount of time you can save on getting dressed in the morning can make a big difference.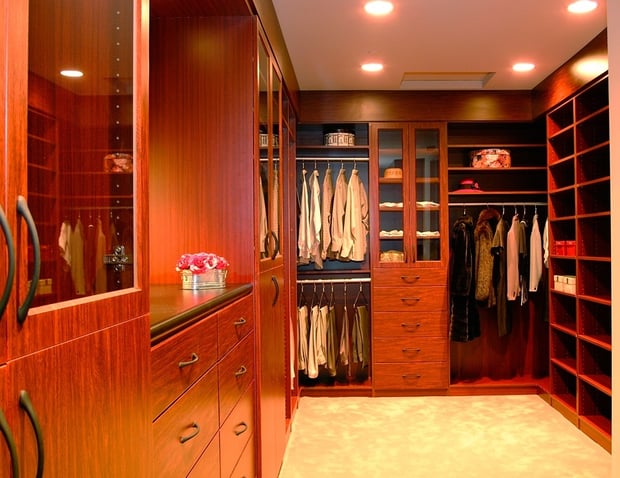 Double hang rods for shirts and shoes, as well as glass-paned storage for smaller items like
delicate sweaters make for elegant and efficient storage.
Image source: Valet Custom Cabinets & Closets
Locking Adjustable Shelving: If you opt for adjustable shelving, Valet Custom Cabinets & Closets offers a unique locking system that prevents any potential injuries from tilting shelves.
Hidden Ironing Boards: Traditional ironing boards can be bulky to store and awkward to unfold; a stow-away ironing board is there when you need it and flips up with the flick of a wrist. You'll never have to wrestle with those hinged stands (or forget where you left it) again, making getting ironed, dressed, and out of the house even easier.
Custom-Proportioned Cabinetry: Each person's wardrobe mandates the proportion of shelving needed in the closet space: if you're the type to collect Manolos like Carrie Bradshaw, you might want to opt for a full wall of shoe-shelving. If you're fine with your one pair of classic loafers, but love owning oxford shirts in every color, you'll want to dedicate more space for hanger racks.
LED Lighting Spots: You know that narrow space behind your hangers—that mysterious place where your favorite neckties and socks go to disappear forever, lodged between suit-jackets? Transform that space with LED lighting spots and you'll be able to actually find what you want to wear, when you want to wear it. These can also help you to actually differentiate between your navy and black jackets (or pants), so you won't leave the house looking like you dressed in the dark.
The Final Touches: Finding the Perfect Hardware and Materials
Your walk-in closet has the potential to be your personal sanctuary, where you prepare to transition into your workday in San Francisco or Silicon Valley and enjoy a moment of relaxation in the evening after the commute. It's a chance to wind down before bed. The color of your cabinetry can make a huge difference in terms of how it feels to be in your space, so be sure to communicate with your designer to find a material that you love. One suggestion would be thermally fused laminate, which is great in a space especially if you have kids or pets, since it's durable and easy to clean.
Walnut color is classic and elegant.
Image source: Valet Custom Cabinets & Closets
This Italian walnut-color closet offers a more traditional look, and glass panes in front of the suit jackets make it easy to find exactly what you're looking for. You'll start the day off feeling executive as you button up a freshly-pressed oxford amid elegant surroundings.
A pillowed bench makes this closet feel warm and inviting.
Image source: Valet Custom Cabinets & Closets
Honey Apple thermally infused laminate is the perfect material if you want a space that feels casual and warm. In this unit, a pillowed bench and warm-toned carpeting add to the inviting feel of the closet, and the cabinetry molding is traditional without feeling stuffy.
For a closet that's both stylish and environmentally friendly, look into using a cabinetry material that's sourced from recycled materials, or that are made of wood from FSC-certified sustainable forests. LED lighting is also long-lasting and energy-friendly, and won't heat up the room like normal light bulbs.
Once you've nailed down the material, you can work with your designer to find hardware that feels comfortable to use—and that's just as easy on the eyes. A good custom closet company will use few exposed fasteners or nailers, which lends the space an elegant feel that is totally unlike the look you get with prefabricated closet furniture and shelving.
Making Room For Your And Your Family
If you and your family have come to Los Gatos to find or build your "dream home" here, it's easy to see a big house and assume that it has enough space. That's not always the case. Design matters even more than size, which is where we come in. We study your space and work with you to make a custom designed walk-in closet that really fits your needs.
You came out here to get some space--to get out of the city while still living nearby. Don't let a cramped and disorganized closet take away the functionality of that space. Give your closet the love it deserves during the design process, and it will give you the room you need to spread out, and to keep growing.
Contact Valet Custom Cabinets & Closets' design team or drop by our showroom in Campbell to learn more about our materials and process!
---
Valet Custom Cabinets & Closets designs, manufactures and installs custom organizational solutions that enhance the functionality of your living space while complementing the décor of your home.
Our talented design team creates unique solutions tailored to your specific needs, style, and budget. We are independently owned and a direct manufacturer.
Our areas of specialty include Home Offices, Wall Beds, Media Centers, Closets, Pantries, Garage Cabinetry, and much more.
Your Space - Exceptionally Designed - Uniquely Styled - Expertly Crafted
---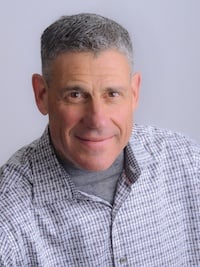 About Larry Fox, President
Larry is a graduate of the University of Southern California School Of Business. After receiving his degree he returned to the Bay Area and spent 18 years working in his family's 100+ year old metals recycling business. Upon the sale of that business in 2000, Larry and his wife Audrey purchased Valet. Larry has become a leader in the industry and is a past president of the National Closet Group. Larry loves turning people's dreams into reality, and remains as enthusiastic about the business today as he was when he first acquired it. View Larry's Houzz Page.