One of the hallmarks of the holidays is the welcoming of those we love and cherish into our homes, exchanging smiles and hugs – and often juggling armfuls of food, presents, and warm winter coats. The entryway to our home becomes a jumble of shoes, scarves, coats, purses and gifts. Eventually, items are strewn across furniture and floors, making their way into other rooms.
Of course, this issue isn't reserved for the holiday season. Anyone who entertains has likely encountered this issue all throughout the year. Parents of children will certainly understand how cluttered and messy an entryway can become when the kids come home from school. Likewise, guests often find it difficult to navigate when they're looking for a place to put away their things and hopping over shoes just to make it to the living room or kitchen. First impressions make a lasting impact, and the entryway to your home is almost always your guests' first impression of their visit. What better place to start on your home organization journey than to introduce your guests to a mudroom?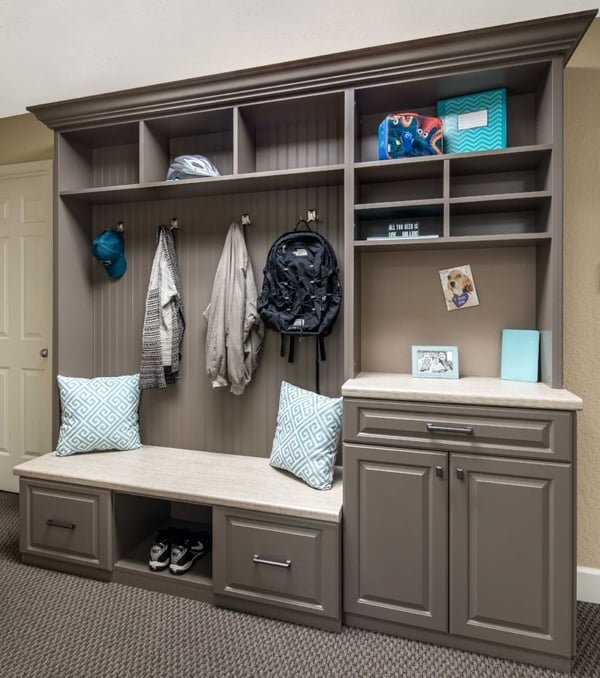 Historically, mudrooms were introduced in rural areas where roads were unpaved, and boots tracked mud and dirt into the home. By the 1950s, the term "mudroom" made its way into the vocabulary of colonial architects, where it was formalized. The mudroom became popular in the 1980s as a designated area to put on rain coats, take off dirty shoes, and, more importantly, as a space to greet or say farewell to family members and friends.
Designed from the ground up to keep your home organized and tidy, mudrooms are true powerhouses of utility. Once installed, a mudroom becomes a seamless part of your morning and evening routine. Items that once caused clutter throughout the house are put back right where they belong as soon as you come home. No longer will your mornings consists of scrambling to find your car keys and favorite scarf before you head out the door. Your mudroom is designed to keep you organized, so you can focus on the more important things in life.
Quintessential mudroom elements are benches, cubbies, hooks, and shelves. When these features are integrated together into a mudroom design, one wall in your home is transformed into the perfect organization station. Benches with shelves or drawers beneath them allow you to comfortably put on or take off your shoes and stow them away, de-cluttering the main thoroughfare in your home. Hooks mounted above the bench are always ready to hold coats, scarves, hats, purses, and backpacks. Cubbies are perfect for lunch boxes, shopping bags, toys, and sports equipment.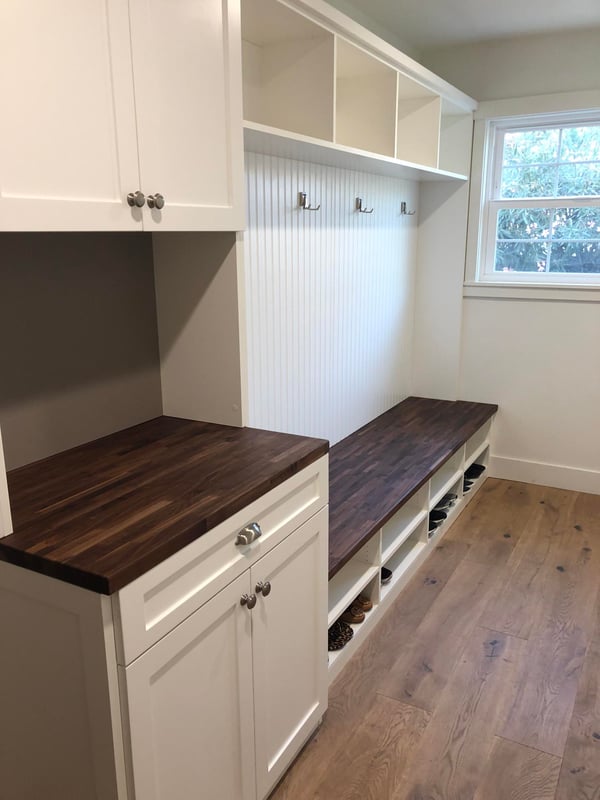 If there is one thing organization and design experts know, it is that as soon as you have a designated place for everything you need, disorganization becomes a forgotten thing of the past. Our designers will help you find the perfect blend of the functional and beautiful in improving every part of your home. As the holiday season approaches and makes its way into your entryway, opportunity knocks to streamline your home and your life. The mudroom stands out as a great space enhancer that will live with you and your guests as you celebrate the holidays year after year.
This post was written in collaboration with Sierra Nichols, Valet's Showroom Coordinator.
---
Valet Custom Cabinets & Closets designs, manufactures and installs custom organizational solutions that enhance the functionality of your living space while complementing the décor of your home.
Our talented design team creates unique solutions tailored to your specific needs, style, and budget. We are independently owned and a direct manufacturer.
Our areas of specialty include Home Offices, Wall Beds, Media Centers, Closets, Pantries, Garage Cabinetry, and much more.
Exceptionally Designed & Styled * Expertly Crafted with 5-Star Execution
---
Binh Ly– Design and Marketing Manager
Binh brings over 20 years of experience working for multi-million-dollar companies who specialize in luxury brands. His high-end retail background has cultivated his belief in delivering world class service by building relationships throughout the entire process -- from initial consult to final delivery. Binh partners with Valet's designers to ensure we provide every customer an exceptional designer for their custom solution. Binh is an avid reader and writes in his spare time. His philosophy is that "[y]our home should tell the story of who you are, and be a collection of what you love" (Nate Berkus). Binh holds a Bachelor's Degree in Philosophy from the University of California Berkeley.