Palo Alto is one of the cities in the South Bay Area lucky to be home to over 2500 of Eichler's celebrated mid-century houses, including several nestled in south Palo Alto surrounding the Mitchell Park area. Eichler homeowners are famous for their "cult-like" devotion to the architectural and stylistic integrity of these iconic homes, so planning any renovation involves finding a delicate balance between additional features and the characteristic sleekness of the midcentury style. Maybe you want to add a home gym for morning workouts or create a workspace in your bedroom. You need more interior space, but if you opt for an addition you're likely going to encroach on your Eichler atrium or your backyard.
But what if you could still have it all? In these homes, the key to adding functionality is to design the room like a Swiss Army knife: it unfolds to offer what you need, when you need—then stores away elegantly. Eichler's designs are an ode to efficiency, and by capitalizing on the idea of the wall bed and other creative, custom storage solutions you can stay true to the style while freeing up the spaces you need to fulfill your goals for a healthier, happier, and more productive lifestyle.
The "Monticellos" of Palo Alto: Maximizing Your Interior without Clutter
Thoughtful architecture goes beyond giving you a roof over your head—it choreographs your life, affects your mood, and gives you space to think, work, live, and play. Thomas Jefferson was acutely aware of this and his custom-built home at Monticello was designed to architecturally direct his life toward a healthy, happy daily routine. From the moment he stepped out of bed in the morning, the design of his home directed him straight into his study for an efficient workday. He is even reputed to have invented the Murphy Bed, the original architectural "life-hack."
Likewise, Eichler loved to find dual functions for the elements in a home, cleverly finding ways to incorporate the necessary elements without creating visual clutter. Features like the atrium provide natural light, but they also serve as an extra "room" or gathering space. Working with one of our experienced designers at Valet Custom, you can carry on that spirit by constructing a custom interior for your Palo Alto Eichler home that incorporates your own "life-hacks" into your daily routine, whether it's creating a space that fosters reading, a home-gym that encourages a dose of daily exercise, or a pantry that's organized to inspire healthy choices.
This stylish home office offers abundant, retractable storage—allowing for the space you need for a home gym to stay healthy in 2016.
Image Source: Valet Custom
Wall Beds: Ideal for Eichler Homes
The beautiful open floor plans and minimalist design of the Eichler homes make them aesthetically appealing, but there are certain challenges that come with literally living in a glass house. That visibility that each room has from your atrium and the rest of the house, coupled with the relatively small footprint, means each room is on display. The last thing you want is an unmade bed obstructing your view of the atrium and eating up the already-tight square footage in your bedroom.
If you've resolved to keep a cleaner house this year, why not start by stowing away the bed completely with a wall bed? You'll free up space and keep the house looking cleaner than ever. Laminate panelling is durable, washable, and integrates seamlessly with Eichler's modern aesthetic. In fact, it shares the same sleek surface that was originally popularized by the mod furniture of the era.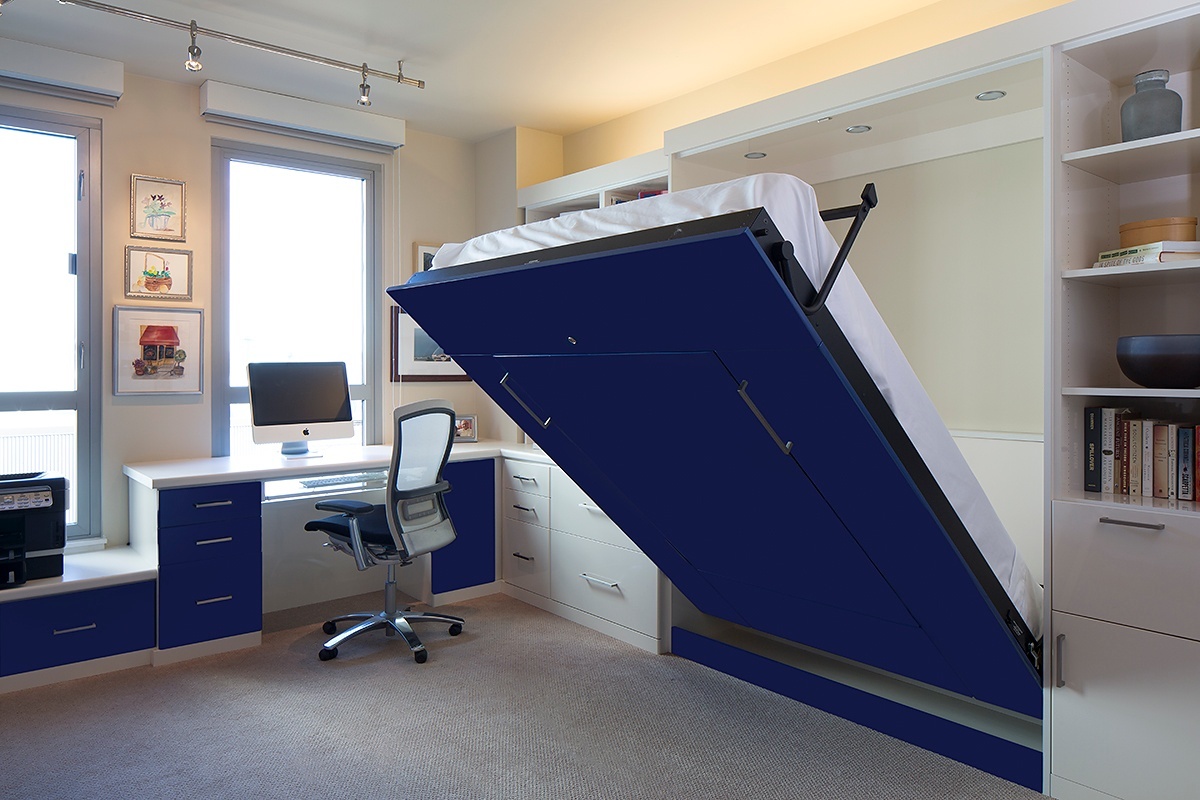 This wall bed frees up space and maintains the open, airy feel of the room.
Image: Valet Custom
Custom Storage Transforms Your Office into a Home Gym
So you've resolved to hit the gym at least three times a week this year, but you still need to find time to spend your evenings with the family and you don't want to fall behind on work. The solution: integrate your gym routine into your own home by installing a custom storage unit into your home office. Your desk and filing cabinets can easily roll back into your personalized storage system, leaving more than enough room to roll out that Pilates mat or break out the home weights. Integrate your media system into the cabinetry and you'll be able to hit play on your favorite workout playlist or yoga video to seamlessly transition from work to workout.
For a home gym in an Eichler home, we recommend highly aesthetic casework cabinetry, in a clean white laminate or natural wood-tone finish. Those airy glass windows unite the exterior and interior and put each room on display, so effective storage is crucial—the last thing you want is for your free weights and Yoga blocks to gradually become a part of your interior decor.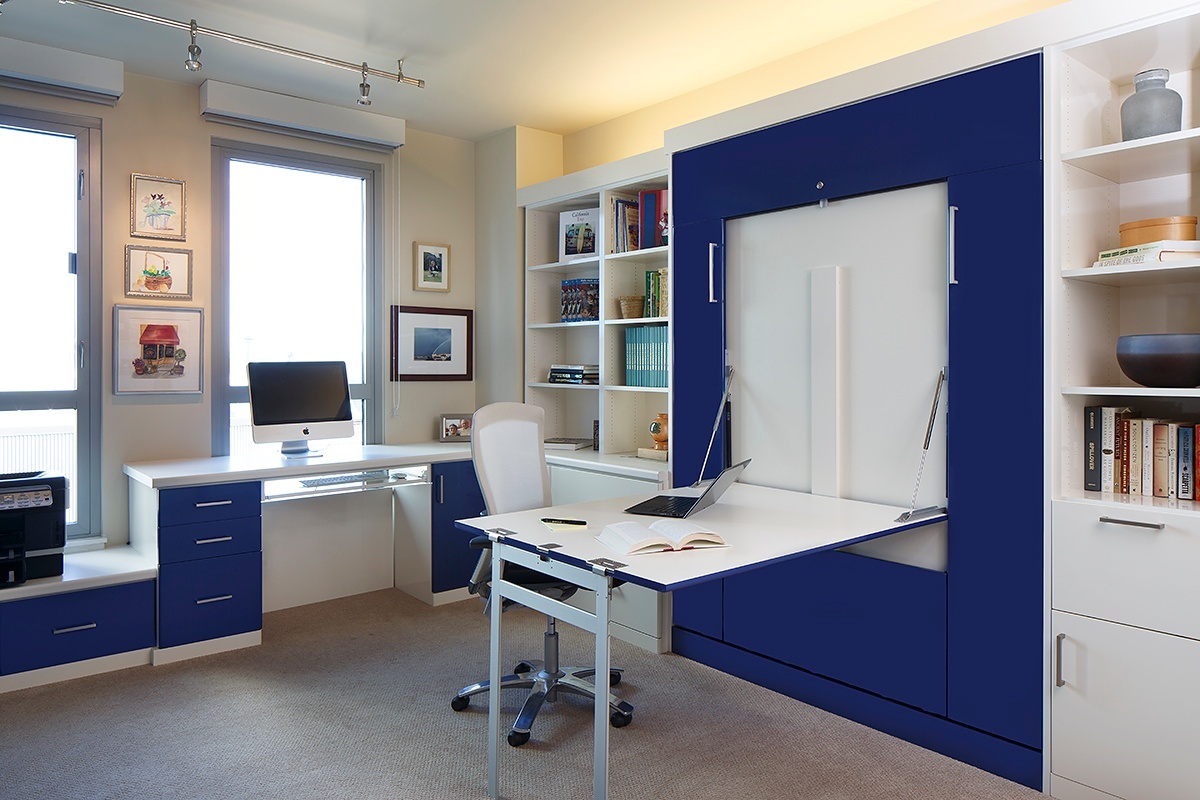 This home office is almost entirely retractable, freeing up a surprising amount of room for a spacious home gym. Thermally infused laminate is both sleek and easy to maintain—perfect for an Eichler.
Image Source: Valet Custom
The Science of Healthy Eating: How Organization Encourages Healthier Choices
The Palo Alto farmer's market during the warmer months offers a cornucopia of beautiful heirloom cabbage, fresh raspberries and blueberries, kale, bok choy, California almonds—and, of course, those luscious strawberries. With our incredible proximity to some of the world's finest fresh fruits and veggies, eating healthy should be a breeze. But, sometimes it's easy to end up snacking on whatever's at our fingertips—even if that means Cheez-Its for "breakfast." Could redesigning your pantry really encourage more healthy eating this year?
Nutritional researchers made an extraordinary discovery in 2015 when they decided to add partitions to grocery carts in the U.S. and Canada. The experiment was simple; they ran a strip of yellow duct tape across the cart to divide into segments of different proportions, and labeled each section with the food group that it belonged to, providing a visual guide for shoppers to know whether or not their choices were aligned with the portions recommended by the food pyramid. That simple strip of duct tape actually did its job and shoppers made healthier choices when they were provided with that spatial guide. If you've resolved to eat healthier this year, why not implement that same concept into your pantry? By organizing your pantry along these same lines with custom shelving and storage options, it can help you and your family plan your shopping lists and put the healthiest choices within easy reach for snacking.

A well-organized pantry can actually encourage good nutrition! Customizing your space to make room for fresh produce and put healthy snacks at your fingertips will encourage you to keep that resolution to eat healthier in 2016.
Image Source: Valet Custom
Feeling Inspired? Maximize your Interior Space with Custom Storage Solutions
The spree of Eichler teardowns is alarming to many homeowners in Palo Alto, with recent efforts to preserve the single-story homes in the Fairmeadow neighborhood. Property prices in our area are as high as ever, with some homes neighboring our Eichlers going for multi-million dollar price tags, raising concern that some of our historic homes will be bought and torn down for the valuable lot space. However, there are ways to add functionality and space to your home without tearing it down to build a two-story. In maximizing the functionality of your home you may even be protecting it for generations to come, by creating a space that's as utilitarian as it is elegant. In the meantime, you and your family will reap the benefits of health and productivity, by creating the spaces you need to make the most of life in an Eichler.
Valet Custom partners with local families to design a solution that suits your needs. We manufacture all of our shelving and wall bed solutions a short drive away at our Campbell location and maintain a dialogue with our clients throughout the process to help them most effectively implement their ideas for the space. If you're considering an interior redesign for your Palo Alto home, get in touch with our design team today! We'd be happy to give you a tour of our showroom for inspiration and work with you on developing a personalized solution for your home.
---
Valet Custom Cabinets & Closets designs, manufactures and installs custom organizational solutions that enhance the functionality of your living space while complementing the décor of your home.
Our talented design team creates unique solutions tailored to your specific needs, style, and budget. We are independently owned and a direct manufacturer.
Our areas of specialty include Home Offices, Wall Beds, Media Centers, Closets, Pantries, Garage Cabinetry, and much more.
Your Space - Exceptionally Designed - Uniquely Styled - Expertly Crafted
---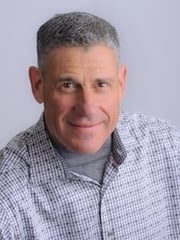 About Larry Fox, President
Larry is a graduate of the University of Southern California School Of Business. After receiving his degree he returned to the Bay Area and spent 18 years working in his family's 100+ year old metals recycling business. Upon the sale of that business in 2000, Larry and his wife Audrey purchased Valet. Larry has become a leader in the industry and is a past president of the National Closet Group. Larry loves turning people's dreams into reality, and remains as enthusiastic about the business today as he was when he first acquired it. View Larry's Houzz Page.