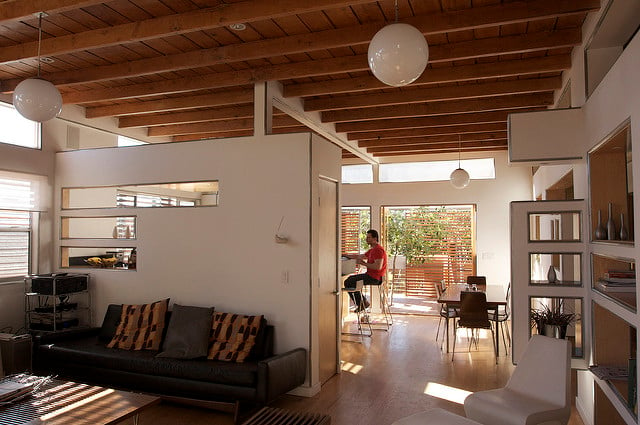 With an open floor plan such as this, it's easy to take advantage of recessed storage and innovative shelving and cabinets. These options clear the bulk to let more sunlight into your home.
Image: Flickr user
Jeremy Levine
California's health-consciousness is often gently teased in pop-culture parodies that paint us as wheatgrass-slurping "hippies"—but that healthy, environmentally-conscious California lifestyle has also informed the West Coast's undeniably significant contributions to the fields of architecture and design. For example, the legacy of California Modern architecture, with it's well-lit and clutter-free interiors, offer more than a chic, contemporary look. That sunlight and airy, open space can actually cut your stress and keep you healthy. Likewise, a Spanish colonial home with ample windows and a clutter free interior epitomizes breezy California style in Los Gatos. By "designing sunlight" into your home in the early stages of planning with your architect and furniture craftsman, you can maximize the light and space in your interior, and enjoy the health and happiness afforded by the extra rays. The key is to plan for ample storage that's integrated into the walls—a hideaway wall-to-wall media center with in-wall storage opens up your main living spaces to the sun for a healthier, happier space for living.
A "Holistically Holistic" Lifestyle: Exercise, Healthy Eating…and Architecture
Los Gatos is naturally conducive to health-conscious living, with gorgeous weather that lets residents get outside for Tai Chi, jogging, or hiking, and a culture of nutritious and health-conscious eating. (Where else can you find the kind of gluten-free treats they've got at Icing on the Cake?) Paired with routine exercise and nutritious choices, designing the space of our home to positively affect our health and well-being is one facet in a "holistically holistic" lifestyle.The health benefits of letting the sun into your home are multifaceted:
Sunshine improves your mood:

Sun

helps your body

to produce serotonin, a mood-lifting "happiness hormone." It's that bright, mellow summer feeling.

Sunshine increases your productivity:

Studies show that a good window

improves productivity

at the office, and it can certainly make the time you spend at your desk more enjoyable.

A less cluttered space is a less stressed space :

When you walk into an open, airy room, you feel calm and peaceful. Now compare that feeling to walking in on a room cluttered with furniture, books, or laundry. There's no comparison.
Fortunately for Los Gatos, the legacy of natural lighting in California modern architecture is alive and well in the area. In his book Architecture of the Sun: Los Angeles Modernism 1900-1970, Thomas S. Hines explores the way architects celebrated our west coast sun through their designs and let it fill the spaces they created with that "peaceful easy feeling" that Californians (from Don Henley to Frank Lloyd Wright) have always loved. As Hines states, the "architecture of the sun" served "as a shelter from the woes of the world and as a stage for confronting and enjoying life." Modernism met up with West Coast regionalism, and the two leaned back in the grass to mellow out and soak up the sun.
Here Comes the Sun: Designing Open Spaces
Regardless of the architectural style of your home, whether you're living in a contemporary Spanish colonial, a modernist bungalow, a craftsman, or any other style of house in Los Gatos, you can design sunlight into your space. Designing sunlight means designing for:
Unobstructed views: Avoid bulky furniture that disrupts the spatial flow of your home
"Negative space" in your interior: Value the material of air. It's as crucial to the architecture as walls or furniture.
Ample storage: maintaining a clutter-free lifestyle creates a space of serenity, not stress.
Opt for retractable furniture elements when possible: hidden cabinetry or a custom wall bed can do wonders for freeing up negative space.
Declutter with Integrated Storage

In his piece "Daylight Dialect" for Architectural Lighting, Kevin Van Den Wymelenberg aims to build a common language regarding what it means for a space to be considered "daylit." He states his criteria as, "it must use natural light as the primary source of daytime illumination, create a visually and thermally comfortable place connected to outdoor phenomena, and persistently maximize electric lighting energy savings while minimizing peak energy demand," but also acknowledges that, "the rest of us, however, might consider a space daylit if it simply has a window with a view." When it comes to designing storage that facilitates daylighting, we'll focus on creating that visually comfortable place connected to outdoor phenomena. In a town as beautiful as Los Gatos, there's no reason to have your view or your windows obstructed by clutter and bulky furniture.
Ideally, these elements of design should be addressed in collaboration with your architect and furniture craftsman in the early planning stages. By collaborating early on, you can create custom architectural furniture that incorporate hideaway storage into the design of your home. If your home is already built and you're looking to free up the negative air space in your living room to reclaim that open, airy feeling, consult with your furniture craftsman directly and they can design "sun-conscious" architectural furniture to mesh with your existing space and cooperate with your architecture.
Some especially architectural furniture solutions that are especially effective in creating open spaces include:
The combination wall bed/table: a murphy bed is a classic solution for smaller spaces, but by adding a hinged table to the murphy bed, like the one pictured below, you can stow away both pieces of furniture at once. This wood finish would mesh well with a craftsman home, or even a contemporary Mediterranean style living room.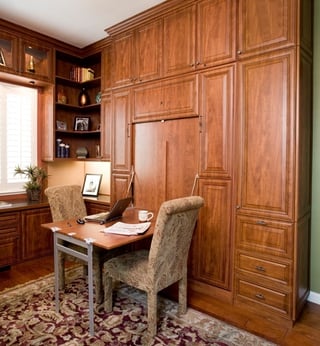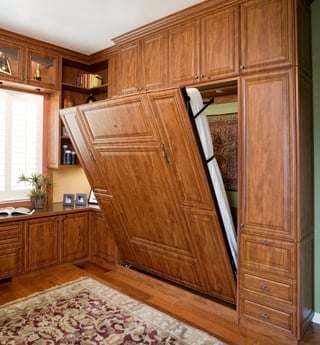 This combination wall-bed table is a clever piece of architectural furniture, opening up an enormous amount of space for this home office.
Image: Valet Custom
Architectural shelving for your closet: building ample storage into your closet walls turns a normally cramped space into a sunlit sanctuary. The glass panels in the cabinetry pictured below let you easily find a specific article of clothing through the cabinet doors.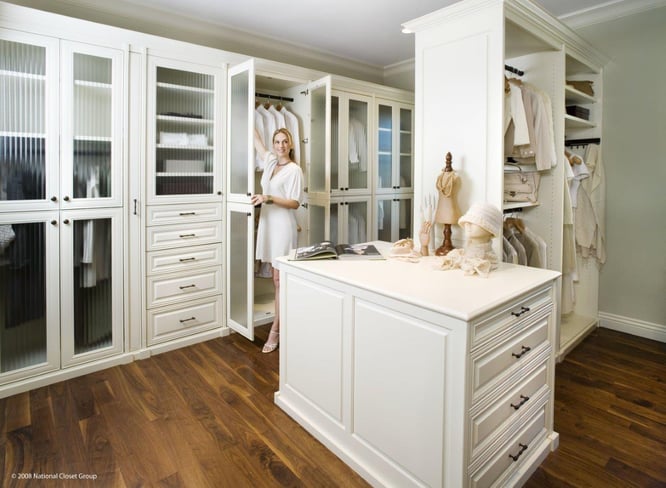 This custom closet incorporates architectural shelving into the walls, leaving the center of the room spacious and clutter-free.
Image: Valet Custom
Integrated wall-to-wall storage for your media center: stand-alone bookshelves and bulky televisions are visually clunky, but built-on storage elegantly erases the clutter. The media center below, designed with Mt. Hood maple and glossy white foil fronts, offers a sleek, contemporary aesthetic that would integrate perfectly with a van der Rohe or Kundig-esque modern home, or a contemporary bungalow with a minimal approach to interior decoration.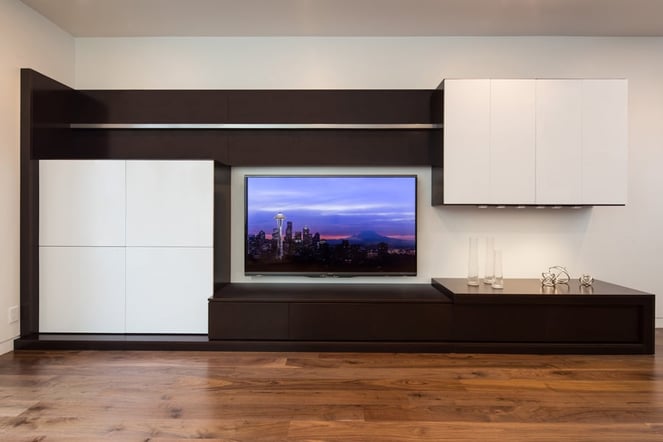 Maple cabinetry with invisible hardware creates a playground for light in this airy living room.
Image: Valet Custom
These furniture solutions allow you to store away the essentials of living into a single, sleek piece of cabinetry, and they immediately open up the area so that the interplay of light and space can fill the room.
One of the best interior decorations you can give your home is the natural beauty of golden sunlight. If you're ready to maximize your space and minimize the clutter in your Los Gatos home with an integrated media center or storage system, Valet Custom can create a custom storage solution that will accent the design of your home. Come by our showroom to get inspired and learn more about our materials and process, or get in touch with our design team for a consultation. We're confident that you and your family will love your new mellow, sunlit living space.
---
Valet Custom Cabinets & Closets designs, manufactures and installs custom organizational solutions that enhance the functionality of your living space while complementing the décor of your home.
Our talented design team creates unique solutions tailored to your specific needs, style, and budget. We are independently owned and a direct manufacturer.
Our areas of specialty include Home Offices, Wall Beds, Media Centers, Closets, Pantries, Garage Cabinetry, and much more.
Your Space - Exceptionally Designed - Uniquely Styled - Expertly Crafted
---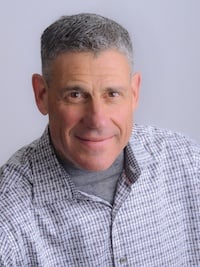 About Larry Fox, President
Larry is a graduate of the University of Southern California School Of Business. After receiving his degree he returned to the Bay Area and spent 18 years working in his family's 100+ year old metals recycling business. Upon the sale of that business in 2000, Larry and his wife Audrey purchased Valet. Larry has become a leader in the industry and is a past president of the National Closet Group. Larry loves turning people's dreams into reality, and remains as enthusiastic about the business today as he was when he first acquired it. View Larry's Houzz Page.
---