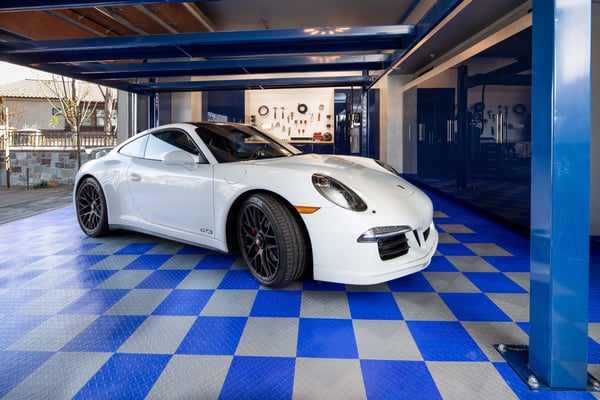 Once a blank space relegated to accumulating the overflow from household storage, more and more homeowners are recognizing the potential of a well-organized garage. For my client, his garage was more than just a storage room - as a car enthusiast and collector, he wanted to transform his garage into a showplace devoted to his passion. He approached me for help designing a garage that was not only sleek and functional, but with all the eye-catching style of an automotive showroom. As a parent, as well as a working professional and hobbyist, it was vital that the garage was flexible and multifunctional.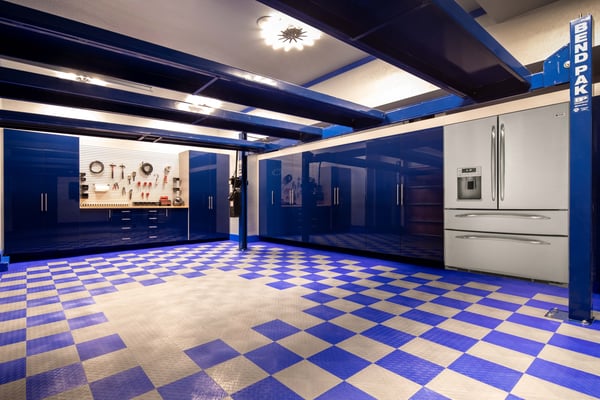 When I met my client for the first time in Valet's Danville showroom, he fell in love with our Atlantic Blue high-gloss door fronts. The deep blue acrylic finish happened to perfectly match the car lifts he had just installed in his garage. With this bold color inspiring our palette, I decided to use the acrylic blue door fronts across all of the cabinetry for maximum impact. With the aesthetic vision cemented, I could move forward into the logistics of designing for the space.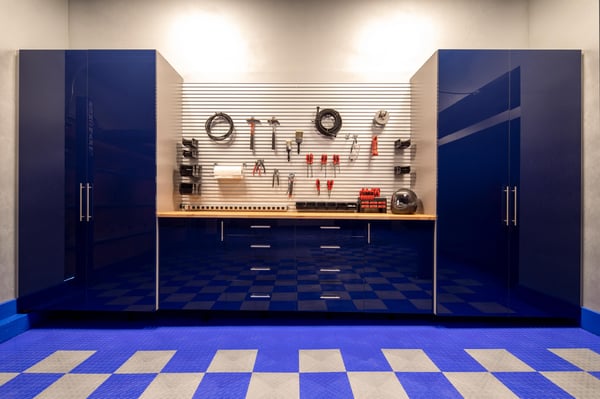 The space was quite large at 826 square feet, but had some architectural quirks that made smart design a necessity. There was a large soffit along the back wall creating a recessed area, but it didn't run across the entirety of the wall. This limited the potential cabinet height for one large section only. This presented an additional complexity, as a priority for my client was incorporating a large refrigerator into the cabinetry with a built-in look. To achieve this, I added a special box molding on top of the refrigerator, keeping it in line with the wall of cabinets. The customer wanted to create a finished side wall as well, and I accomplished this by adding a wide cabinet on the right side of the refrigerator, with the top molding tying it all together.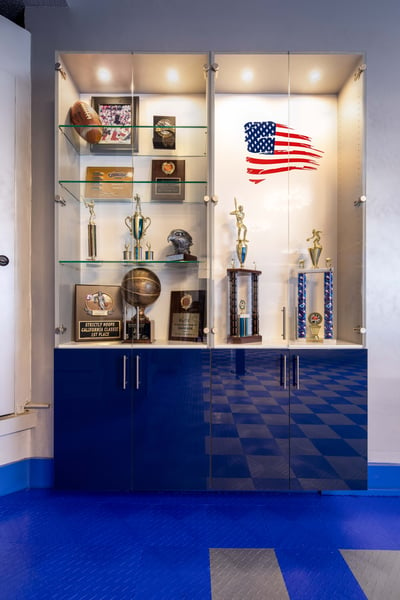 Running with the "showplace" theme and having learned my client came from a sporting family, I suggested a small trophy cabinet be added on a separate wall. Frameless, tempered glass fronts with glass shelves put the trophies and awards on full display. I added LED puck lights overhead to illuminate the cabinet and the shining achievements within. As a final touch, I designed a "drop zone" for the kids, a vertical cabinet with stacking chrome wire baskets to catch sports equipment and jerseys. The upper section of the cabinet hides additional storage behind closed doors, and coat hooks are anchored on the same vibrant blue acrylic material that fronts the garage cabinetry.
When completed, the garage not only served as a multi-functional room, but also incorporated my client's passion for sporty and sleek aesthetics. The custom nature of our product meant that he didn't have to compromise on utility or style, despite the unconventional architecture in the space.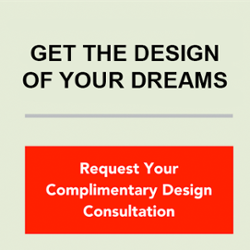 ---
Valet Custom Cabinets & Closets designs, manufactures and installs custom organizational solutions that enhance the functionality of your living space while complementing the décor of your home.
Our talented design team creates unique solutions tailored to your specific needs, style, and budget. We are independently owned and a direct manufacturer.
Our areas of specialty include Home Offices, Wall Beds, Media Centers, Closets, Pantries, Garage Cabinetry, and much more.
Exceptionally Designed & Styled * Expertly Crafted with 5-Star Execution
---
Cynthia Padden
Joining Valet in early 2018, Cynthia enjoys working closely with each customer to design individual and elegant organizational solutions that maximize room space and functionality while also adding her personal eye for beauty and style. Past experience includes the design and installation of commercial telecommunication systems, sales operations, and event planning. Cynthia holds a bachelor's degree in speech communication from San Diego State University. For the past 20+ years, she has loved living in Danville with her husband, Tom, and raising their two children.
This post was written in collaboration with Sierra Nichols, Valet's Showroom Coordinator.