Valet's President, Larry Fox, and his wife Audrey recently designed and built their custom dream home in Los Gatos, CA. Featured in the July-August issue of Gentry Home, the artistry and craftsmanship of each element of the project is highlighted. Valet provided the cabinetry and closets throughout the home, and this month we'd like to showcase the master walk-in closet - a beautiful example of design and function existing in perfect harmony.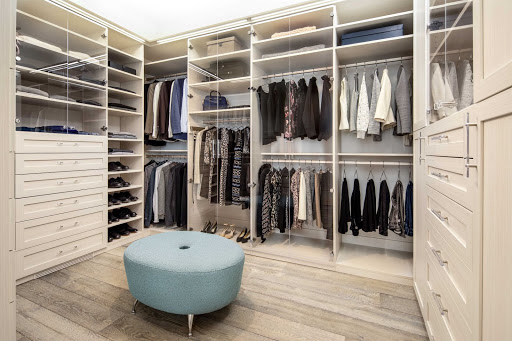 Despite utilizing every inch of space across four walls, the closet looks and feels open, airy and comfortable. The versatile and transitional Bianco textured laminate finish is a nice complement to the lava-grey hardwood floors. The use of LED down- and up-lighting illuminates the closet, making it bright and inviting. "We were ready for a change from the traditional," Larry commented regarding his home's overall look. This contemporary aesthetic carries over into the closet, with a mix of Cascadia shaker and frameless acrylic door and drawer fronts.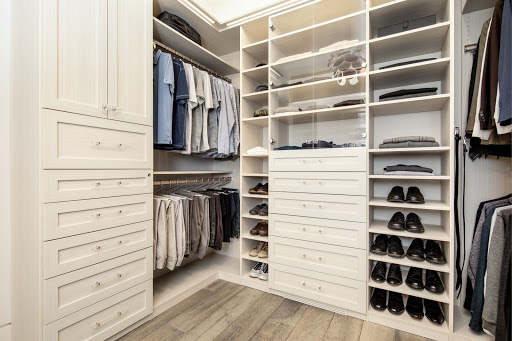 Like many master closets, it is a shared space, utilized by both Larry and Audrey. "A great design is essential to maximizing the space while keeping all your go-to items easily accessible," said Larry. "When designing a shared master closet, you have to start with both individuals' needs and storage requirements in mind." His side has plenty of open shelves for shoes, folded shirts and sports caps. He also has his own dresser, with acrylic doors above which protects nicer sweaters. Double hanging sections on each side provide ample hanging storage while also keeping business and casual clothing separate.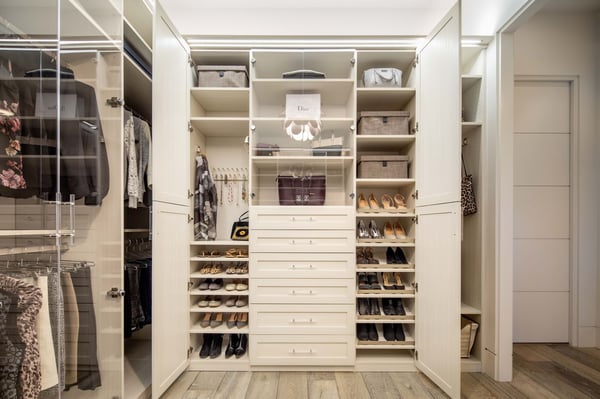 Audrey's side features generous shoe shelving that combines adjustable shelves for sandals and flats, and decorative slanted shelves for high heels. Even the hanging sections were custom-tailored to her needs. "Audrey wanted her long-hanging and some of her nicer short-hanging garments protected behind doors, yet still clearly visible to her," said Larry. The clear acrylic doors give her full visibility, are lightweight and easy to open, and offer added protection from dust. "She also wanted a dedicated place for her accessories like necklaces and scarves," Larry noted. This was accomplished by placing jewelry pins and scarf racks at eye level behind a door.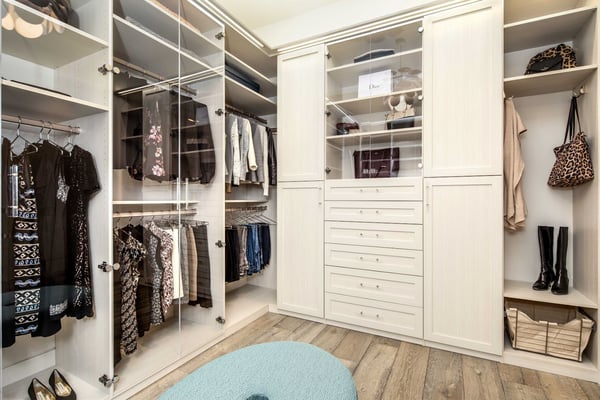 Other features in the closet include a double jewelry drawer, hidden safe, and laundry storage. There's even a special section as you enter the closet that houses hooks for hanging robes. As a final touch, an ottoman in the center of the closet adds a soft, inviting aesthetic while also providing a place to sit while getting dressed and putting shoes on.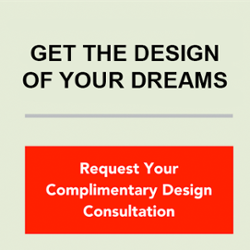 ---
Valet Custom Cabinets & Closets designs, manufactures and installs custom organizational solutions that enhance the functionality of your living space while complementing the décor of your home.
Our talented design team creates unique solutions tailored to your specific needs, style, and budget. We are independently owned and a direct manufacturer.
Our areas of specialty include Home Offices, Wall Beds, Media Centers, Closets, Pantries, Garage Cabinetry, and much more.
Exceptionally Designed & Styled * Expertly Crafted with 5-Star Execution
---

Michelle Larsen

–

Controller

Michelle joined the Valet Team in the summer of 2016. She holds a Bachelor's of Science in Business Management from Western Governor's University. She specializes in accounting, human resources, and general administration and comes to us with over 20 years experience in those fields. She has been a general ledger accountant at a CPA firm and a business manager at a family law firm. As to be expected from someone in her position, she has a passion for people and numbers and loves "making order out of chaos." Michelle and her husband, Brian, live in San Jose. They have a big, happy blended family with eight children and three grandchildren. She enjoys cooking, reading and the SF Giants!

This post was written in collaboration with Sierra Nichols, Valet's Showroom Coordinator.