---
Karin Parodi is one of the outstanding designers at Valet Custom Cabinets & Closets, and something that sets her apart from our other designers is that she often partners with interior designers, builders and contractors to work with clients who are either building a home from the ground up or doing extensive remodeling to an existing home. Our featured project this month is a swoon-worthy deluxe walk-in closet that was part of a major remodel for Brian and Jan in Los Altos.
---
Karin teamed up with Gina Viscusi Elson of Viscusi Elson Interior Design to create the perfect Master Suite for their client. Viscusi Elson had created an amazing bathroom, in a traditional style with lots of intricate details. On the flip side, the closet that Karin designed is contemporary with very clean lines. Karin and Gina partnered to create an integrated space that work together and is cohesive. The bathroom is white with gray, and the closet is gray with white. While the spaces are different, they fit and work together in harmony like yin and yang.
Karin had met with the clients before any construction began to discuss their needs, to see what was working, and more importantly, to see what was not working. Brian and Jan had a huge closet, but it wasn't functional for them at all. Karin had an extensive conversation with them about their lifestyle and what they need. She also conducted a complete inventory of the belongings that would live in the closet to ensure that there was a place for everything. After going over a variety of plans, the clients signed off on the final design.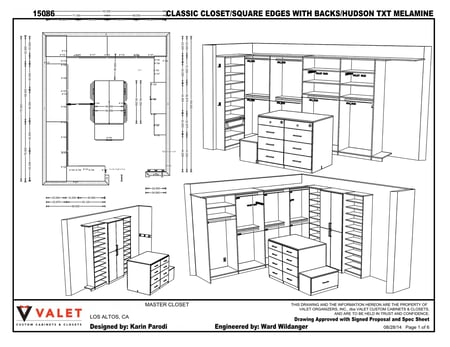 The closet was created using Hudson Textured Thermally Fused Laminate from KML, with satin nickel hardware from Top Knobs. The marble that was used in the bathroom was also used for the island in the closet. There are all sorts of goodies tucked away in this space, including belt racks, a tie rack, and robe hooks.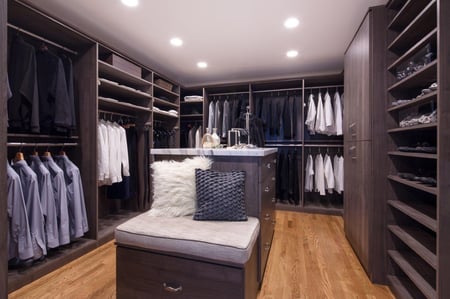 The top two drawers on the island are locking, velvet-lined jewelry trays with specialty crystal pulls from Top Knobs. There is ample room for hanging clothes of all lengths, and well as shelves for storing smaller items.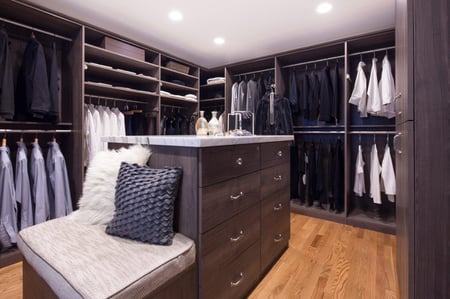 Slanted shoe shelves make for easy storage and allow for greater visibility for finding the right pair of shoes while a shoe bench gives the perfect place for which to put on shoes. A full-length mirror means you can conveniently check your look once you've completed your outfit with your shoes.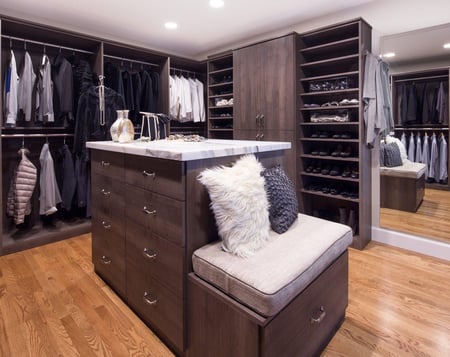 This project was truly a collaborative effort with the client on how they live, as well as with the professional partner on creating cohesive solutions for the end result. "The main reason we love working with Karin is her ability to make each space unique to each client," says Danielle Holdt from Viscusi Elson. "She listens to both the clients' needs and our vision for the adjoining rooms and translates it into a cohesive space." She continues, "Karin is always willing to do what it takes to make a project a success; whether it is meeting the client and designer on the job site, dropping off samples, or adjusting a drawing after business hours, she is a great partner. When one of our clients need closet organization, the first and only person we think of is Karin."
Brian says that he and his wife are incredibly happy with their new closet. "It's amazing to have a closet like this! It is extremely functional; so easy to keep it clean and organized, everything has such a natural and easy place to go, even our luggage!" They really enjoyed working with Karin and found her to be warm, friendly, and a good listener. Most importantly, she took the time to understand what they wanted and how to deliver a closet that was perfect for them. After remodeling most of their home, they feel their master closet is one of the greatest things about their remodel.
You can get the closet of your dreams, too! Request a consultation below, or visit one of our showrooms to speak to our experienced staff and get your project started!
---
Valet Custom Cabinets & Closets designs, manufactures and installs custom organizational solutions that enhance the functionality of your living space while complementing the décor of your home.
Our talented design team creates unique solutions tailored to your specific needs, style, and budget. We are independently owned and a direct manufacturer.
Our areas of specialty include Home Offices, Wall Beds, Media Centers, Closets, Pantries, Garage Cabinetry, and much more.
Your Space - Exceptionally Designed - Uniquely Styled - Expertly Crafted
---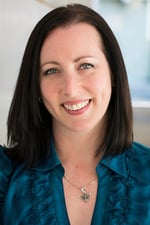 About Tracey Lee Davis and ZingPop Social Media
ZingPop Social Media, located in San Jose and founded in 2014, loves helping small businesses grow and succeed through their online marketing efforts. From coaching to total management for social media or email campaigns to blogging and more, ZingPop Social Media gives their clients a relevant voice in the social media conversation. To get your small business engaging with your target audience, please visit www.zingpopsocial.com.