Updated October 2015
This is our most asked question. I will answer "the how much" questions after I first let you know what you are buying. Understanding the product will allow you to compare apples to apples so you can make an educated buying decision. Valet Custom Cabinets & Closets is the largest wall bed retailer in Northern California. No one can provide you with the same level of integrated solutions like we do!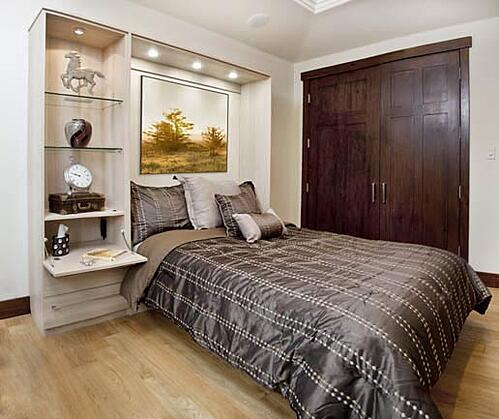 Vertical Tilt Wall Bed
What are wall bed basics?
So, here is everything you wanted to know about wall beds and more. A custom wall bed comes in twin, double or queen-size and can be a side tilt style or vertical tilt. We even have a custom wall bed with a table that folds down which allows for dual function of your furniture. A side tilt style is perfect if you have a narrow room or a room with a low ceiling. A vertical tilt option offers easier access from both sides of the bed.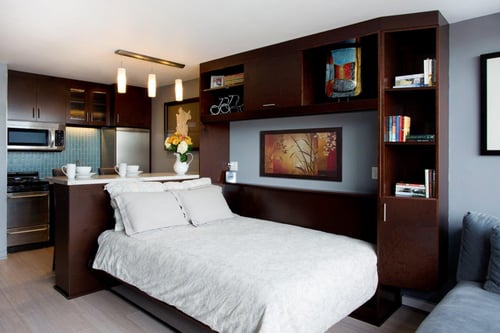 Horizontal Tilt Wall Bed
How do I start to shop for a custom wall bed?
The best way to shop for a custom wall bed is to visit our showrooms in Campbell or Danville. The first thing I would show you is how easily the bed pulls out of the wall. If you accidently let go of the bed as you are pulling it out of the wall, it won't go crashing to the ground. This is a huge safety factor if you have children or the elderly in your home. We use a proven counterbalancing mechanism that allows our wall beds to easily and safely open and close with the simple pull of a finger. Our hidden redundant spring mechanism will operate even if one spring should break. This is a great advantage over others' unsightly hydraulic piston beds that will not function while you are awaiting repairs.
Is the bed comfortable?
No comfort is lost as our custom wall beds open to a normal bed height (not all do!) and will accommodate any standard spring coil mattress. Many wall beds are only 18" above the floor when opened. The Valet Custom Cabinets & Closets custom wall bed, with our exclusive extended legs, rests very close to a standard bed height at 21" above the floor. This added height of our bed makes it much easier to get in and out of, especially for seniors.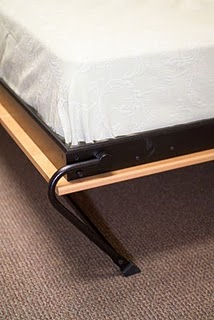 Can I use any mattress on the wall bed?
We include a $750 retail value mattress with our wall bed systems. You have two firmness styles to pick from, plush or luxury firm. Unlike most European wood-slat support systems that require specialty lightweight foam mattresses, our platform-type foundation will support any top quality brand mattress up to 12" in height and less than 100 lbs. The included mattress is worry-free and will never need to be turned! You can use your own mattress. However, we are in business to sell cabinetry and wall beds. We are a turnkey operation. We include the mattress at our wholesale cost so that we can provide you with the whole package. We then can balance the wall bed for you. 95% of our customers chose this option.
So how much does a custom wall bed cost?
The cost for our most popular vertical tilt queen-size wall bed starts at $2,900 which includes delivery, installation, all applicable taxes and a $750 retail value mattress. Where the cost varies is in adding options such as lighting, decorative fronts, crown molding, pull-down tables, night stands and side cabinetry.
We do not sell a bed-in-a-box option because it is not comparable to our product line. We provide a turn-key solution and offer an integrated approach to wall beds and cabinetry. We offer a broad range of options and customization of design. Additionally, delivery and installation are included in our price. We also offer a lifetime warranty. We've been in business since 1973 and will be here in the future for any service needs you have. (We've heard stories about teens at a sleepover jumping on a Murphy bed and breaking the cabinets…. Yup, it happens, and we are here when it does!)
Can I just order it and install the wall bed myself? Do you offer any "wall bed kits"?
Let us help you with your project by meeting with one of our highly experienced design consultants free of charge. Call us today at 1-800-447-1041 or visit us at Valet Custom Cabinets & Closets.
---
Valet Custom Cabinets & Closets designs, manufactures and installs custom organizational solutions that enhance the functionality of your living space while complementing the décor of your home.
Our talented design team creates unique solutions tailored to your specific needs, style, and budget. We are independently owned and a direct manufacturer.
Our areas of specialty include Home Offices, Wall Beds, Media Centers, Closets, Pantries, Garage Cabinetry, and much more.
Your Space - Exceptionally Designed - Uniquely Styled - Expertly Crafted
---