This article from HGTV explains the best ways to have a organized laundry room!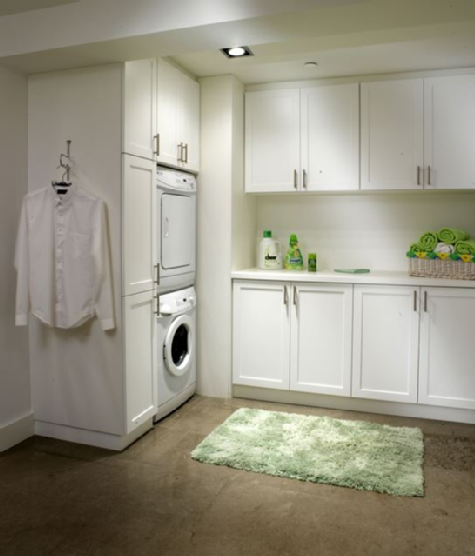 Vicki Norris, a professional organizer, encourages you to follow these steps to organize your laundry room!
He states you should, "Evaluate the Laundry Room, Determine the Laundry Room Contents, and Organize Similar Items and Set Up Zones."
Whenever you are evaluating the laundry room Norris states:
Ask yourself these three questions before getting started:
1. Is the space so small it will only accommodate laundry and associated supplies?
2. Is there enough storage to include cleaning and utility items as well as laundry?
3. Does the room also serve as a mudroom?
Once the space limitations are identified, define the purposes of the space. The storage can be built around those needs.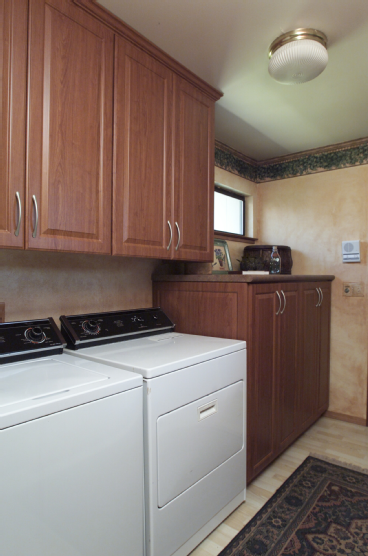 Here are the steps Norris believes you should take whenever deciding the contents of your laundry room:
Use this checklist to determine what is already in the room and what else is wanted there. Print this sheet and use it to take inventory in the room.
Laundry
- washer
- dryer
- drying racks
- mounted bars for hanging and drying clothes
- rolling garment racks
- freestanding drying racks
- laundry baskets or bins
- laundry soap, bleach, dryer sheets, spot remover, spray starch, water spray
- ironing board
- iron
- clothes steamer
Cleaning
- household cleaning supplies
- rubber gloves
- rags
- paper towels, toilet paper, tissue, trash can liners, other overflow paper goods
- mop, broom, dust pan, vacuum
- shoe polish, leather cleaner, silver polish, general purpose cleaners
- garbage can
Utility
- candles
- matches
- light bulbs
- batteries
- flashlight
- extension cords, outlet splitters, surge protectors
- small selection of tools: hammer, scissors, pliers, wrench, screwdrivers, measuring tape, stud finder
- small selection of hardware: picture hangers, nails and screws, furniture pads and repair, household repair items
Mudroom
- shoes and boots
- coats, jackets, sweaters
- hooks and hangers
- gloves, hats, scarves, other outerwear
- keys
- gardening supplies
- recycling
- infrequently used appliances
- overflow canned goods
Activity Centers
- hobby and craft center to accommodate scrapbooking, painting, jewelry making, other small craft projects
- gift-wrapping station with paper, bows, ribbons, tape, scissors
- sewing area with thread, material, sewing machine, serger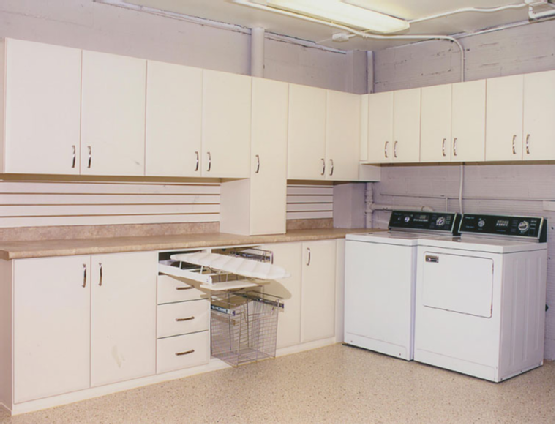 Finally, here are ways you can divide your laundry room into specific zones:
Once it's determined what items will need to be stored, group similar items together to help limit over-buying and signal when supplies are running low. Evaluating the quantity is necessary when planning storage — too many cleaning supplies may create a need for more storage space than a cleaning service.
After determining the types of activities that will take place in the laundry room, create zones for each activity.
Laundry Zone
Have an area for clothes to hang, such as knit delicates that are completing the drying process or cotton shirts waiting to be ironed. Hang items from a shower-curtain rod, buy a hotel clothesline or install accordion-style hooks on the narrow wall space normally found above the washer and dryer but under wall-mounted cabinets. Fine washables are best dried on a collapsible dryer rack or wire shelving.
Place an extra coffee mug close to the washer to hold items found in pockets.
Ironing Zone
Make a permanent space for an ironing board and iron. To conserve space, attach the ironing board to the back of the door, so it flips down for you to iron, then back up when you're finished.
Hang a bulletin board next to that area in the laundry room. Keep special care instructions and threaded needles, one with black thread and one with white thread. Poke the needles into the cork for quick fix-ups while ironing.
Mudroom Zone
Set up labeled baskets with each household member's name to store personal items such as gloves, sunglasses, hats and even cold-weather gear. Place on easy-to-reach shelves or store under a bench. Install hooks nearby for coats, bags, and backpacks.
A boot or shoe rack with a drip tray below is ideal for keeping footwear dirt from coming into the rest of the house.
Cleaning Zone
When storing cleaning supplies, look for helpful tools that keep them accessible and handy. Products such as window cleaner, furniture polish, and all-purpose cleaner are well suited for a carryall caddy. Infrequently used cleaners for leather, marble and shoes will still be accessible if stored on a turntable placed on a higher shelf in a laundry room cabinet.
Install low-profile hooks to hold mops and brooms.
Utility Zone
Braced shelving around the perimeter of the room, mounted 12 to 18 inches from the ceiling, provides additional storage for infrequently used items. Use utility baskets that slide onto shelving to hold items such as extra paper towels, toilet paper, and trash bags.
Use small bins or wire baskets to separate like items.
Activity Zone
Wall-mounted shadow boxes, mini-shelves or mini-drawers offer accessible storage for small items, like craft supplies.
---
To get the custom laundry room you need, contact Valet Custom Cabinets & Closets. We can custom build exactly what you need to gain control of the clutter in your house. Call us today, and don't dread cleaning or home organization ever again!
---
*The pictures within this article are actual projects Valet Custom Cabinets & Closets have created.