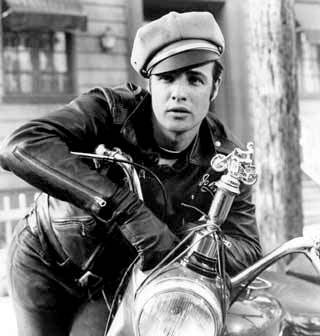 While working at Apple some time back, we all looked forward to the Halloween party; everyone, including the executives came dressed up, the food was great, and it got us away from our busy desks for awhile.
I pulled my biker chick costume from my closet: black leather pants, black leather vest, a Marlon Brando type motorcycle cap, boots and finished up with a drawn-on tattoo a la Pamela Anderson sporting my upper arm and dark aviator glasses. Coincidently, the Vice President of our division came as an old time biker too, so I got to have my picture taken with him, which I treasure to this day.

This fun article " Could Your Halloween Costume Already be in Your Closet" has some terrific suggestions about celebrities that you can dress-up as…everyone from Farah Fawcett to Billy Mays to Lady Gaga, or, for you couples, how about Kate & Jon Gosselin or Khortney Kardashian and Scott Disick?
And don't forget that at Valet Custom Cabinets & Closets we have closets that can provide closets storage systems even the most extensive collection of clothes; from the industry-standard Basic closet to the customizable Classic model, then up to the ultimate in luxurious wardrobe systems, our Siena Collection. You can be sure that the quality construction techniques, including locking adjustable shelving, soft edges, and continuous tops, together with our wide range of options and accessories create the perfect combination of function and elegance.


Please visit Valet Custom Cabinets & Closets website or visit us at our showrooms in Campbell and Danville for all of your custom closet, wall beds, home office or garage storage needs.. We appreciate you taking the time to read our blog. We would also appreciate you following us on Facebook, twitter and our Cast page.