---
April 14-16, 2015, the 2015 Cabinets & Closets Conference & Expo took place in Schaumburg, IL, and Patrick Layne, Valet's Vice President & General Manager made the trek out to Illinois to attend. The custom cabinetry, closets, and home storage solutions event provides learning, technology and supplies for shops businesses serving the dynamic closet and garage market, and for custom cabinetry businesses.
---
The first day of the event is dedicated to the Conference. There were three different tracks that conference goers could attend: Closets Sessions, Business of Design and Custom Cabinets. Patrick attended a variety of sessions from each track. Getting to listen to different closet companies and Houzz talk about their successes and best practices was educational and entertaining. At the end of the day, he took a special off-site tour of Closet Works in Chicago and enjoyed getting to see a behind-the-scenes look at the machinery and production methods of the company.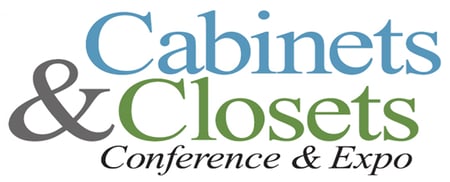 Day 2 of the Cabinets and Closets Conference and Expo saw the opening of the trade show. The Expo featured "a dynamic mix of cabinet and woodworking machinery, CAD/CAM software, cabinet and closets hardware, wood components, informational presentations, an auction benefiting woodworking education and industry awards reception."
The awards reception was an exciting time for Valet Custom Cabinets & Closets. Ward Wildanger was a finalist in the 2015 Top Shelf Design Awards competition with his project "The Dream Garage" entered in the "Garage: Under 600 square feet" category. Shari Krandel was the winner in the 2015 Top Shelf Design Awards competition with her project "Making the Most of Small Space" entered in the "Specialty" category. Both of these projects really show their design expertise and creativity, and both absolutely exceeded the expectations of our customers. We are so proud of Ward and Shari!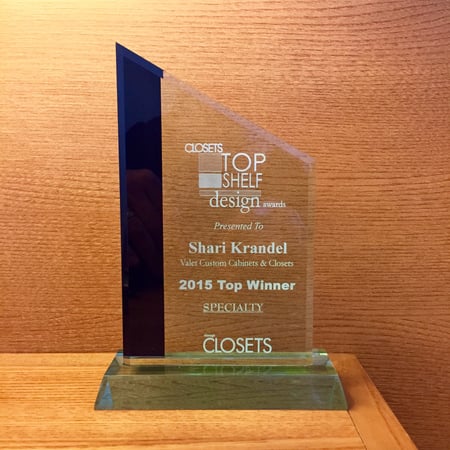 The conference included several informational sessions highlighting various industry topics. Patrick's favorite was "Hardware Trends" with Richie "The Mayor of Hardware" DeMarco of Eveready Hardware, Gary LeBlanc of Richelieu Hardware and Jeff Ratkus of Hafele. Valet is currently a leading seller of Hafele hardware in the S.F. Bay Area, and Richie DeMarco supplies Festool USA installation tools to Valet through Eveready Hardware. Denise Butchko of Butchko and Company moderated the talk and discussed some really exciting new cabinetry and closet hardware trends and products. There was talk that "polished brass" was making its return after spending quite some time in out-of-fashion exile, along with knobs and handles decorated with Swarovski Crystal offered by Richelieu. To cap off the talk, Patrick and Gary set an appointment to meet after the conference and discuss bringing Richelieu hardware to the West Coast – via the Valet Custom & Cabinets showrooms! In impressive fashion, Gary flew to California and spent the day at Valet on April 30 – stay tuned for details!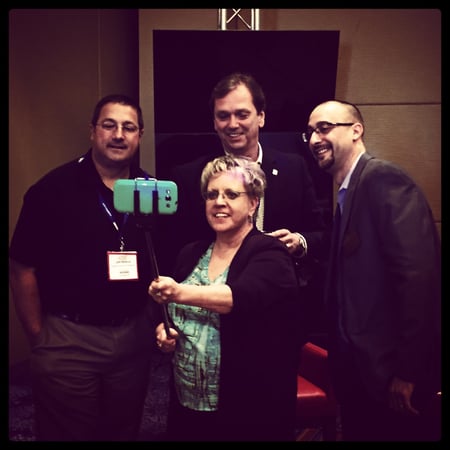 (L to R) Jeff, Gary, Richie with Denise wielding the selfie stick!
"To me, attending trade conferences is essential to keep up on industry trends, gaining knowledge and networking with professional partners," says Patrick. "The Cabinets & Closets Conference & Expo has always been one of my favorites due to the close-knit dynamic of the event (attendees and vendors often return year after year). I always come away with great new ideas, valuable connections and a renewed sense of commitment to our growing industry. I enjoy returning to Valet with fresh ideas that improve our company and ultimately offer significant benefits to our customers."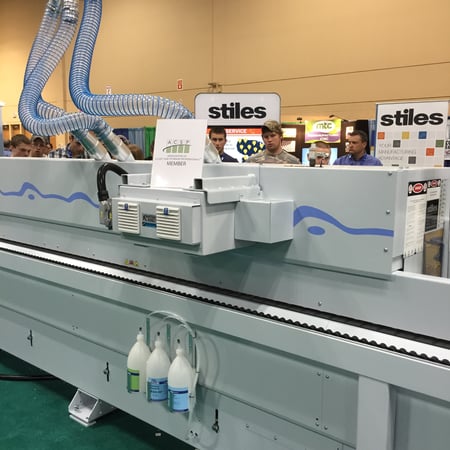 Stiles Machinery showed a hot air edge bander at the Expo
---
Valet is committed to creating custom cabinetry and closet solutions that add to our customers' living and working space through better utilization and elegant design aesthetics. We love turning our customers' dreams into reality knowing that our design solutions and installed products will significantly enhance their everyday lives. Continuing education is key for staying on top of industry trends and innovations, ensuring that we continue to introduce new products and features that bring value, durability, functionality and "the cool factor" that exceeds our customer's expectations every time!
Your Space - Exceptionally Designed - Uniquely Styled - Expertly Crafted
---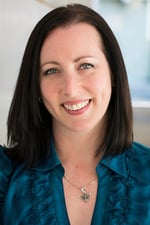 About Tracey Lee Davis and ZingPop Social Media
ZingPop Social Media, located in San Jose and founded in 2014, loves helping small businesses grow and succeed through their online marketing efforts. From coaching to total management for social media or email campaigns to blogging and more, ZingPop Social Media gives their clients a relevant voice in the social media conversation. To get your small business engaging with your target audience, please visit www.zingpopsocial.com.