---
On April 1, Kristi Waterland retired from Valet Custom Cabinets & Closets after almost nine years of being a part of our team.
---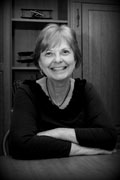 Kristi joined Valet in 2006 as our Scheduling Manager and rapidly assumed other roles as well. With a past career as an expedition manager in the group travel industry, Kristi enjoyed the complexities of managing our installation calendar and providing our customers with the superior service they have come to expect from us.
Kristi playfully referred to herself as the "office busybody," but she has been a staple of the Valet team and will be missed. "I have thoroughly enjoyed working with Kristi during her time at Valet," says Patrick Layne, Vice President & General Manager. "She has been the ultimate team member and co-worker – she is fun, hard-working and dedicated to the success of Valet. Over the years at Valet, we worked well together and became close personal friends. I'll miss Kristi around the office, but will remain in touch as she enjoys her well-deserved retirement."
We wanted to give her a special send-off, so we brought in a food truck and had a festive morning at our Campbell location, to both celebrate Kristi's time with the company, and to have an employee appreciation day. We were all treated to our choice of a delicious breakfast from The Waffle Roost, and then got to enjoy some downtime, catching up with our coworkers and eating!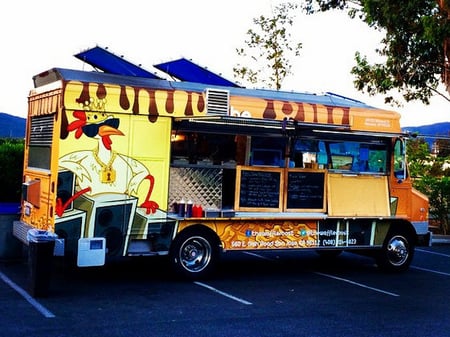 Over a stack of syrupy waffles, Kristi said, "Of all the places that I have worked for the past 35 years, this is by far the best. From being included and treated with respect, to having fun and fostering a real sense of comradery, the environment here is wonderful. I've always felt like I was working with friends."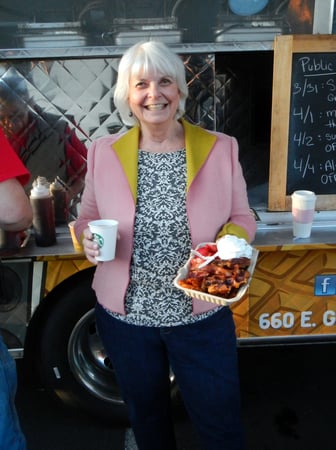 "For the past nine years, Kristi Waterland has been such a wonderful part of our Valet family and often the glue that holds us all together," says Larry Fox, President of Valet. "She wore a countless number of hats for us and always approached her work with a positive attitude and smile on her face. I know that all of us at Valet will truly miss her. We wish Kristi all the best in her retirement and know that whether it be traveling, gardening, or spending time with her family and friends, she will enjoy this next stage of her life to the fullest."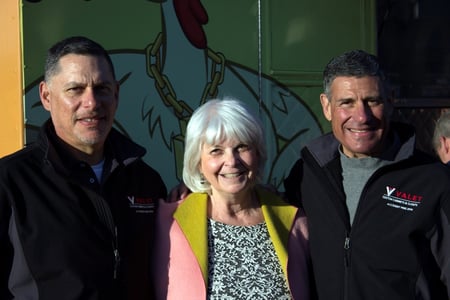 Patrick, Kristi and Larry
We had also just finished wrapping the last of our work trucks that needed Valet branding, and since we had almost the entire team together, it was the perfect opportunity for some great pictures of our team and our fleet.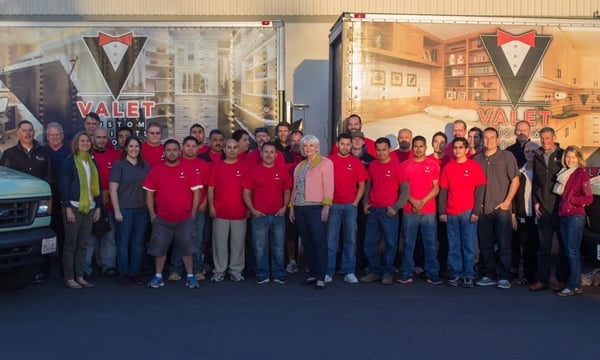 The Valet Team: Design, Manufacturing and Installation

The Complete Valet Custom Cabinets & Closets Fleet
---
We had a great morning with the team. Thank you, Kristi, for your years of hard work and service at Valet Custom Cabinets & Closets! You will be greatly missed. Have a wonderful time in your retirement!
Also, thanks so much to The Waffle Roost for the outstanding breakfast!
Valet Custom Cabinets & Closets designs, manufactures and installs custom organizational solutions that enhance the functionality of your living space while complementing the décor of your home.
Our talented design team creates unique solutions tailored to your specific needs, style, and budget. We are independently owned and a direct manufacturer.
Our areas of specialty include Home Offices, Wall Beds, Media Centers, Closets, Pantries, Garage Cabinetry, and much more.
Your Space - Exceptionally Designed - Uniquely Styled - Expertly Crafted
---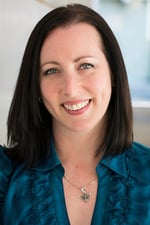 About Tracey Lee Davis and ZingPop Social Media
ZingPop Social Media, located in San Jose and founded in 2014, loves helping small businesses grow and succeed through their online marketing efforts. From coaching to total management for social media or email campaigns to blogging and more, ZingPop Social Media gives their clients a relevant voice in the social media conversation. To get your small business engaging with your target audience, please visit www.zingpopsocial.com.