Guest blog by Carla Whyte of Embracing Your Space. This is the first in a series of guest blogs from some of the Professional Organizers that Valet partners with.
Spring and summer are here, and if you haven't already done so, it's time to put away the sweaters and boots and bring out the tank tops and flip flops! But do you feel stuck at the mere thought of this process? Is your closet tiny and/or bulging at the seams, and you think there is no way your closet can EVER be organized? Take a deep breath and read on!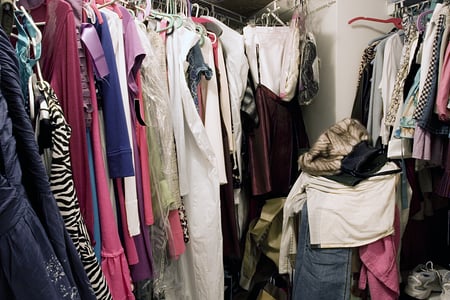 Since this is a task that no one wants to tackle alone, I recommend asking an unbiased friend to help you (someone who will tell you the truth!), or hire a professional organizer. We all need a little moral support sometimes, and having someone help you will make the job more fun, and move more quickly.
The next step is to purge. Yes, you really need to get rid of your fat clothes, your skinny clothes, and your high school clothes! (Really!) Be ruthless and keep only those clothes and accessories that make you feel happy and joyful NOW. Imagine opening your closet door tomorrow morning and feeling happy, joyful and confident. Imagine being able to find what you need in 30 seconds. Imagine that everything you own has a place, and that putting things away at night is almost fun!
Now take a look at the clothes you've chosen to keep. If there's room in your closet, hang all of the winter clothes to one side to keep them separate.This will save a lot of time when choosing a summer outfit. If your closet is still too full, put winter clothes in bins and store in an attic, a spare bedroom closet, and/or under a bed.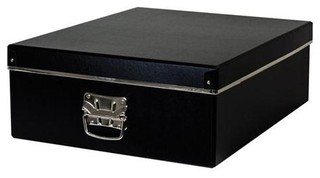 Another option is to call Valet Custom Cabinets & Closets and watch them create more storage space by designing a custom solution for your closet and other storage areas. The skilled designers at Valet will be able to maximize the functionality of your space, whether you have a standard reach-in or a large walk-in closet by incorporating organizational solutions like drawers, cabinets and shoe storage. Adding extra accessories like jewelry trays, hooks and shoe racks to your design will not only increase the usability of your space but add that extra wow-factor to your closet. You can be assured that when working with Valet, not only will you get the perfect fit for your closet and your lifestyle, you will get a closet that looks amazing and is the envy of all of your friends!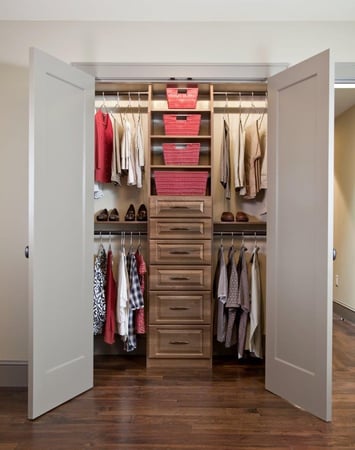 The last step (yay!) is to organize. All this means is to hang or fold like with like. Keep all pants together, short-sleeved shirts, tank tops, dresses, etc., and hang/fold them from white to black. This is also pleasing to the eye, and allows you to see what you have and what you're missing. One final tip is to buy uniform hangers. I prefer the slim felt ones, as they save a lot of space, and look great!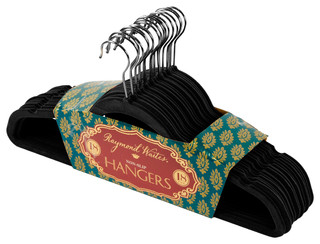 Your closet is a reflection of you. Take care of it, and you're taking care of yourself. Now step back and admire your work, thank your friend or organizer, and get ready to be happy, joyful and confident!!
---
Valet Custom Cabinets & Closets designs, manufactures and installs custom organizational solutions that enhance the functionality of your living space while complementing the décor of your home.
Our talented design team creates unique solutions tailored to your specific needs, style and budget. We are independently owned and a direct manufacturer.
Our areas of specialty include Home Offices, Wall Beds, Media Centers, Closets, Pantries, Garage Cabinetry, and much more.
Your Space - Exceptionally Designed - Uniquely Styled - Expertly Crafted
---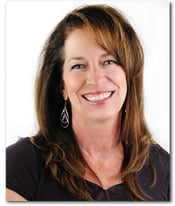 Carla Whyte, Embracing Your Space
"At Embracing Your Space, we specialize in creating beautiful functional environments for living and working. We use a sensitive process to help clients eliminate unneeded items from their home or workplace. Organization generates a feeling of accomplishment, relief, rejuvenation, and empowerment. In a clean and well-organized space, anything is possible!"