Recently, Valet Custom Cabinets & Closets had the opportunity to help an East Bay High School and the next generation of skilled tradespeople, and the results were excellent! Scott Heeb is the Assitant Engineering Manager at Valet, and his dad, Jay Heeb, is a woodshop teacher at Alhambra High School in Martinez. We had extra materials, and Mr. Heeb had students who could use them, so we brought the two together for a win-win for everyone.
Scott started with Valet in January 2014, and during that time, we were reorganizing our storage space. It was filled with a large quantity of discontinued materials that we could no longer use, and Scott immediately thought of his dad and his classes. Mr. Heeb was more than happy to take these materials off of our hands. He drove his flatbed trailer out from Martinez, and he and Scott wound up making six trips for the donated materials, which included melamine products and thousands of feet of edgebanding to match. These donated items wound up equaling about a 5-year supply of materials for Alhambra students!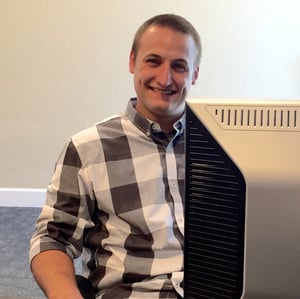 Scott Heeb, Assitant Engineering Manager
Mr. Heeb has been teaching at Alhambra High School for 32 years. He teaches Woodworking I (an introductory course for freshmen), Woodworking II (an intermediate course focusing on furniture making), as well ROP (Regional Occupation Program) Cabinet Making 1st year, 2nd year and Construction Technology.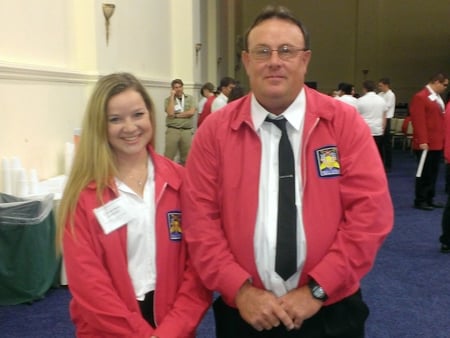 Jay Heeb and with Courtney Laerzio, who finished 1st at regionals
For the last two years, Mr. Heeb's Cabinet Making students have participated in the SkillsUSA Cabinetmaking Regional and State Championships competitions. SkillsUSA is a partnership of students, teachers and industry working together to ensure America has a skilled workforce. In the regional and state competitions, the students build a small cabinet that looks like a nightstand. Per SkillsUSA, the cabinet competition:
"Requires the building of a small cabinet from materials and drawings supplied. Contestants are expected to read the drawings, lay out and cut the parts using a table saw, laminate trimmer, hand drill, hinge boring machine and various hand tools. The parts must be accurately assembled, sanded and adjusted to tolerances specified by the judges."
Last year, three Alhambra High students qualified at regionals to go on to the state competition, which was the most qualifying students from any region in the state. Ryan DeMello, a junior at Alhambra, came in 5th in the state for his cabinet. This spring, five Alhambra students qualified for the state competition, which was by far the most qualifiers from any school. Again, Ryan DeMello placed 5th in the state, and only percentage points separated the 1st through 5th places. "It is a very intense competition," says Heeb. "Watching my students compete in the Skills USA Regional and State competitions is one of the most rewarding teaching experiences I have had in my 32-year teaching career. Seeing them exhibit the skills that they learned in my class at these competitions is personally very fulfilling and validates my curriculum."
Ryan DeMello and Courtney Laerzio

Scott is very proud of his dad and the classes that he teaches to his students. "It's one of the last remaining woodshops in the Bay Area," Scott says of his dad's programs. "The donation from Valet helped make it possible to work within [Alhambra's] budget." He discussed how important Mr. Heeb's classes are to his students, and what a positive impact that they have. "Several kids are struggling students, and they take my dad's course and it winds up being their favorite. It starts being a reason that they come to school, and it helps keep them in school. Valet made a difference and helped these kids not only enjoy a class but learn valuable skills. Other classes make things like breadboxes, which is great to see what sort of fun things you can do with wood. However, these kids get to see what it is like in the industry; they get to learn skills and build things that can help them earn money and support a family."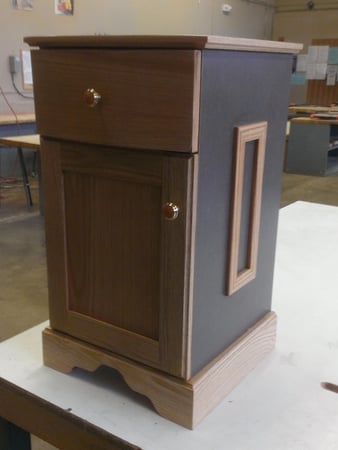 A finished cabinet made by a student
Valet was thrilled to contribute these materials to the Cabinet Making students, and Mr. Heeb and his students were excited to have them. Because of these donations from Valet, the five students who went to the state competition were not only able to build their competition cabinet free of charge, but also a practice cabinet, as well. While Mr. Heeb thinks his students would have likely attended the competitions one way or another, "the students in my cabinet making class would NEVER have been able to build their cabinets for free." Mr. Heeb stated, "Valet has had a tremendous positive impact on my cabinetmaking program. Without their generous donation, my students would not be able to learn advanced cabinet making skills that are needed in today's cabinet making industries."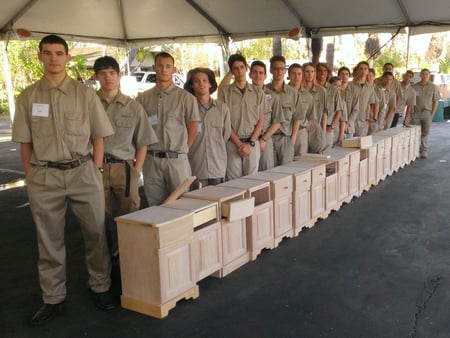 Students with their Cabinets
Valet is a big advocate of supporting our community whenever possible. Patrick Layne, Vice President & General Manager of Valet said, "It was the right opportunity at the right time, and it worked out well for both sides." We're happy to have contributed to a program that is teaching skills to students who may go on to careers in woodworking. Who knows, maybe one of these kids could go on to become the next generation of Cabinet Maker at Valet!
---
Valet Custom Cabinets & Closets designs, manufactures and installs custom organizational solutions that enhance the functionality of your living space while complementing the décor of your home.
Our talented design team creates unique solutions tailored to your specific needs, style, and budget. We are independently owned and a direct manufacturer.
Our areas of specialty include Home Offices, Wall Beds, Media Centers, Closets, Pantries, Garage Cabinetry, and much more.
Your Space - Exceptionally Designed - Uniquely Styled - Expertly Crafted
---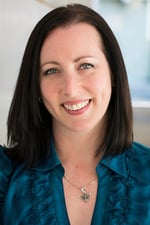 About Tracey Lee Davis and ZingPop Social Media
ZingPop Social Media, located in San Jose and founded in 2014, loves helping small businesses grow and succeed through their online marketing efforts. From coaching to total management for social media or email campaigns to blogging and more, ZingPop Social Media gives their clients a relevant voice in the social media conversation. To get your small business engaging with your target audience, please visit www.zingpopsocial.com.