---
Valet Custom Cabinets & Closets has been operating in the Bay Area since 1987. During that time, we have gotten to know a wide array of professional service providers that complement and enhance the Valet Experience. These professional partners are interior designers, professional organizers, audio/visual specialists, contractors, and more. Through the years, we have worked to establish great relationships with talented companies and people who we feel provide excellent quality products and services to our clients and theirs.
---
Valet will team up with a professional partner for a variety of reasons:
A client comes to us for a garage makeover, but in order to get new cabinetry in, we need a professional organizer's help getting years' worth of clutter and junk out.
A client is completely remodeling their home, and working with a contractor who does not specialize in custom cabinetry or closets.
A client wants to give their home a facelift without remodeling, and brings in an interior designer who tells us about the desired look and feel of the room. We then provide the technical expertise to make this vision come to life.
One of our professional partners is James Stout of The Integrated Lifestyle, a Home Entertainment Specialist. James says, "The Integrated Lifestyle creates affordably elegant home entertainment systems. This means that all the cables, components, and often speakers are hidden in custom cabinetry. Without solid partnerships with Valet and others, we would be just another Audio / Video company with no differentiation. The result is we have been able to focus our business on discriminating clients who demand both beauty and function."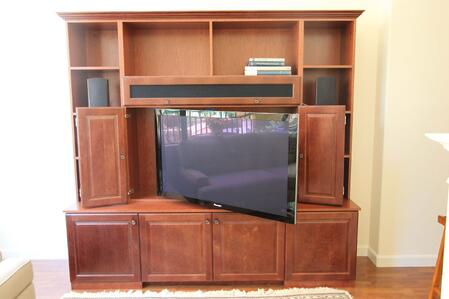 Custom Cabinetry by Valet, A/V components by The Integrated Lifestyle. Photo courtesy of James Stout.
Professional organizer, Amanda Kuzak of Kuzak's Closet also benefits from the relationship she has with industry partners. "I am able to tackle more projects in less time because of my partnerships with wonderful companies like Valet." And while businesses benefit from working with partners, our clients are the real winners of these collaborations.
When Valet works with one of our professional partners, our clients benefit in a number of ways:
Our partnerships are with companies where the relationship is already established. We have already vetted this company against our own standards, and we know that they offer quality services. This might not be the case if a client goes out and finds a company on their own.
Collaborating with professionals who specialize in different areas creates the potential for interesting, "out-of-the-box" solutions with the combined expertise of all parties involved.
Some partners may have some overlap in services, while others may have none at all. By joining forces, we can offer even more customized solutions for each individual job.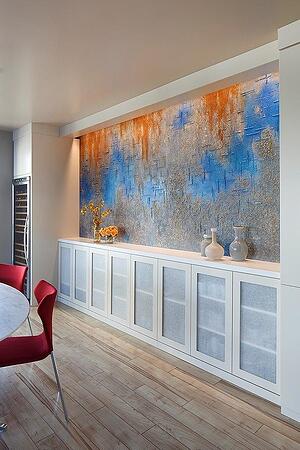 Custom Cabinetry by Valet, Interior Design by Kimball Starr Interior Design.
Amanda says, "Each time I meet with a client regarding a space that they are struggling with, we work together to create an action plan. Often times, I suggest that we could accomplish their goals with better results if I bring in a professional partner to assist with a piece of the project. My clients love that I have trusted resources that do excellent work that can help them within their timeframe. It takes the guess work out of finding a service provider, which saves them time and money."
James agrees that professional partnerships offer a great benefit to his clients, because it makes his company "a one stop, white glove resource for clients who are upgrading their home technology. Through us, the client has access to interior designers, handymen, computer specialists. The clients save time, money, and stress."
James Stout and his team installed the Audio/Video equipment in our Campbell Showroom, and this offers our clients an easy way to see the integration of his components and our cabinetry. "Having a showroom which showcases the blending of cabinetry and technology is also a critical benefit to my clients," he says.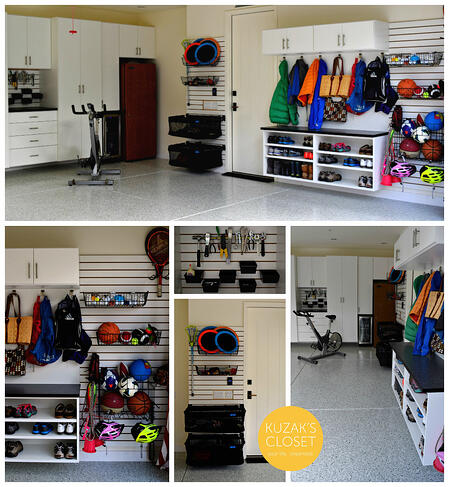 Custom Cabinetry by Valet, Professional Organization by Kuzak's Closet. Photo courtesy of Kuzak's Closet.
Here are some examples of some of the wonderful collaborative work that we have done with our professional partners:
---
We thoroughly enjoy the partnerships that we have with so many talented professionals, and we're happy to say that the feeling is mutual. "I love that I am working with a company that provides quality service with a quality product," says Kuzak. "I can 100% trust that each project will be completed on time and without snags. Valet is locally owned and understands the marketplace and the needs of my clients." Stout tells us, "What I enjoy most about my collaborations with Valet is the creativity each designer uses in creating a custom solution. Each cabinetry solution meets the needs of my clients precisely."
---