---
This month's featured project was designed by Senior Designer Robert Gudanets. Robert has over 25 years industry experience and has been a Senior Designer with Valet since 2003. In addition to Closets as shown in this month's featured Blog, Robert has an extensive background in cabinetry design and the versatility to create custom space enhancing solutions for any room in the home. Robert is an advocate of continuing education and has most recently completed a course in interior design color theory.
---
A Valet client had recently bought a new home and wanted a contemporary closet to match her contemporary house. It was important to her not to have dressers in her bedroom, so the design for her custom closet would need to incorporate plenty of drawer space. She wanted to make sure to have ample room for shoes, as well as storage for her jewelry. Robert listened carefully to the client's desires and produced a design for her walk-in closet to take care of all of her needs.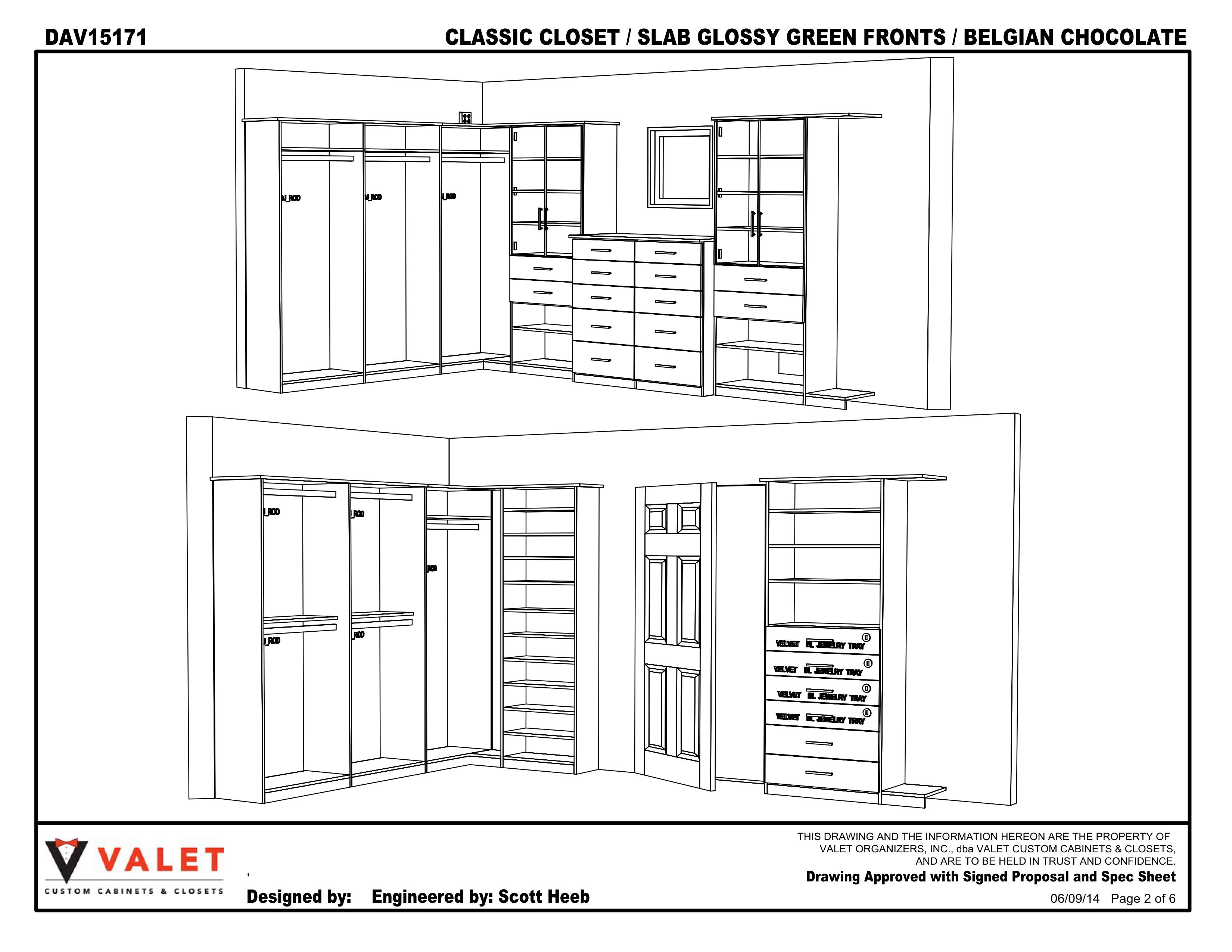 Robert suggested using a high gloss finish, as well as different textures and colors to make the design more attractive and contemporary. Our client liked the light green metallic gloss color of the drawer fronts, and those, coupled with the frameless frosted Plexiglas doors, definitely makes for a unique look and design.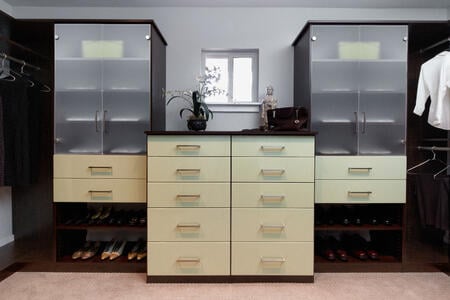 Wood grain melamine in a Belgian Chocolate finish was used to create the rest of the components of the closet. The split-level areas along with the long-hang area allow for a wide assortment of garment styles and lengths. Vertical shoe racks are perfect for keeping footwear organized, visible and easily accessible.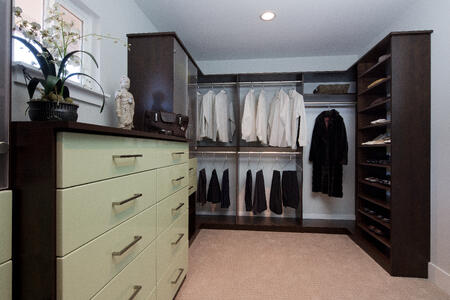 Plenty of long-hang space was used in the design, to ensure that dresses, long coats, and suits had ample room to hang. All of the hardware used is from Top Knob's Nouveau III Collection in Brushed Satin Nickel.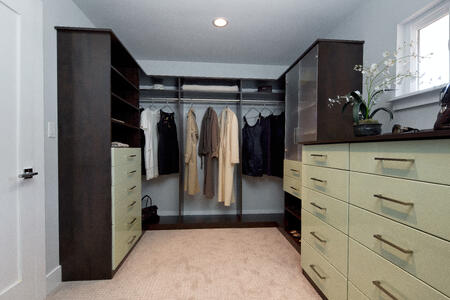 Frosted Plexiglas allows for visibility of belongings while still keeping them tucked away.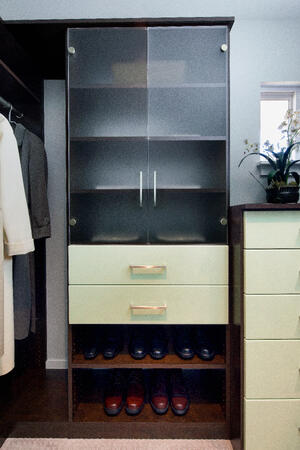 Being able to safely and securely store her jewelry was important to our client, so Robert incorporated locking velvet lined jewelry trays into the design of her walk-in closet.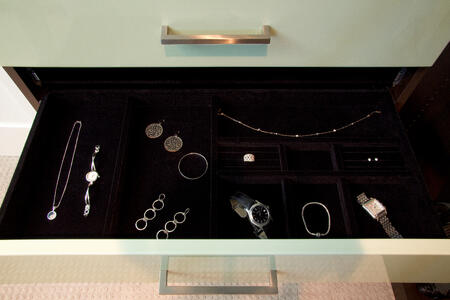 This spacious, custom design allows for storing an entire wardrobe while still being able to find easily what you are looking for.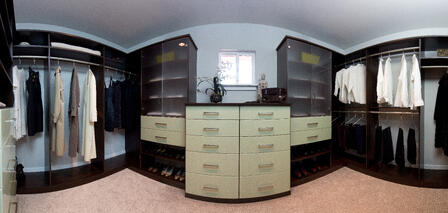 No matter what your home storage needs consist of, our designers listen, assess your needs, consult, and utilize our design expertise to create a custom solution just for you. Are you ready for the perfect closet?
---
Valet Custom Cabinets & Closets designs, manufactures and installs custom organizational solutions that enhance the functionality of your living space while complementing the décor of your home.
Our talented design team creates unique solutions tailored to your specific needs, style, and budget. We are independently owned and a direct manufacturer.
Our areas of specialty include Home Offices, Wall Beds, Media Centers, Closets, Pantries, Garage Cabinetry, and much more.
Your Space - Exceptionally Designed - Uniquely Styled - Expertly Crafted
---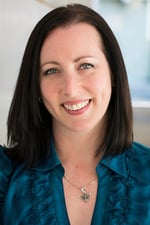 About Tracey Lee Davis and ZingPop Social Media
ZingPop Social Media, located in San Jose and founded in 2014, loves helping small businesses grow and succeed through their online marketing efforts. From coaching to total management for social media or email campaigns to blogging and more, ZingPop Social Media gives their clients a relevant voice in the social media conversation. To get your small business engaging with your target audience, please visit www.zingpopsocial.com.