Cupertino is an excellent place to raise a family. What's not to love? You have beautiful surroundings, low crime, plenty to do, and a great school system. A really great school system. Kids as young as middle school are playing at Carnegie Hall and presenting their scientific work at the White House. Plenty of folks move to Cupertino due to family considerations.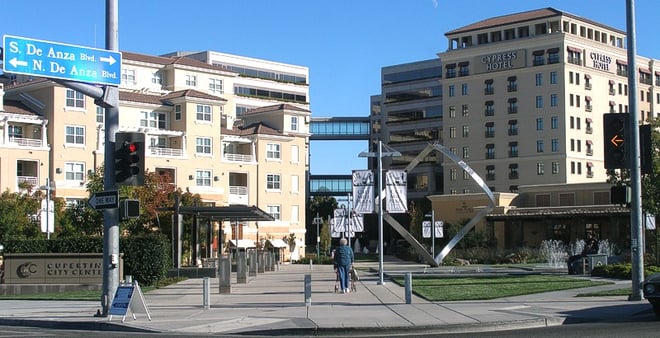 Cupertino offers lots of family-friendly amenties.
Image Credit: Wikimedia Commons User
Coolcaesar
(CC BY-SA 3.0)
The one hitch in this plan, though, is the size of many homes around here. Cupertino hasn't seen significant single-family housing development for decades, and an older home combined with young children is almost guaranteed to leave you tight on space. Kids need room to move around and play, but options are limited if your home lacks a basement or a free room.
For many families, the solution is a mixed-use room that doubles as a playroom. Often, that room ends up being the living room. It's a good option since living rooms are typically large, central areas where you can easily keep an eye on the kids. The challenge is not letting your living room get so overrun with toys and games that it's no longer a relaxing place for adults. Fortunately, well-planned, custom-designed furniture allows you to create a unique space that everyone can enjoy.
Essentials for Your Child's Playroom
If you've ever stepped on a Lego in the middle of the night while you tried to get some water, you know the importance of getting your kids to put their toys away. Custom, child-specific storage options are a big help. We can install shelving and drawers low to the ground, so they're the perfect height for your kids to use. We also offer a range of hardware options for drawers and cabinets, so you can select handles and knobs even young children can manage. Kid-accessible storage for toys lets you enforce cleanup rules with fewer excuses.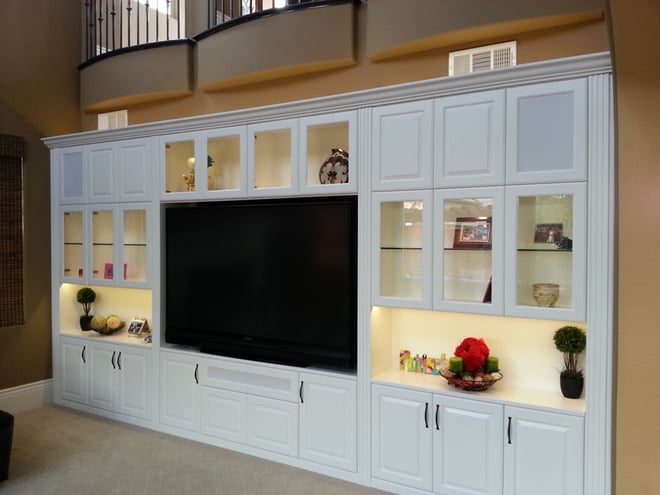 Custom storage space that kids can reach encourages easy clean-up.
Image from Valet Custom.
An arts and crafts area is another playroom essential, but it can be difficult to fit into a living room. We can work around this by installing a workspace that folds down or pulls out from a shelving unit – and the shelving can be used to house art supplies. Having a self-contained project area keeps you from hunting around the house for paper, crayons, and scissors. We can even construct the workspace using a low-maintenance laminate surface that's easily cleanable if there's a glue or paint spill.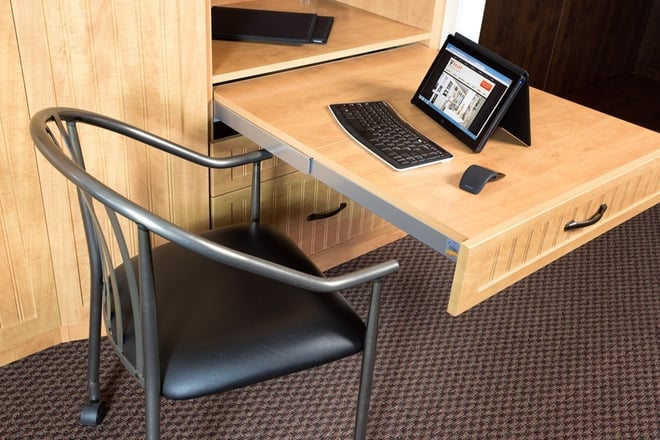 An example of a convenient and hideable pull-out work surface.
Image from Valet Custom.
A dedicated kids' reading area is another popular option for a dual-purpose living room. My favorite way to create this space is with a window seat – it easily provides more than just seating. We can add custom bookshelves on either side of the window, and big drawers underneath the seat itself, to create an entire library that's framed in and separated from the rest of the room. And with directional task lighting installed, kids can read while adults do things like watch a movie.
Keeping Your Living Room Adult-Friendly
Once you have the essentials worked out for your kids' play area, you also need to keep the adults happy. After all, you're going to want to kick back occasionally, and you probably want a space guests will be comfortable in – or at least one that doesn't require them to sit in mini chairs and kick game pieces out of the way.
A common approach to keeping the room dual-purpose is to visually break it into two spaces. We can craft a long, low bookshelf or an L-shaped storage cabinet based on the size of your room. One of these pieces in the middle of your space (plus careful placement of your couch) helps separate the play area from the sitting area.
Some families even install sliding doors. These let you fully separate the two areas while retaining the option of opening them back into one larger room for family evenings or special events. This option works particularly well in large or narrow living rooms and is useful if playtime tends to get noisy, or if you want the option of hiding the mess for awhile.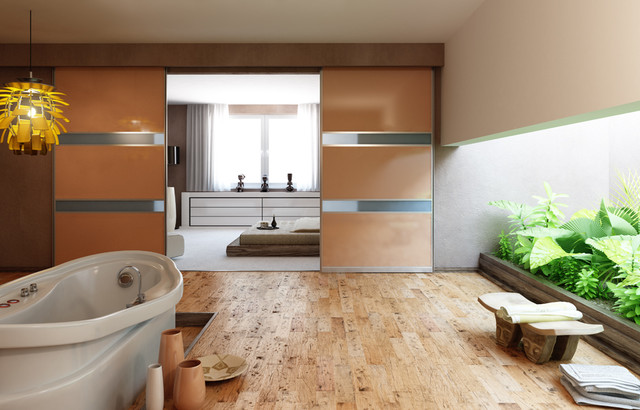 Any large room can be split it into two spaces with sliding doors.
Image from Houzz.
A Room for the Whole Family
With careful planning and some help from Valet Custom, your kids can have a space to play, and you won't have to give up the comfort or functionality of your living room. Dual-purpose rooms are a little like superheroes: they each have a secret identity. One minute your space is a playroom offering every feature a kid could want, and the next it's a living room you'd hardly know the kids use. Now that's the way to really save the day – and your space.
Each home is a little different, as is each family. But a custom design takes all those quirks into account, allowing you to find a solution that works for everyone. If you dream of having a more functional living room, get in touch with us today for a free consultation.
---
Valet Custom Cabinets & Closets designs, manufactures and installs custom organizational solutions that enhance the functionality of your living space while complementing the décor of your home.
Our talented design team creates unique solutions tailored to your specific needs, style, and budget. We are independently owned and a direct manufacturer.
Our areas of specialty include Home Offices, Wall Beds, Media Centers, Closets, Pantries, Garage Cabinetry, and much more.
Exceptionally Designed & Styled * Expertly Crafted with 5-Star Execution
---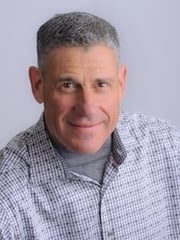 About Larry Fox, President
Larry is a graduate of the University of Southern California School Of Business. After receiving his degree he returned to the Bay Area and spent 18 years working in his family's 100+ year old metals recycling business. Upon the sale of that business in 2000, Larry and his wife Audrey purchased Valet. Larry has become a leader in the industry and is a past president of the National Closet Group. Larry loves turning people's dreams into reality, and remains as enthusiastic about the business today as he was when he first acquired it. View Larry's Houzz Page.