In my line of work, I visit homes all over the Bay Area – and when it comes to exceptionally high-end design, Atherton stands out. Residents have a taste for quality and show it by investing in stunning homes, exotic cars, and designer wardrobes. Of course, if you have an extensive wardrobe, you often want to display it against an equally stunning backdrop, so it's no surprise that custom walk-ins are a popular luxury item for Atherton residents.
High-end walk-ins can be zen retreats – personal spaces that have the feel of a luxury boutique and highlight your taste in shoes, suits, or dresses. If you've invested in quality clothing and want to house it in a space of equal quality, take some inspiration from our Atherton neighbors.
A Walk-In Oasis Needs an Island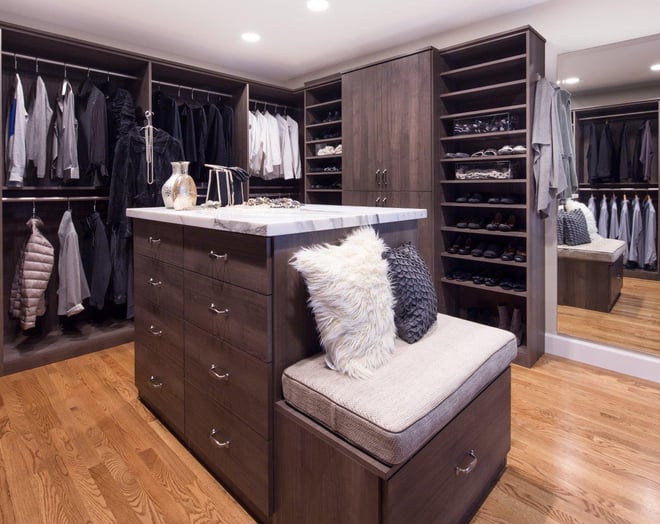 A marble top and comfy seat make this closet island the perfect walk-in addition.
Image from Valet Custom Cabinets & Closets.
An island cabinets a popular feature that provides more than storage. It adds a useful tabletop surface where you can lay out ensembles to make sure colors and fabrics work well together before you begin dressing, allowing you to achieve a more polished look. (And if you're already confident in your choice, it can hold your glass of wine while you change.)
Built-in seating makes it easy for you to swap shoes, fasten jewelry – or simply relax. You may even want to install full-length mirrors in front of your island seating, allowing you to inspect your ensemble both sitting and standing. These additions help transform your closet into a legitimate changing area. You don't just store your things here – you escape from the rest of the world while you quietly prepare for whatever the day or night will bring.
Clothing Storage Designed for the Items You Own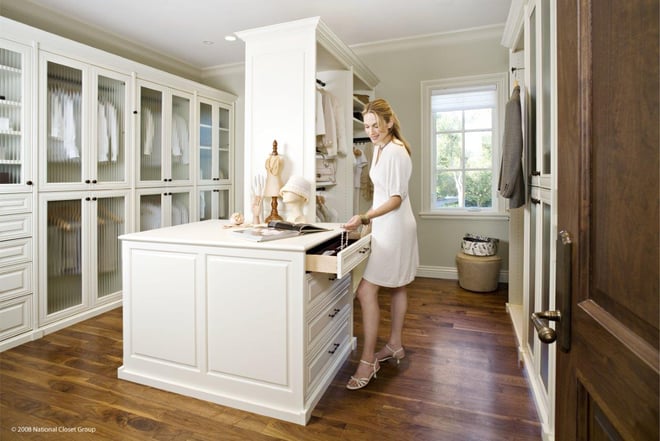 Glass cabinets protect your clothes and act as display cases for your most beautiful items.
Image from Valet Custom Cabinets & Closets.
Your walk-in closet should also take your personal quirks into account, allowing you to display even the most challenging items.
Long, formal gowns often benefit from a custom design. Standard hanging rods are not always positioned to accommodate them, and when dresses are left dragging on closet floors they tend to get dusty and ragged. A similar issue occurs with suits – when the pants are hung by clips fastened at the waist (the best way to avoid wrinkles), they often drag. A custom-designed space gives you access to formal wear without an added trip to the dry cleaners'.
Certain fabrics also call for specialized storage. If you have cashmere, linen, or silk, you know they're fragile and easily wrinkled. If you want to hang these items, we'll create a designated space so they won't be crushed against more durable fabrics. For items like sweaters that will stretch out if hung, we recommend installing pull out trays so you can store each piece separately, laid out flat to avoid creases.
Shoes Need a Home Too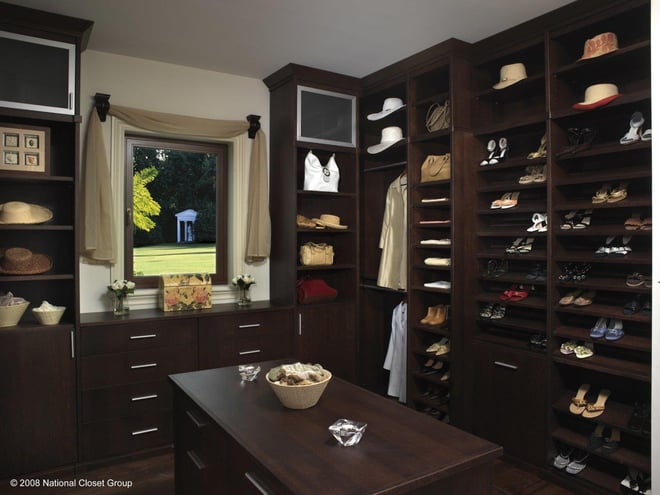 Shoes are one of the most important accessories in your closet. Treat them that way.
Image from Valet Custom Cabinets & Closets.
As a crucial piece of your ensemble, and potential works of art in themselves, shoes demand a proper display.
Custom racks help you store shoes safely, but they also give you the opportunity to organize to your heart's content. You can arrange footwear by season, designer, style, or color. Not only does it look great to have your shoes separated into groups, it allows you to leisurely peruse your options when getting ready, so you never have to hunt for the perfect pair.
Treat Your Accessories Kindly
Standard closets sometimes neglect hats and purses. But individual shelving nooks in your custom walk-in provide space for both these accessories. You don't have to worry about crushing or damaging them, and they'll be displayed easily in view. We're also fond of a wall hanging systems which display hats or bags on hooks, creating a piece of art that also simplifies your selection process.
Many of our clients also add custom jewelry drawers to their islands. Velvet-lined inserts keep items organized, prevent damage, and offer an attractive display backing. We can also install locks to drawers and cabinets for added security.
Keep your jewelry and other valuables neatly organized and safely stored with divided drawers.
Image from Valet Custom Cabinets & Closets.
Don't Settle for a Simple Closet When You Can Have a Private Changing Room
If you enjoy dressing fashionably, you probably don't just throw on some clothes before heading out the door. You carefully craft an image to present to the world.
A custom space allows you to store clothing safely, organize it well, and display it tastefully, acting as your quiet oasis and helping you prepare for whatever the world has in store. Get in touch with our design experts today, and we can start crafting a personal space for you and your wardrobe.
---
Valet Custom Cabinets & Closets designs, manufactures and installs custom organizational solutions that enhance the functionality of your living space while complementing the décor of your home.
Our talented design team creates unique solutions tailored to your specific needs, style, and budget. We are independently owned and a direct manufacturer.
Our areas of specialty include Home Offices, Wall Beds, Media Centers, Closets, Pantries, Garage Cabinetry, and much more.
Exceptionally Designed & Styled * Expertly Crafted with 5-Star Execution
---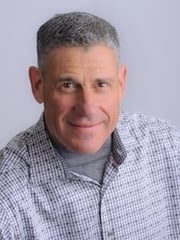 About Larry Fox, President
Larry is a graduate of the University of Southern California School Of Business. After receiving his degree he returned to the Bay Area and spent 18 years working in his family's 100+ year old metals recycling business. Upon the sale of that business in 2000, Larry and his wife Audrey purchased Valet. Larry has become a leader in the industry and is a past president of the National Closet Group. Larry loves turning people's dreams into reality, and remains as enthusiastic about the business today as he was when he first acquired it. View Larry's Houzz Page.