First, what is the customer value proposition? The Customer Value Proposition or CVP states that the CVP is:
"The sum total of benefits which a vendor promises a customer will receive in return for the customer's associated payment"
Valet Custom Cabinets & Closets offers the highest CVP in the custom closet, custom cabinetry or custom garage arena. Through Valet's mantra – The Valet Way – they have achieved over 250 5-star Yelp reviews in Campbell. This demonstrates Valet's commitment to 5-Star Execution and Service.
But how does Valet get there? How do they achieve the Valet Way and a phenomenal CVP? How does a company generate 60% of its business from repeat and referral customers?
It is a mixture of Exceptional Design, Expert Craftsmanship, and 5-Star Execution and Service!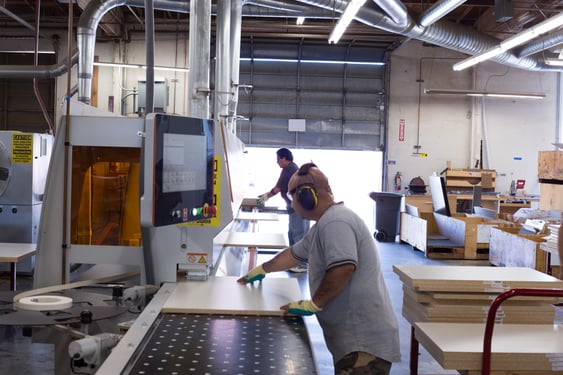 To take a closer look, we are going to focus on precision manufacturing. Management theory has always been full of fads – remember "business process re-engineering" or "matrix management"? All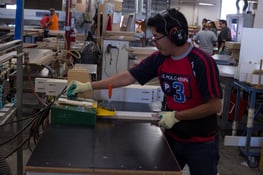 these fads start off with good intentions, but in many cases, most organizations go back to the way they did things before these theories. Movement towards precision manufacturing, however, might be different. For starters, it is driven by advances in software, communications technology, and materials.

Valet Custom Cabinets & Closets in the San Francisco Bay Area is at the forefront of technologies – utilizing the following tools in order to provide the highest efficiencies in labor and material expenses. These savings can be passed on to their customers, thus raising their CVP without sacrificing quality.
Two fully-automated CNC router machines are accurate to the ten thousandth of an inch (that is .001)
A pressurized beam saw with the ability to cut to the nearest hundred thousandth of an inch
Automated CNC edge banding machine that is programmable to exactly the thickness of each board, accounting for the variances and idiosyncrasies present in all wood products
Two automated, ready-to-assemble and concealed hardware insertion machines
Proprietary Cabinet Vision software – unique and customized to Valet's catalog
Custom-built ERP and CRM systems uniquely styled to fit Valet's clientele
---
Valet Custom Cabinets & Closets designs, manufactures and installs custom organizational solutions that enhance the functionality of your living space while complementing the décor of your home.
Our talented design team creates unique solutions tailored to your specific needs, style, and budget. We are independently owned and a direct manufacturer.
Our areas of specialty include Home Offices, Wall Beds, Media Centers, Closets, Pantries, Garage Cabinetry, and much more.
Exceptional Design * 5-Star Execution and Service * Expert Craftsmanship
---
Scott Heeb
Scott has been a member of the Valet Team since January 2014. He is a graduate of the University of Redlands with a Bachelor's of Science in Business Administration and an emphasis in Finance. Scott's strong analytic skills coupled with his background in computer science and mathematics make him a perfect fit for handling the pre-production engineering of job packets and cabinet drawings that turn Valet designs into reality. Scott is an avid baseball fan and still plays quite often. He is a real team player at Valet and says that he enjoys the people that he works closely with day in and day out.