It's an honor to win a Top Shelf Closet Design Award. This national award is given annually to honor exceptional designers for creative closet and home organizational designs. To win a second Top Shelf Award in the space of a few years is an accomplishment few in our industry can boast. Now, thanks to her second win last month, Shari Krandel joins that elite group of top designers. Judged by a panel of industry experts based on appearance, design creativity, functionality and quality, this industry award is a coveted recognition of all aspects of designer's excellence.
"When I got the news that I had won, it took time to sink in," Shari said. "It's so exciting to be recognized by your peers."
Stepping into Shari's creative process, she describes to us the project she calls A Garage Stacked in Their Favor: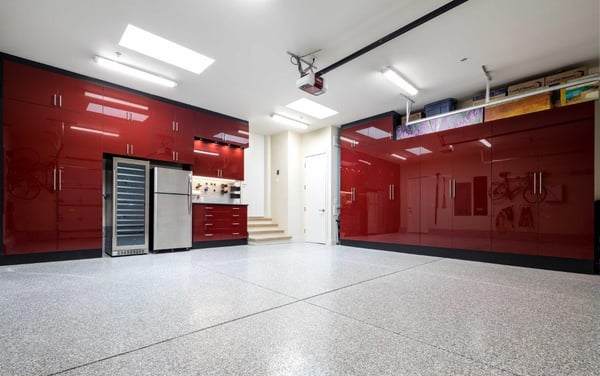 "Touring the clients' home during the remodel process, it was immediately obvious that this would not be an ordinary garage project. Everything in the home was extraordinary; the sleek contemporary finishes, the ceiling heights. The quality of everything was incredible! As we walked through the kitchen and mudroom to the garage, I gasped at the beautiful sleek glossy red finish of the European black cabinets. Stunning. 'I can do that in the garage' I told her."
"She was so excited when I told her I could do black cabinets with Ruby Red Acrylic fronts to match her cabinets inside perfectly. Then she started to tell me all the requirements for this slightly oversized 2-car garage and that she was worried how I'd fit it all in. When I heard her list I became concerned, too. Although the garage space felt open and spacious like a 3-car garage, it is, in fact, only an oversized 500 square feet space.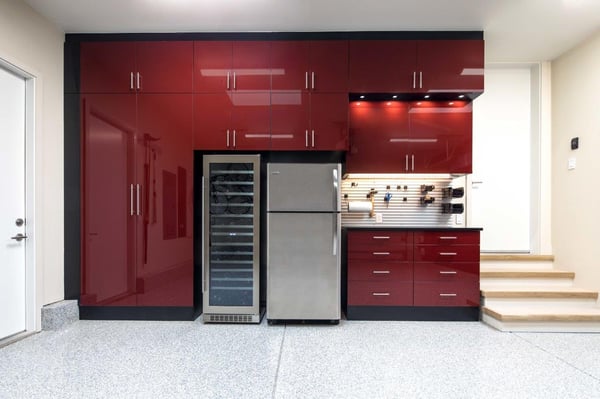 The requirements were:
Two cars must park in the garage
A wine refrigerator
Secondary regular refrigerator
A workbench for crafts and gardening
An auxiliary pantry
And of course, tons of general storage.
"As if that wasn't enough, they also needed to store 3 bikes along with yard and craft tools. So how could I fit all of this in 500 square feet with two cars parked in it? I go vertical! A stacked garage system which exploited the 121-inch-high ceiling was the answer. And the details would need to live up to the interior."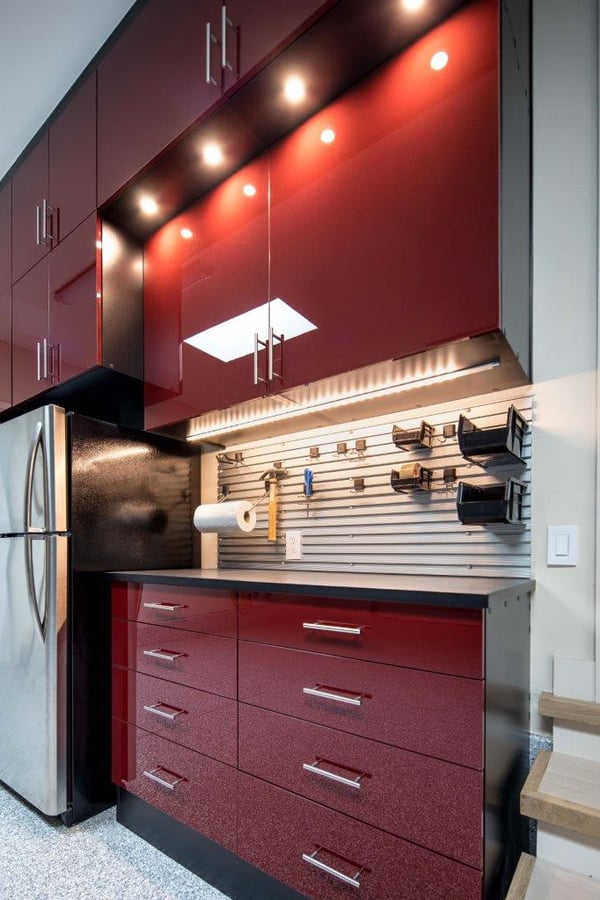 "I boxed it to the ceiling, added base trim to the bottom, and added a gorgeous lighting detail, all to complement the beautiful glossy cabinets. The cabinets needed to be as deep as possible so I used 24-inch-deep sizing on the tall cabinets as well as on the stacked cabinets above. But I only wanted a 16-inch-deep cabinet above the workbench, and I had 24-inch-deep stacked cabinet above that. Instead of a set-back, this became an opportunity: I added an amazing lighting detail using 4 puck lights to highlight this unique feature. It was something you'd wouldn't typically do in a garage. They loved it because there is nothing typical about this remodel. I also used a specialty pantry cabinet with roll-outs, added tons of drawers in the workbench, and built-out every inch of space on the two walls. The third wall I left open allowing access for the driver to get out of the car. There, we made use of the space by adding Omni track around the multiple utility obstacles on the wall. The result? The client now has an extremely functional and extraordinarily beautiful garage."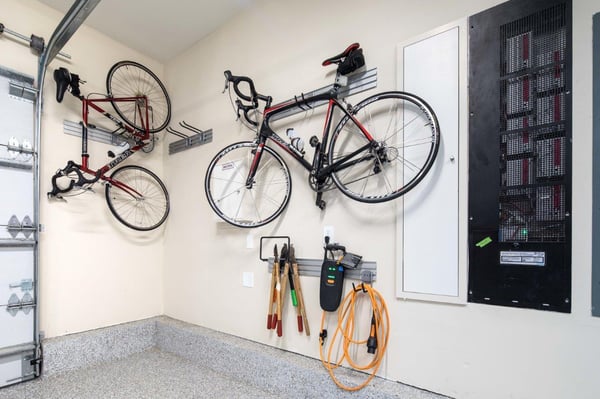 Congratulations, Shari, on what is a beautiful, functional and unique garage. While satisfied customers are the best reward possible, it's quite a bonus to be recognized for such an excellent project with another Top Shelf Closet Design Award.
Shari added, "Getting all the congratulations from my co-workers and friends was overwhelming. It really sunk in when I set my new award next to my award from 2015. They make a nice set!"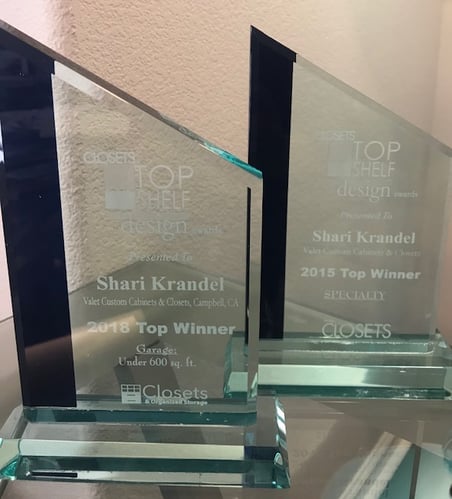 ---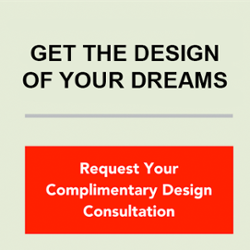 ---
Valet Custom Cabinets & Closets designs, manufactures and installs custom organizational solutions that enhance the functionality of your living space while complementing the décor of your home.
Our talented design team creates unique solutions tailored to your specific needs, style, and budget. We are independently owned and a direct manufacturer.
Our areas of specialty include Home Offices, Wall Beds, Media Centers, Closets, Pantries, Garage Cabinetry, and much more.
Exceptionally Designed & Styled * Expertly Crafted with 5-Star Execution
---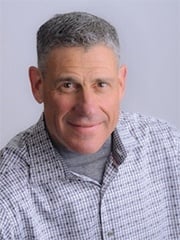 About Larry Fox, President
Larry is a graduate of the University of Southern California School Of Business. After receiving his degree he returned to the Bay Area and spent 18 years working in his family's 100+ year old metals recycling business. Upon the sale of that business in 2000, Larry and his wife Audrey purchased Valet. Larry has become a leader in the industry and is a past president of the National Closet Group. Larry loves turning people's dreams into reality, and remains as enthusiastic about the business today as he was when he first acquired it. View Larry's Houzz Page.