With so many of us spending hours every day in our home office – either as a home-based business or as a remote worker – having a functional space is important to productivity. As a designer for Valet Custom Cabinets & Closets, I needed a place to meet with clients and a place to work on the computer creating designs. But limited space meant I needed to combine my office with a family room. I wanted to be able to relax and watch TV after the workday was over.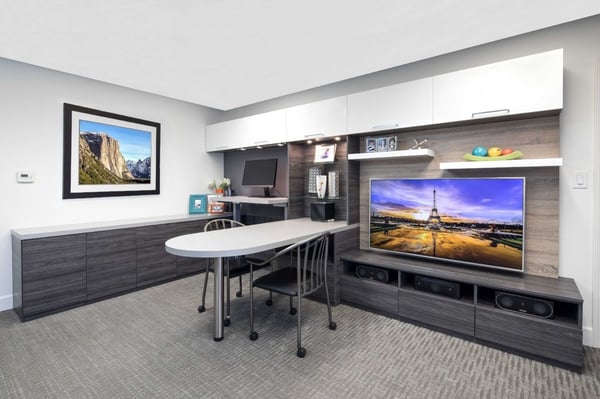 Since sitting all day is not good for you, a seated desk was not ideal. But going with a standing desk meant standing all the time, which would get tiring. My solution was to get an adjustable desk for my computer. I can change the position when needed so I stand to work on drawings just like a drafting table. For other work, the desk lowers to lie flush with the conference table area. It remembers the heights you use, which makes it easy to change from sitting to standing.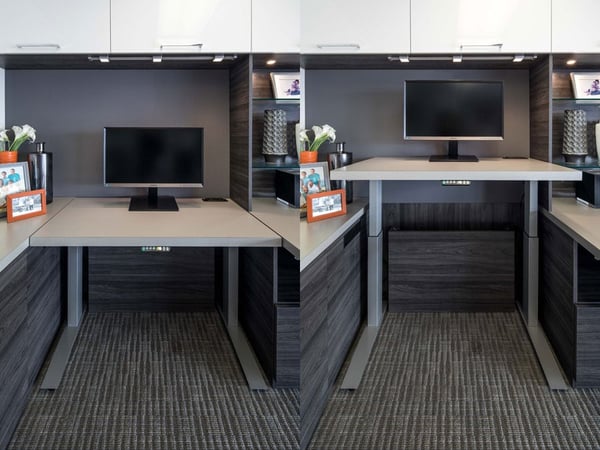 The conference table peninsula easily fits four people and stands on a single pillar, so no one has to straddle table legs during meetings. When I am not meeting with others, I have plenty of work space on the conference table and above the storage cabinets along the wall. These cabinets have touch latches so there are no handles for my desk chair to get caught on as I swivel. There is additional storage under the peninsula and above the desk and media center in handy flip-up-front cabinets.
In the media viewing area, the TV is mounted onto the unit itself, with cords going behind the unit to keep the look clean. I completed the modern look with floating display shelves for memorabilia and family photos above and cabinets for media components below.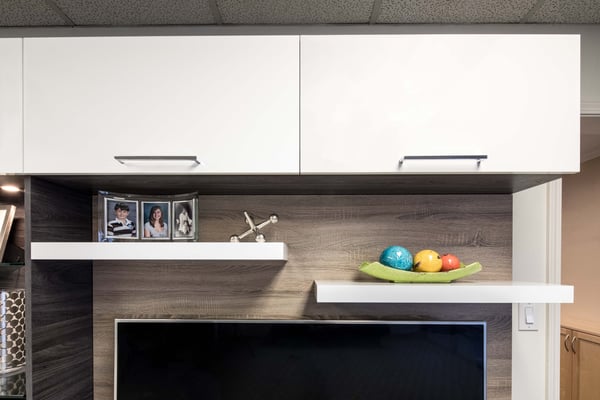 For upper cabinet fronts, desk, table tops, and floating shelves I used high-gloss white acrylic TFL. The cabinetry was Swiss Elm Onyx Synchronized TFL. I didn't want too much dark gray, though, so I added the lighter Chianti Wild Oak as an accent behind the media center.
By combining a media center with the home office, I used the small space to its fullest. This design would be ideal for anyone working from home but who still needs a professional place to meet with clients. For more information on how to create your perfect office or media center, contact Valet Custom and talk to me or one of our other great designers.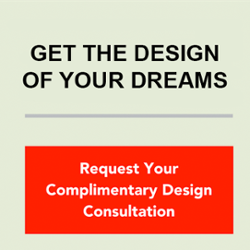 ---
Valet Custom Cabinets & Closets designs, manufactures and installs custom organizational solutions that enhance the functionality of your living space while complementing the décor of your home.
Our talented design team creates unique solutions tailored to your specific needs, style, and budget. We are independently owned and a direct manufacturer.
Our areas of specialty include Home Offices, Wall Beds, Media Centers, Closets, Pantries, Garage Cabinetry, and much more.
Exceptionally Designed & Styled * Expertly Crafted with 5-Star Execution
---

Robert Gudanets
Robert has been a designer for over 20 years and has been with Valet since 2003. He is a 1983 graduate of the Academy of the Republic Belarus and immigrated to the United States in 1989. Robert's interests include swimming, skiing, backpacking and international travel. His customers love his design process and ability to help them visualize the best and most elegant use of their space.