Everyday my clients walk into their closets with a mission; stepping in from the shower and emerging, fully dressed, shoes in hand, ready to face the day. After their new closet is done, the things they say are "I love getting dressed," "you completely eliminated a huge marital pain point," and even "you changed my life!" How can a custom closet make such a difference? Until you experience it, it's hard to truly understand.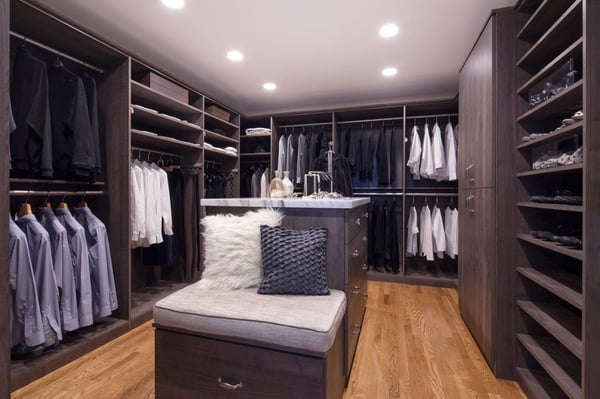 Getting dressed and ready every day can be a pleasure, quick and easy; or it can sap energy – mental and physical – searching through options and causing frustration. My job as the designer is to ease the struggle by creating an organized and efficient system for storing and accessing every item of clothing and every accessory.
Understanding habits and "work flow" are paramount in designing a space that functions well for both spouses individually and together. When it comes to children this is even more essential. It had better be easy or it ends up on the floor!
Inventory
The first step to any storage space design is an inventory of what they need to store. It's particularly important for a closet or garage. How many pairs of shoes does she really have? Don't estimate from memory but actually count them. Sure, he never wears a tie, but he still has a few – how will he store them? Since rolling and folding ruins the shape of the tie, they must be hung. If he really does just own one tie, its okay hang it over that suit coat. But any more than that, and they all end up sliding onto the floor.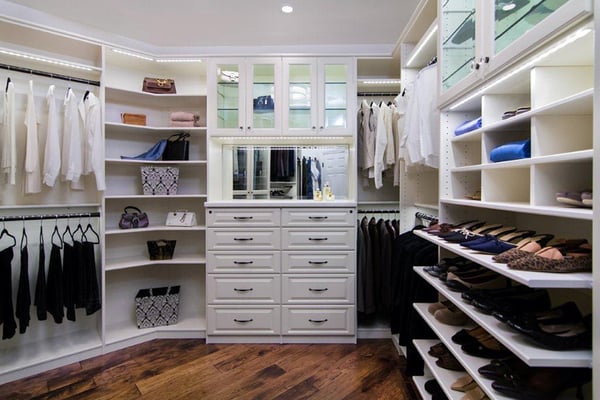 Overview
A discussion of flow is important, too, as we inventory their belongings. Grouping like items together by size will not only take advantage of every inch, it also makes things easy to see and therefore easy to find. How much of their clothing needs to be hung? Does she have more long items like dresses or shorter ones like shirts and skirts? Does he wear suits every day? Or does he prefer polo shirts folded in a drawer or cubby?
Also, I believe if at all possible a "separation of church and state" is essential. His Side and Her Side make for a more peaceful marriage. But don't think it'll be 50/50, hers will be typically be larger. And since each has a different morning routine, it's essentially like building two separate areas, then combining them in the most effective way to fit the space. Good thing I like a challenge!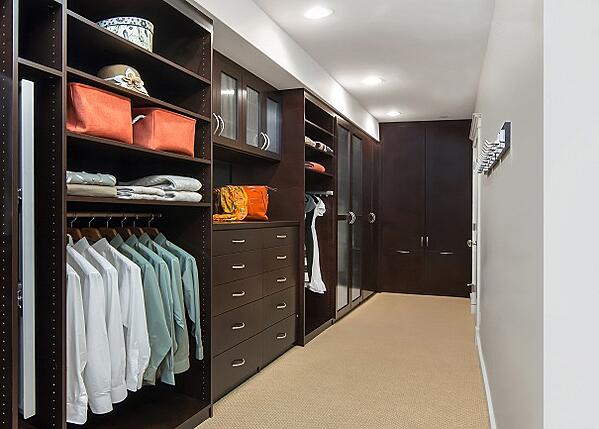 Layout
Next, we determine the size of each section and where that section should go in the closet. The goal is to minimize wasted space and maximize utility. This is where we discuss their flow as they get ready on a typical morning. From shower and shave to dressed and out the door, what is their process? Saving steps, which saves time, is what a custom closet can accomplish.
Prioritize
Now it's time to plan the details, which means deciding which items are stored where. This is essential. Her shoes, his shoes, and a stack of sweaters are all different sizes – put them in the wrong sized cubby and you either have wasted space or a mess!
I start with the items that must go in the closet: hanging clothes and shoes, then move on to folded clothing like sweaters, shirts and pants. Once those items are accommodated it's time to fit in drawers for under-clothing, dirty laundry accommodations, jewelry, luggage, seating, mirrors, display, etc.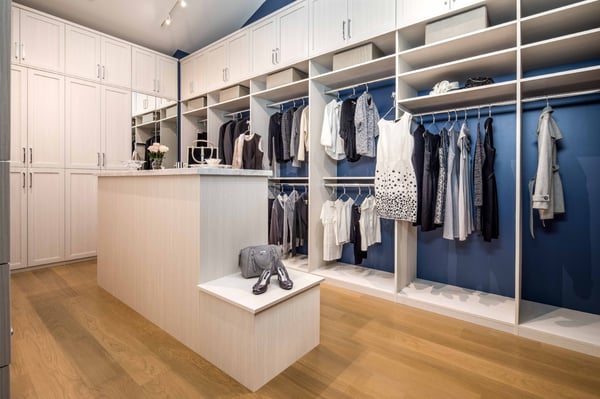 Materials and finishes
What the closet actually looks like – material and finishes – can come at any point in the design process. Sometimes a client comes in with an idea of exactly what they want it to look like, other times I work the design while they think about colors and textures. But it doesn't matter if the closet is a simple white laminate or a solid wood custom stain, the process and storage solution is the same. For the best outcome every time, it starts with what we are storing.
I just love designing the perfect space for my clients. No two walk-in closets should be exactly alike because your wardrobe isn't exactly like mine! Designing a custom closet reflects the lifestyle, habits, and personal style of the person using the space.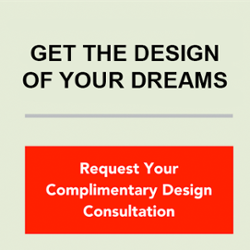 ---
Valet Custom Cabinets & Closets designs, manufactures and installs custom organizational solutions that enhance the functionality of your living space while complementing the décor of your home.
Our talented design team creates unique solutions tailored to your specific needs, style, and budget. We are independently owned and a direct manufacturer.
Our areas of specialty include Home Offices, Wall Beds, Media Centers, Closets, Pantries, Garage Cabinetry, and much more.
Exceptionally Designed & Styled * Expertly Crafted with 5-Star Execution
---
Karin Parodi
Karin joined Valet in 2010 and brings a unique combination of marketing and design experience to our team. Karin graduated from UCLA and enjoyed a successful career as a sales and marketing executive. She later earned an interior design degree to pursue her creative inclinations and passion for space planning. Karin excels at listening to customers and understanding their needs. She grew up on the peninsula, loves to travel, ski and spend time with her husband and two teenagers.