After sitting down with Valet Custom Cabinet & Closets owner Larry Fox and Operations Manager Scott Heeb, then touring the manufacturing facility, it was easy to see what sets Valet apart. In a word, it's the people. While Valet's continuing investment in state-of-the-art machinery plays a vital role as well, it comes down to the experience and dedication of the team at Valet which gives them such an edge.
"We don't use subcontractors at Valet," says owner Larry Fox. "Everyone in our manufacturing facility is a Valet employee, with proper training and an unyielding commitment to safety as core company tenants. This gives us the ability to ensure quality and attention to detail at every step of the process. Our entire team is invested in our commitment to quality and takes great pride in their work."
In the manufacturing area this core tenet is reinforced in everything Valet does. "It's more than just a direction or a process, it's a mindset," says Scott. "Everyone who works here is committed to making sure Valet's products are perfect."
The work area is free of sawdust or debris. Each machine is on a regular maintenance program and calibrated daily. Scott has worked at several other cabinet companies over the course of his career and is quick to point out how Valet differs from most. "How well the shop floor is maintained and cleaned tells the story on how a shop approaches their work and upholds their reputation," he says. "Other companies may have similar equipment, but the experience and attention to precision and quality standards of Valet employees is unmatched. Of the 11 shop employees, 7 of them have been here more than ten years."
Ongoing investment also underscores the commitment Valet has to staying local.
"We are continually reinvesting in our company. Over the past four years we've replaced three-quarters of our manufacturing machines. Each one has gotten us closer to perfection, expanded our capacity, and made us more efficient.
Larry adds, "Producing locally and owning the entire process gives us a unique ability to fix issues as they arise. Many others in the industry produce parts out-of-state and are reliant on shipping to fix issues or make changes. Add to this the risk of damage during the shipping process, and you can see why it's a good idea to buy from a local manufacturer, especially when its one as dedicated to quality as Valet."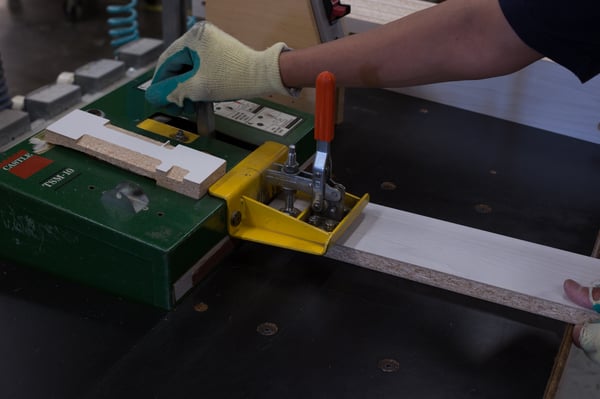 Valet has a wide selection of standard material offerings include both thermally fused laminate (TFL) and real wood veneers with more than 42 finish options. Taking each component from raw material to finished cabinetry is a multi-step process overseen by Scott and his trained and experienced team.
"The designers create custom CAD designs, then we [manufacturing] take it from there. Almost everything except drawer boxes are built in our own shop. This way we control the whole process. The machines are calibrated to 1/1000th of an inch to create a precise fit every time." Scott says.
Beam Saw
A computerized cut-list is downloaded directly from Valet's CAD software to the beam saw. Then TFL or wood veneer sheets are cut into parts sized perfectly for that cabinet or closet design, with tolerances of less than 0.005/inch in each cut.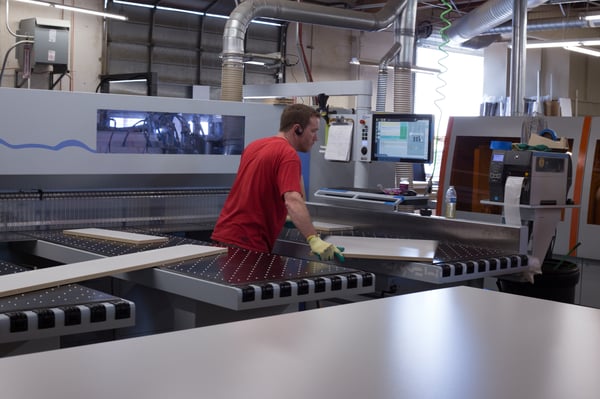 Edge Bander
The edge bander then takes the cut parts and adds a finished edge. Most cabinetry companies use a stock color for this process, but with Valet it's all about the details. They custom match their edge-banding to the cabinetry finish, stocking a complete range of edge colors to exactly match every panel. They even match the glue to ensure that the definitive edge of each part looks perfect.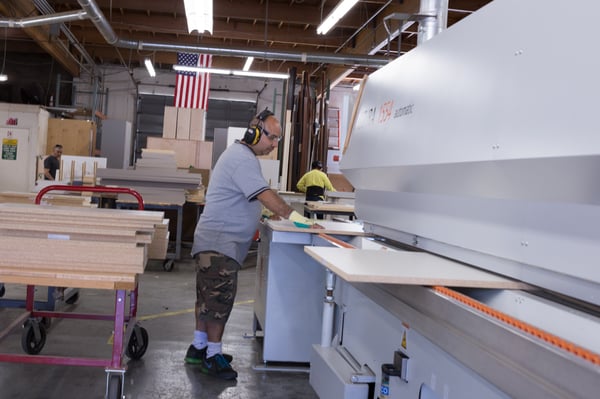 "These are things no one thinks of," explains Scott, "but we do. If the machine is not calibrated correctly, it can create sharp edges or unsightly glue overages. Or you can have delamination down the road. We make sure every edge on every panel or shelf is exact – beveled and trimmed to make a more beautiful edge – which results in a more beautiful finished closet or cabinet."
CNC Routers
Once the edge is finished, each component moves to the machining stage. Valet has both their cabinetry division, as well as the closet and garage division, located within the Campbell manufacturing facility.
Horizontal CNC Router
For cabinetry, Valet uses a horizontal CNC router. "There is no eyeballing or hand drilling," Scott explains. "When the designer creates the CAD drawing, we take that coding and programming from the computer and generate custom drill patterns, giving us exact hole placement and the ability to limit the number of holes that are drilled. It goes from 'screen to machine,' scanned with a bar code to ensure that the Computer Numeric Control drills each hole precisely."
Vertical CNC Router
Closets and garages use a state-of-the-art vertical CNC router. With a small foot print and safety features like fully enclosed machine heads, Valet's vertical CNC router offers a level of precision unique in the industry. "No other manufacturer in the state produces what we call selective drilling for uprights in closets," says Scott. "Because we start with custom designs, we drill only those holes that we or our customer will actually use instead of drilling extra holes all along the panels. The result is a much cleaner, streamlined look to every closet we create."
Precision Installation
Once the components of each custom cabinet or closet are finished, they are staged for installation by Valet's team of expert installers. From wall beds to cabinets to closets to garages, Valet installers have the experience and training to make sure the finished product is what the designer envisioned, and the client dreamed of.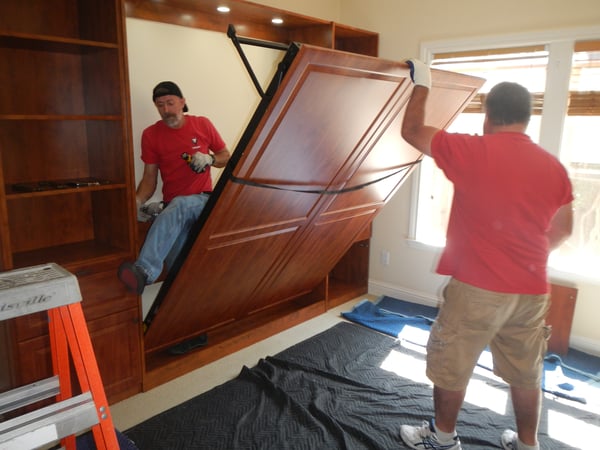 "We have the capacity to meet specialty needs, because we are the single source of accountability on every Valet custom closet or cabinet," says Larry. "We control the process from design through production to installation, so every project meets our standards for quality, precision and timeliness. The buck stops here."
If you are in the market for space enhancement for your own home, call Valet today to speak to a designer.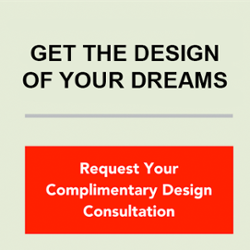 ---
Valet Custom Cabinets & Closets designs, manufactures and installs custom organizational solutions that enhance the functionality of your living space while complementing the décor of your home.
Our talented design team creates unique solutions tailored to your specific needs, style, and budget. We are independently owned and a direct manufacturer.
Our areas of specialty include Home Offices, Wall Beds, Media Centers, Closets, Pantries, Garage Cabinetry, and much more.
Exceptionally Designed & Styled * Expertly Crafted with 5-Star Execution
---

Cecily Whiteside
Cecily is a Corporate Storyteller, with Sora Creative Content, helping companies tell their brand message in words and images. Learn more at http://www.soracreative.com/