We were contacted by a couple who had retired, moved from the Peninsula to San Francisco, and purchased a lovely 2-bedroom condominium near the ballpark with incredible views of downtown San Francisco. They wanted to update their space to fit their style and needs. With the help of interior designer Kimball Starr, they worked with Larry Fox and went with very contemporary styling throughout their new home.
---
One of Valet's designs included custom cabinetry to create an office and guest room in the second bedroom space.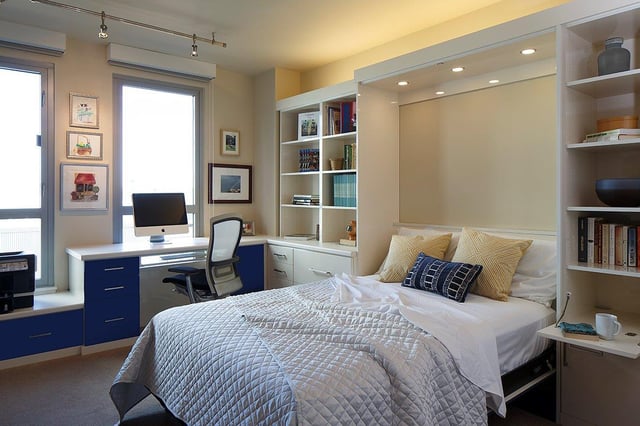 Gloss antique white laminate was chosen for the casework and gloss sonic blue laminate for the fronts, with a matte antique white counter. Brushed Satin Nickle pulls from Top Knobs were used on the drawers as well as the Wall Bed.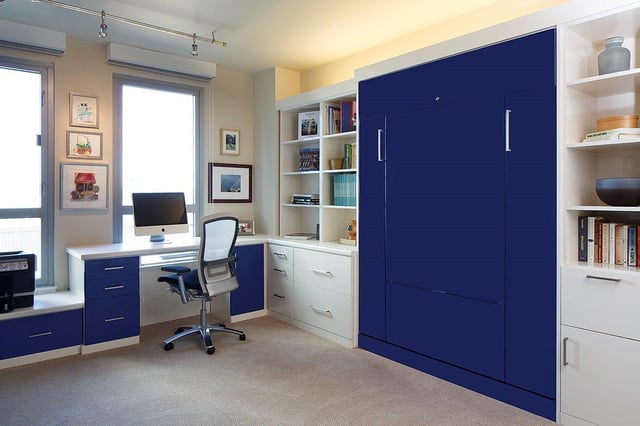 Along with the main desk along the wall, which features a keyboard roll out, the cabinetry includes a wall bed with a fold down table. When the bed is not in use, both our clients have a space to work comfortably at the same time.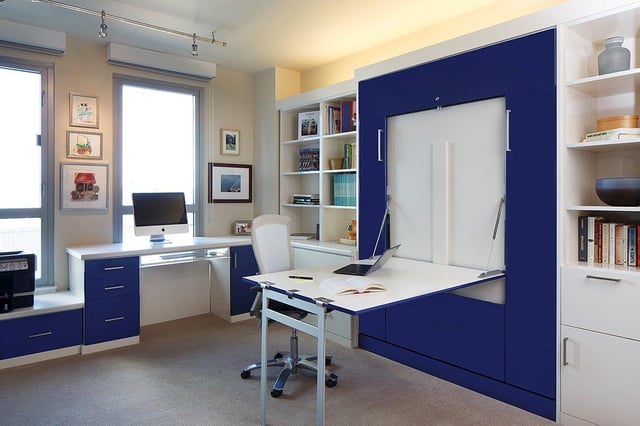 This room presented a number of special design elements due to the architecture of the space. We needed to work around the low windows on the desk side wall, as well as a bump out corner between the two walls.
Larry also designed custom cabinetry for two more spaces in this home. The first is this set of buffet cabinets and a wine refrigerator, specifically designed to help highlight the art piece that is the focal point of the entire wall.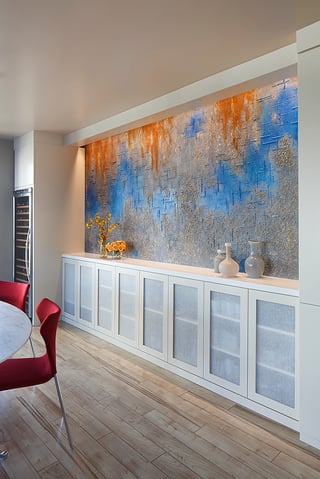 Kimball Starr won First Place for "Residential: Best Individual Room – Contemporary" from The American Society of Interior Designers California (ASID) North chapter for this room. Kimball Starr had great things to say about collaborating with Larry.
The final space that Larry designed is the adjacent wall of the above room and features a very modern media cabinet and corner desk.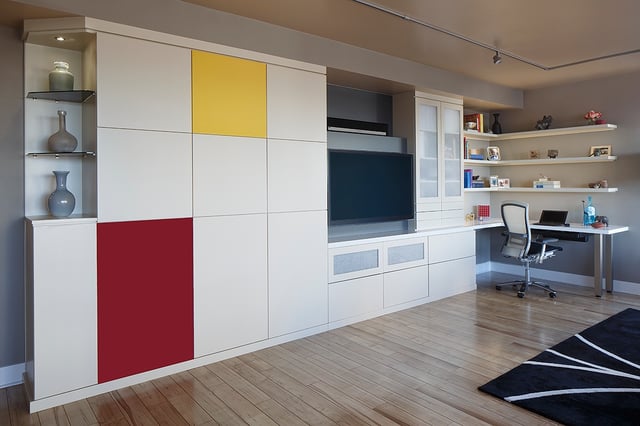 The home owners were very happy with the final product, as well as their entire Valet Experience. If you are looking for a contemporary upgrade to your home, Valet Custom Cabinets & Closets can help. Whether you want to work on one room or your whole home, Valet will help you make the most of your space.
---
Valet Custom Cabinets & Closets designs, manufactures and installs custom organizational solutions that enhance the functionality of your living space while complementing the décor of your home.
Our talented design team creates unique solutions tailored to your specific needs, style, and budget. We are independently owned and a direct manufacturer.
Our areas of specialty include Home Offices, Wall Beds, Media Centers, Closets, Pantries, Garage Cabinetry, and much more.
YOUR SPACE
- Exceptionally Designed & Styled - Expertly Crafted with 5-Star Execution
---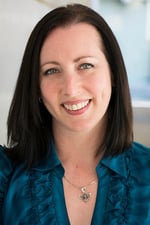 About Tracey Lee Davis and ZingPop Social Media
ZingPop Social Media, located in San Jose and founded in 2014, loves helping small businesses grow and succeed through their online marketing efforts. From coaching to total management for social media or email campaigns to blogging and more, ZingPop Social Media gives their clients a relevant voice in the social media conversation. To get your small business engaging with your target audience, please visit www.zingpopsocial.com.