We were recently contacted by a very nice retired couple in Walnut Creek who needed advice about how to coordinate their project space. To be more accurate, they didn't have project space. They were reveling in the free time retirement brings, but they regularly had to jockey for room at the kitchen table so that Margaret could work on sewing projects and Ed still had space for his model ships.
What really struck me about Margaret and Ed was how loving and affectionate they were after many years of marriage – and how much tension was created simply by limited work space. They wanted a way they could spend time on separate hobbies, but they didn't want to feel isolated from one another. Since sharing space is an issue that many couples face, I thought we would share how it worked out.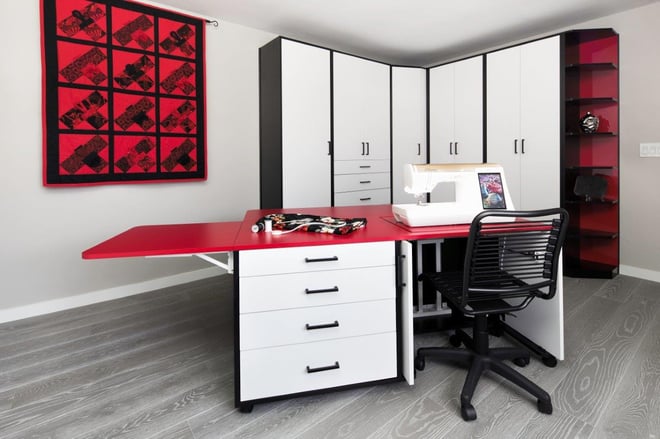 It's hard to overstate the value of a dedicated hobby space.
Image from Valet Custom Cabinets & Closets.
A Spare Room Is a Great Project Space
We knew we had to free up the kitchen table for its proper use – eating. So we suggested they convert their spare bedroom into a project area.
We installed custom storage cabinets so they could designate "his" and "hers" sections for supplies. We mounted spindle rods on the inside of Margaret's cabinets so she had easy access to her thread, and Ed's assortment of small (and easy-to-lose) tools all found a nice home in divided drawers underneath his work surface. We also added roll-out shelving – this allowed them to avoid bending and stooping when searching for materials and meant they didn't have to rummage through dim cabinets. Custom measurements ensured the shelves were at the right height and wouldn't require a step ladder.
Maybe sewing or model building isn't your thing. You might need divided drawers to hold beads and wire for jewelry-making, or a large, low-to-the-ground area to house your pottery wheel. Fortunately, our design team loves a challenge.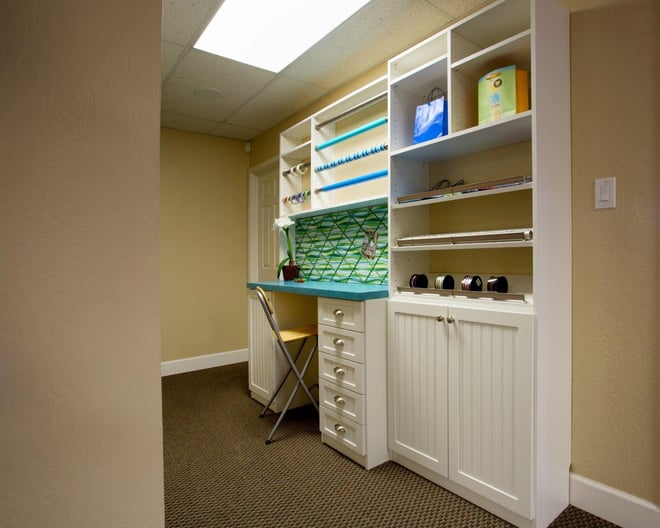 A nice example of a wrapping station we built in Campbell, CA.
Image from Valet Custom Cabinets & Closets.
A Fixed or Fold-Out Work Surface: It's Your Choice
Our couple in Walnut Creek decided to install fixed work stations that were right next to each other – a priority since Ed is a bit hard of hearing and they wanted to be able to communicate. We designed a recessed space for Margaret's sewing machine, while Ed's side had ample counter space for his tabletop magnifying glass and task lighting for easier detail work.
If you need more flexibility in your work space, fold-down or pull-out work surfaces are another option. This gives you room to work when you need it but allows you to repurpose the room when you're done. And if tending to your project right next to your spouse is not ideal, you can install work spaces on opposite sides of the room so you don't crowd each other.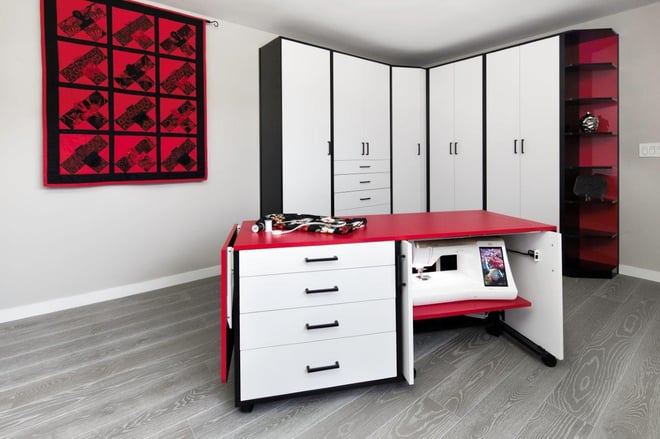 Custom cabinetry allows you to house specialty hobby equipment.
Image from Valet Custom Cabinets & Closets.
Spend Quality Time With Guests Too
One of Ed and Margaret's main concerns was that they only had one spare room, and they wanted to reserve a space for overnight guests.
We decided to integrate a Murphy bed into their cabinetry. When folded up, it didn't impose at all on their work space. The model they chose had a built-in seating area, giving each of them the option of relaxing but still keeping the other company.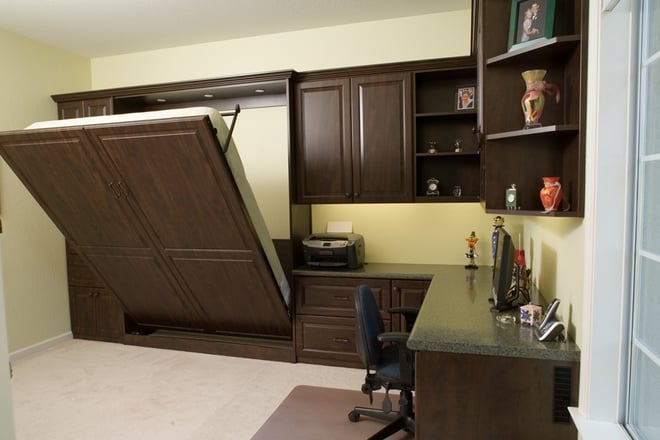 A wall bed is the perfect way to give your guests a cozy place to sleep without sacrificing your project space.
Image from Valet Custom Cabinets & Closets.
Find a Way to Work Together
There are a couple lessons we can learn from our Walnut Creek retirees. Just because two people have different hobbies, it doesn't mean they can't enjoy them in the same space. And even if room in your home is limited, your kitchen table doesn't have to be that space.
With some smart planning, a little compromise, and some custom additions, it isn't difficult to find a way to harmonize even the most dissimilar pastimes – and save room for your guests while doing it.
Your project and craft needs may be unique, but so are the designs that we create for our clients. There's always a way to make it work, so get in touch with us today, and we can start planning.
---
Valet Custom Cabinets & Closets designs, manufactures and installs custom organizational solutions that enhance the functionality of your living space while complementing the décor of your home.
Our talented design team creates unique solutions tailored to your specific needs, style, and budget. We are independently owned and a direct manufacturer.
Our areas of specialty include Home Offices, Wall Beds, Media Centers, Closets, Pantries, Garage Cabinetry, and much more.
Exceptionally Designed & Styled * Expertly Crafted with 5-Star Execution
---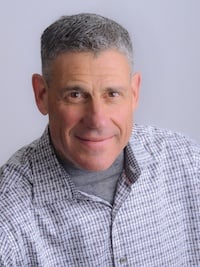 About Larry Fox, President
Larry is a graduate of the University of Southern California School Of Business. After receiving his degree he returned to the Bay Area and spent 18 years working in his family's 100+ year old metals recycling business. Upon the sale of that business in 2000, Larry and his wife Audrey purchased Valet. Larry has become a leader in the industry and is a past president of the National Closet Group. Larry loves turning people's dreams into reality, and remains as enthusiastic about the business today as he was when he first acquired it. View Larry's Houzz Page.