With its background of diversity and industry, the Bayview District of San Francisco holds a unique place in Bay Area history. From the shrimp industry to the naval shipyard, this community has drawn blue collar workers and provided an affordable place to live and work. In the past few years, however, many changes have come to the area, giving it a renewed sense of neighborhood, where people talk to each other on the street and exciting new eateries are opening. Long a refuge for artists with its roomy warehouse spaces and comparatively low cost of housing, the Bayview District is becoming a place for city professionals to purchase affordable houses on the Peninsula and young families to own into their own homes. Homeowners can get in on the ground floor so to speak, with affordable housing in an up-and-coming neighborhood. With ownership come the myriad decisions about organizing and storing your belongings. This is where Valet Custom Cabinets & Closets can take you from simply living in your home to delighting in it with custom closets designed just for you.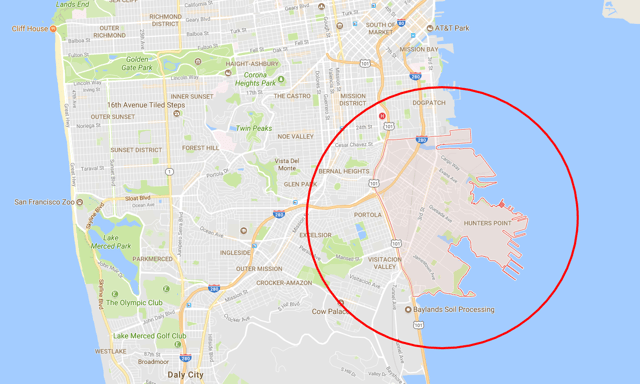 While the area's new construction is predominately condos or townhomes, many of the single family dwellings in the area can also be updated and renovated for 21st century living with 20th century charm. One concern for many of Bayview District homeowners, whether they are in a townhome or a single family home, is how to design and use master bedroom closet space to their best advantage. Valet Custom Cabinets & Closets is perfectly suited to help create a closet that accommodates your wardrobe while enhancing function and usability. The result is a stress-free shift from one activity to the next, so your morning and evening routines flow with ease and staying organized is easy.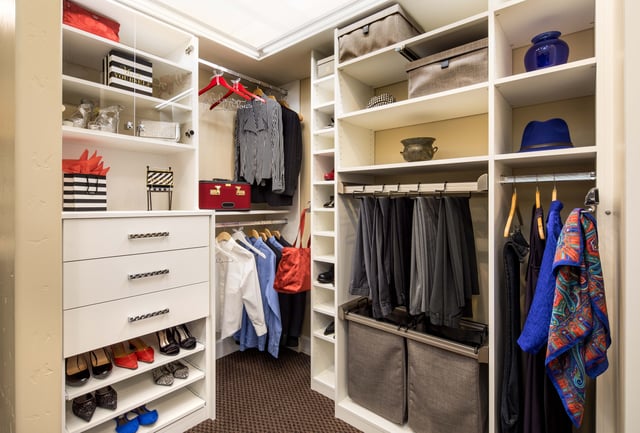 Since your wardrobe and style are unique, your closet should follow suit. Hanging clothes of varying lengths need to be accommodated, as do belts and accessories. While work-wear varies by industry, we all need a way to organize: dresses; from maxi length to above-the-knee, suits, dress slacks and sport coats. With the new eateries opening in the area, and evening community events at the renovated Bayview Opera House, quick changes from work to evening apparel is one of the benefits of a custom closet. And shoes, especially women's shoes, cannot be a one-size fits all solution! From stylish heels to workout sneakers, shelves and sliders can keep them from being a jumbled heap on the floor.
Drawers with varying depth and compartment sizes are a wonderful way to organize intimate apparel, ties or jewelry. Busy professionals, parents with little time for themselves, and those who would much rather be talking to neighbors or enjoying the cool evenings strolling down Third Street; all benefit from organization and accessibility when life and work call for a quick turnaround.
By evaluating your needs, our designers can bring order to your closet, freeing up your time and energy for the rest of your settling-in decision making. Make the most of your new Bayview district townhouse, condo or house by calling Valet Custom Cabinets & Closet to speak to one of our team of expert custom designers. You won't regret planning your closet to fit your life.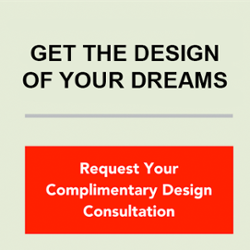 ---
Valet Custom Cabinets & Closets designs, manufactures and installs custom organizational solutions that enhance the functionality of your living space while complementing the décor of your home.
Our talented design team creates unique solutions tailored to your specific needs, style, and budget. We are independently owned and a direct manufacturer.
Our areas of specialty include Home Offices, Wall Beds, Media Centers, Closets, Pantries, Garage Cabinetry, and much more.
Exceptionally Designed & Styled * Expertly Crafted with 5-Star Execution
---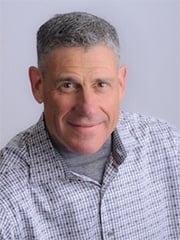 About Larry Fox, President
Larry is a graduate of the University of Southern California School Of Business. After receiving his degree he returned to the Bay Area and spent 18 years working in his family's 100+ year old metals recycling business. Upon the sale of that business in 2000, Larry and his wife Audrey purchased Valet. Larry has become a leader in the industry and is a past president of the National Closet Group. Larry loves turning people's dreams into reality, and remains as enthusiastic about the business today as he was when he first acquired it. View Larry's Houzz Page.