The new California laws that went into effect in January have lessened the difficulty and cost of adding a so-called granny unit, now dubbed Accessory Dwelling Units (ADUs), to single-family or multi-family dwellings. San Jose has gone a step further in their attempts to ease the housing shortage that is causing rents in the Bay Area to skyrocket. San Jose's removal of barriers for these small rental units; by lowering the total square footage of the lot needed for an ADU and increasing the maximum square footage of the unit itself to 800 square feet, can create a great opportunity for you - the homeowner - to benefit. While it may not be built for resale, you can rent this unit out to increase your monthly income. It can also be used for multi-generational living, for instance with boomerang kids or aging parents. It can even be used as a short term rental (STR) like Airbnb.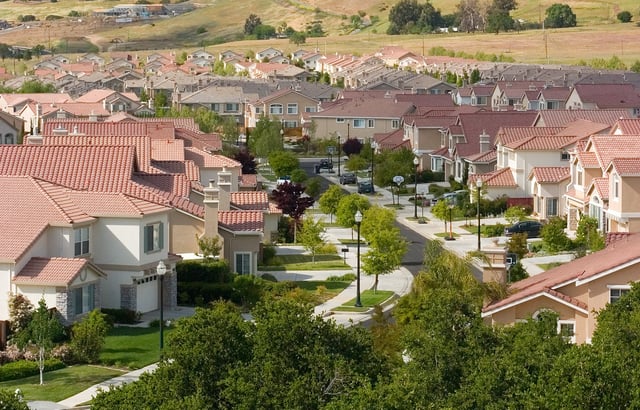 Photo via Wikimedia Commons
Since the barriers to entry have been lowered, including utility hookup fees and parking regulations, the question becomes: how do I best use the square footage of my new ADU for maximum advantage? Valet Custom Cabinets & Closets has the answers!
The two primary ingredients of your unit must be the bed and the kitchenette. While a full-blown kitchen with 220 volt appliances is not permitted (and really, not worth the space, let's be honest), your parent/child/renter will want to be able to fix a meal and sit somewhere to eat it. By creating a cooking area that does double duty as an eating area you save the room a dining table would have taken up and create a cozy atmosphere in the bargain. Stools can tuck under the counter, and a microwave along with a burner or two is enough for most ADU occupants to cook for themselves. Efficient storage that includes lazy Susans and sliding platforms for easy access into cabinet corners, along with drawers of varying widths for essential utensils, can make this small kitchenette space seem luxurious.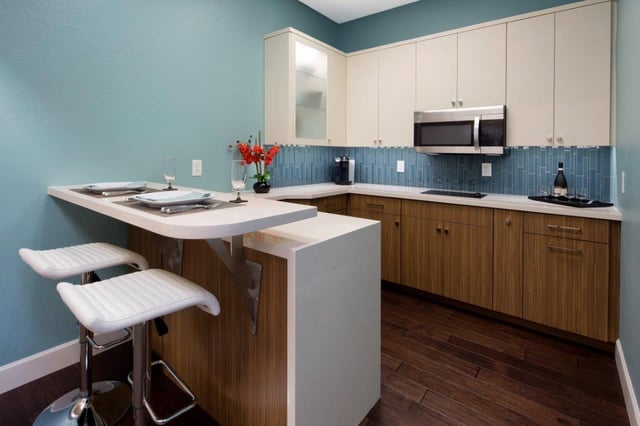 The bed is the biggest space killer. Face it, that 5 foot by 6 foot bed (the size of a queen mattress) takes up too much floor space. You don't want to sacrifice that much area during the day, but you need the bed at night. A pull-out sofa bed is the traditional answer to this dilemma, but these tend to be cumbersome to convert and terribly uncomfortable with their flimsy mattress over steel springs. The answer? A Murphy bed. By night, the bed is all comfort and delight, with a mattress of standard thickness on a platform base. During the day, it's tucked away in a wall leaving plenty of living space. That extra 30 square feet is the difference between comfortable and cramped. With options for either a horizontal or vertical tilt-out unit, your Murphy bed can be worked into adjoining cabinets and shelves for a beautiful, cohesive look that maximizes storage and allows for the display of keepsakes and photos. Pull-out night tables add convenience, and over-the-bed cabinets are the perfect place to tuck pillows and bedding for daytime storage.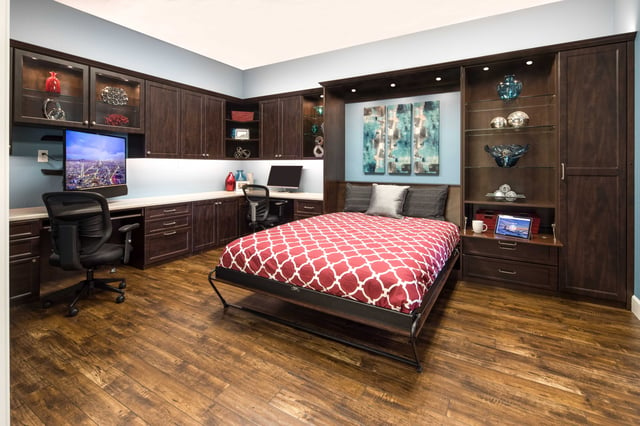 While a weekend guest in your STR may live primarily out of their suitcase, if your unit houses a longer-term occupant they will need closet space for their clothing and accessories. Cabinets for hanging clothing can be configured in a myriad of ways to accommodate varying lengths of apparel. By using a pull-down wardrobe lift, you can use high wall space while still having easy access to clothing items. A corner closet offers a chance to use dead space by accessing that out of the way area. Add some built-in drawers for folded items and accessories, and you have an elegant, efficient solution to avoid wardrobe malfunctions!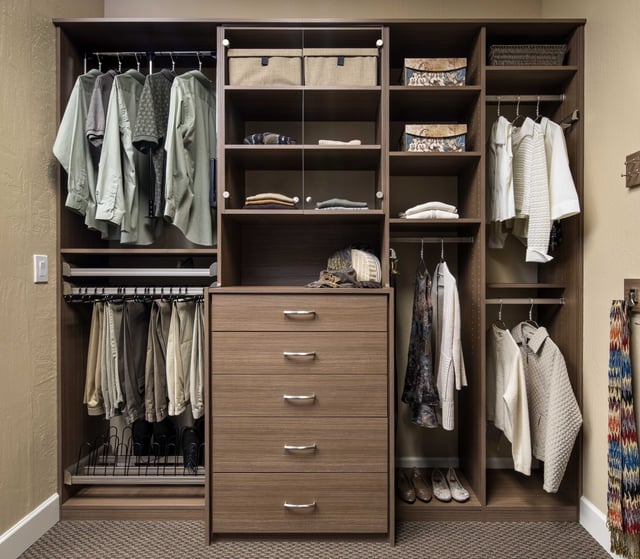 With your sleeping and storage needs managed, the next thing to consider is entertainment. Comfortable seating should be a priority as you plan for your entertainment area. Since your bed and closet solutions have taken up so little floor space, you can afford to indulge with some well-chosen chairs that will allow adaptable seating for any occasion. When friends come over for movie night, your space is ready. A built-in entertainment wall unit can accommodate a flat screen TV, with shelves and cabinets around it to hold necessities and décor. The addition of a fold-down table into the unit can be used for school or home office work.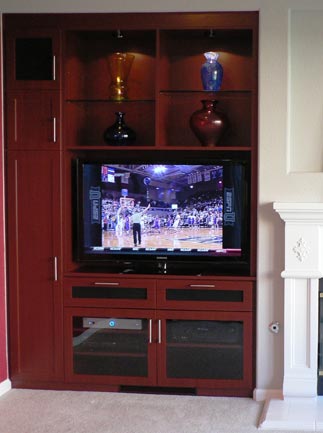 While 800 square feet of space may seem like a small area, wise use and custom cabinetry solutions from Valet Custom can make it feel spacious. San Jose had only 13 permits for ADUs submitted in 2016. With the new laws and lessening of costs associated with building one of these units, we should see a marked increase in these convenient and versatile living spaces this year. You can benefit! With the help of Valet Custom Cabinets & Closets you can create an Accessory Dwelling Unit that will bring in additional income to you, the homeowner, and delight your renters. Call for a consultation with one of our designers, or stop by one of our two showrooms to see how your ADU can add value to your life and home.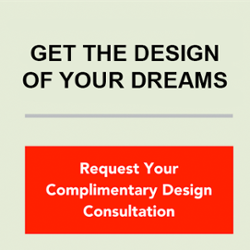 ---
Valet Custom Cabinets & Closets designs, manufactures and installs custom organizational solutions that enhance the functionality of your living space while complementing the décor of your home.
Our talented design team creates unique solutions tailored to your specific needs, style, and budget. We are independently owned and a direct manufacturer.
Our areas of specialty include Home Offices, Wall Beds, Media Centers, Closets, Pantries, Garage Cabinetry, and much more.
Exceptionally Designed & Styled * Expertly Crafted with 5-Star Execution
---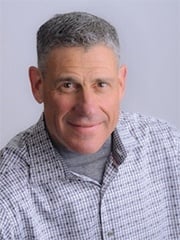 About Larry Fox, President
Larry is a graduate of the University of Southern California School Of Business. After receiving his degree he returned to the Bay Area and spent 18 years working in his family's 100+ year old metals recycling business. Upon the sale of that business in 2000, Larry and his wife Audrey purchased Valet. Larry has become a leader in the industry and is a past president of the National Closet Group. Larry loves turning people's dreams into reality, and remains as enthusiastic about the business today as he was when he first acquired it. View Larry's Houzz Page.