Our passions are what set us apart from the ordinary. And just as we are each unique, the way that we express ourselves must match those passions. Studies have shown that hobbies improve our physical health, increase our well-being, and restore our energy. As an added bonus, they even make us more productive at work.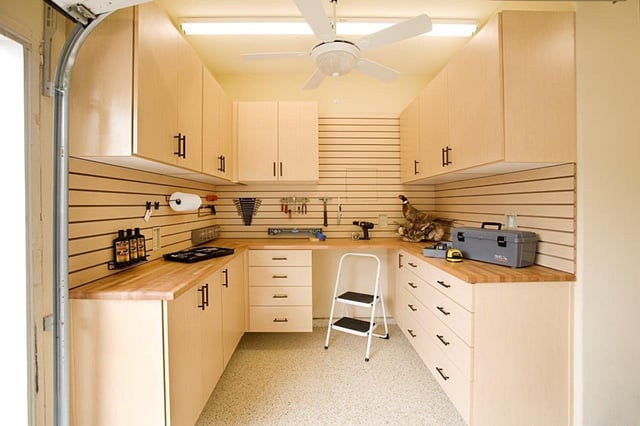 Take a moment to think about your hobby. Close your eyes and allow yourself to dream about the perfect space to engage in it. Then consider this; is now the perfect time to make those dreams a reality? Valet Custom Cabinets & Closets can help unlock your creativity with everything you need right at your fingertips.
As Mary Poppins famously said "well begun is half done." At Valet Custom, we believe your project should be done right, done well, and done with an eye to the best use of space for your house and your lifestyle, right from the beginning. When you start planning a home improvement project, it's not always easy to determine the best solution to your needs without help. That's where our team of professional designers comes in. Believe me, we have seen it all – and made space for it!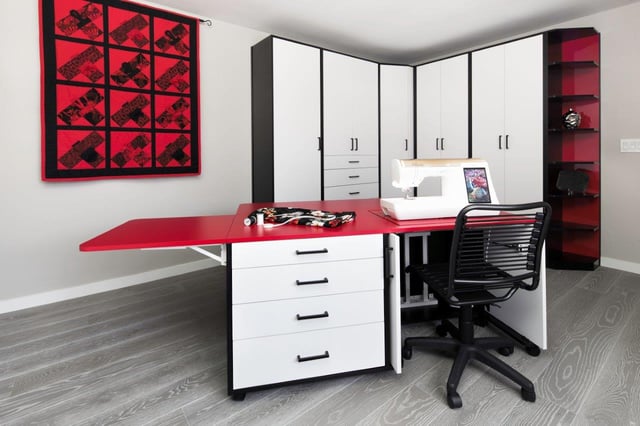 A quilter's craft room with storage space for yards and yards of fabric that doubles as a guest room.
A fisherman's paradise, with rods and reels lined up in neat rows, weights and lures sorted into easily-accessible drawers, tools for tying flies or fixing equipment.
A painter's corner with easy-to-clean surfaces, custom drawers for brushes and paints, and various height of cabinets for all of your canvases.
A computer techie's dream workspace, with anti-static dampers at intervals, supplies in custom drawers, and tools for detailed work right at your fingertips.
A book lover's paradise lined with custom shelves to display your collection alongside cozy nooks for curling up with your latest novel.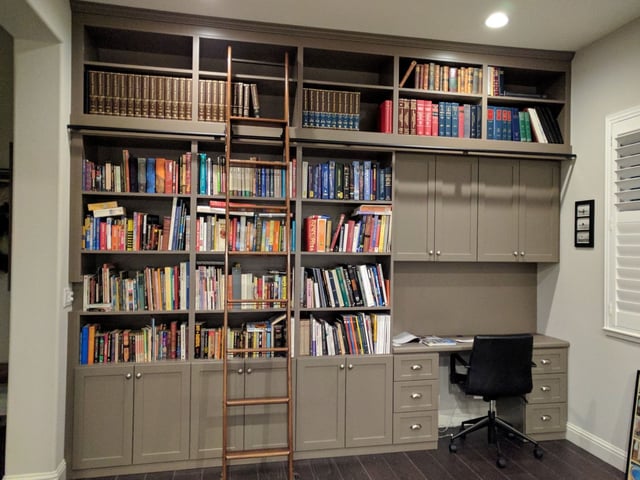 Hobbies are as endless as the people who love them. Only you know what would make the perfect workspace. And to make your dreams a reality, Valet Custom can be the perfect partner. As you ask yourself, "Wouldn't it be nice if I had a place to build, create, play…" We at Valet Custom would like to ask, "Why not?" And, furthermore, "Why not now?"
Instead of trying to fit your creativity and inspiration into a preexisting space, let our designers ask the right questions to help you create the perfect solution to your hobbyist needs. Your redesign should be planned and coordinated from the beginning with the final result in mind. We measure your belongings, look at your available space, and plan the project to fit every aspect of your wants and needs. Just as it's easier to do something right from the beginning rather than fix a mistake later, so with a custom room design that includes cabinet or closet space, it's best to begin well for optimal results.
Call Valet Custom Cabinets & Closets today to take the first step to your perfect creative space. Your hobby can improve your health and career, but more than that, it can give you a new outlook that can last a lifetime, given the space to engage in it.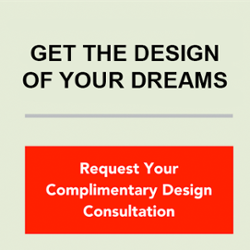 ---
Valet Custom Cabinets & Closets designs, manufactures and installs custom organizational solutions that enhance the functionality of your living space while complementing the décor of your home.
Our talented design team creates unique solutions tailored to your specific needs, style, and budget. We are independently owned and a direct manufacturer.
Our areas of specialty include Home Offices, Wall Beds, Media Centers, Closets, Pantries, Garage Cabinetry, and much more.
Exceptionally Designed & Styled * Expertly Crafted with 5-Star Execution
---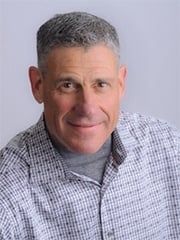 About Larry Fox, President
Larry is a graduate of the University of Southern California School Of Business. After receiving his degree he returned to the Bay Area and spent 18 years working in his family's 100+ year old metals recycling business. Upon the sale of that business in 2000, Larry and his wife Audrey purchased Valet. Larry has become a leader in the industry and is a past president of the National Closet Group. Larry loves turning people's dreams into reality, and remains as enthusiastic about the business today as he was when he first acquired it. View Larry's Houzz Page.