When some people picture a wall bed, comedic scenes from silent movies come to mind. Charlie Chaplin, the Three Stooges, and even James Bond have used these beds as comic props at one point or another. I love a good gag as much as the next person, but things have really been looking up for Murphy beds in the last few years. This isn't 1900 anymore, and the wall bed is making quite an amazing comeback in modern homes across the country. Bay Area professionals in particular are utilizing this innovative strategy to maximize limited floor space in condos and homes across the region.
Although there are many ways to purchase and install a wall bed (especially in today's online economy), we wholeheartedly recommend seeing your options in person first. There's something special about learning directly from the experts, and we've found that a lot of customers' hesitations can be easily addressed with a visit to the showroom. Seeing the beds in person can help you make an informed decision about this innovative space-saving solution. Starting your search in a showroom may be your best bet for finding the wall bed you really want.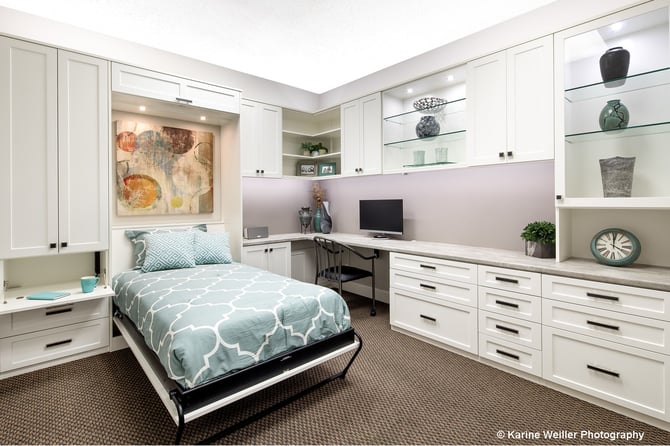 A showroom visit can really surprise you with all the available options.
Image source: Valet Custom Cabinets and Closets
Reason #1: Discover Customizable Options
If you're looking to outfit your office with a fleet of brand new Macbook Pros, you will probably end up heading over to Union Square to talk to the pros in person. The same should go for your furniture! When you explore furniture options in a showroom, you get to see all that a company has to offer. You might see a wall bed configuration that's exactly what you're looking for—but just in case you don't, a team of professionals will be able to customize a solution to your specifications.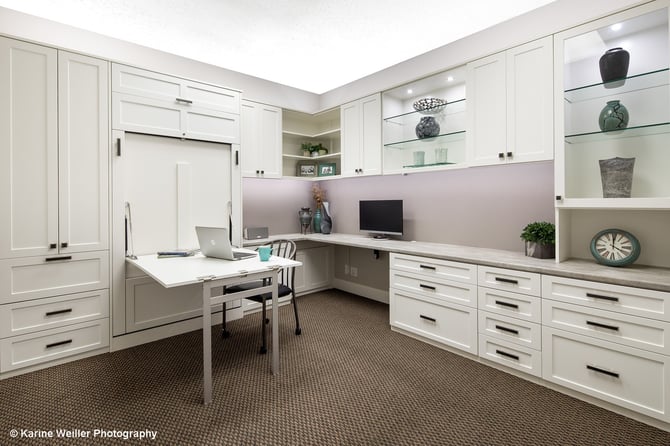 Customize your wall bed with a fold-down work surface.
Image source: Valet Custom Cabinets and Closets
In the showroom, you also get the benefit of learning about all the novel additions that the 21st century has brought to the wall bed. With the Bay Area being the center of technological creativity in the nation, you're bound to run into some highly unique ideas in our showrooms. From fold-down wall bed tables to a variety of built-in bedside table options, multifunctional possibilities abound for your custom wall bed.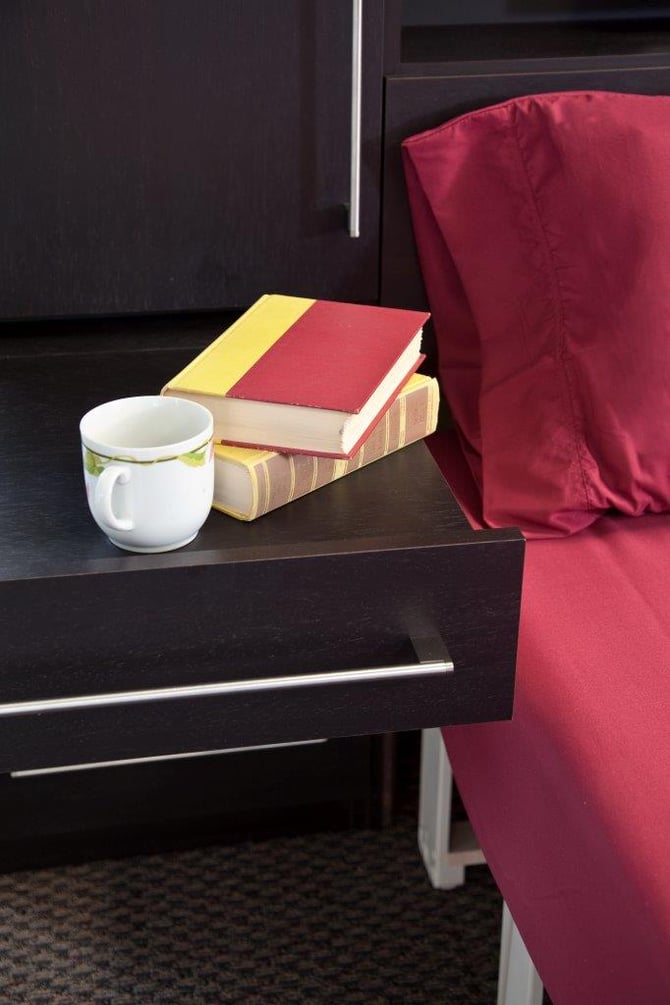 This drawer option is just one type of built-in nightstand that can accompany your wall bed.
Image source: Valet Custom Cabinets and Closets
Reason #2: Bust Those Murphy Bed Myths
If the wall bed in your imagination is a 1970s mashup of metal piping and an open closet, it's probably time for an update! Today's wall beds are durable and incredibly safe to use. You'll want to see Valet's wall beds in person and see that they meet ISO 9002 standards for engineering (the most demanding markers for safety in construction and operation). They can be used every single day—or only once in awhile—without needing adjustments (unlike 181 Fremont).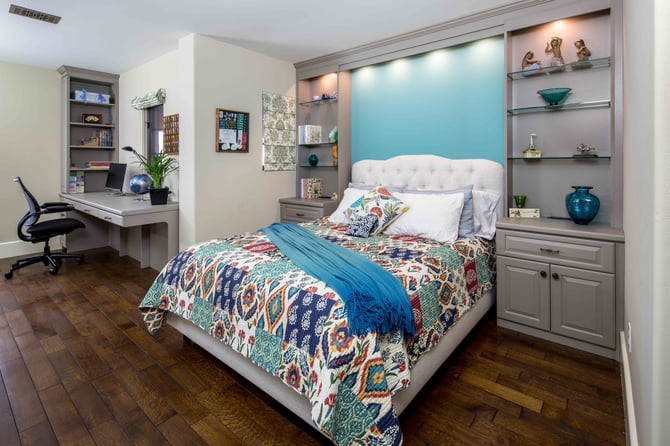 Wall beds can be beautiful, comfortable, durable, and safe with today's patented technology.
Image source: Valet Custom Cabinets and Closets
Innovations in hardware and construction have made wall beds incredibly easy to use: no super strength required! The counterbalanced design of Murphy beds today requires no more than the touch of a finger. In a showroom, you can test this process out for yourself. A patented minimal weight bedframe maintains all the support of a standard bedroom suite with a weight that's completely easy to manage. Opening a wall bed in person in a showroom is definitely going to open your eyes to the possibilities of this solution.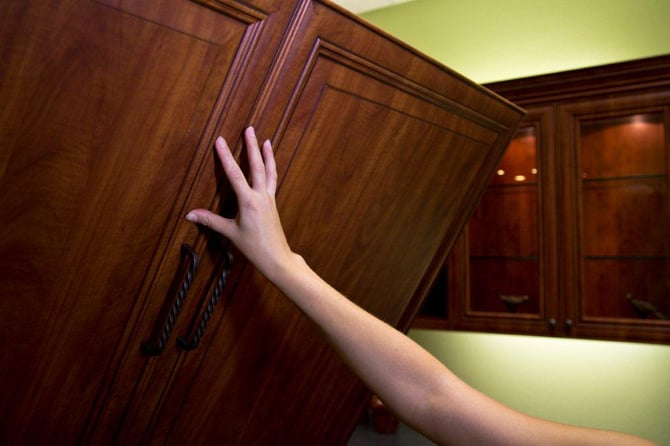 The counterbalanced design lets you open and close a wall bed with the touch of a finger.
Image source: Valet Custom Cabinets and Closets
Reason #3: Ask The Experts In Person
When you purchase a wall bed from the experts, you can ask all the questions you like about quality, construction, and manufacturing. Does the company manufacture their items in the United States? To what standard of precision are they bound? You wouldn't invest in SoC with Google without consulting a few computer hardware engineers—it's about time you gave your furniture the same consideration! By asking the right questions, you can learn everything you need to know about the materials and hardware used in whichever product you're considering. It's much easier to get your questions answered in person by showroom experts than by a customer service hotline.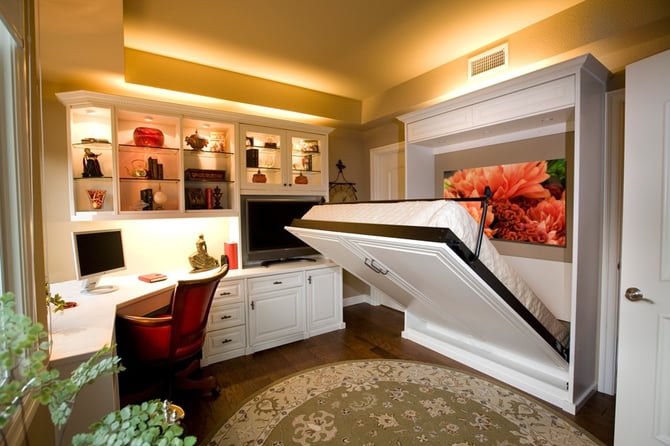 With installation by the experts, you can create a multifunctional space in any room of the home.
Image source: Valet Custom Cabinets and Closets
You'll also want to ask the professionals about their delivery and installation procedures. Many people choose to install their wall beds themselves, but we strongly caution against this practice. Murphy beds are designed to be incredibly safe and durable, but this guarantee is possible only when proper installation methods are used. Does the company subcontract their installation, or do their own employees make sure the process is completed correctly? We understand the push toward buying local and supporting local businesses. There's no need for you to go it alone when you have the experts on your side to make sure everything goes smoothly.
Any furniture purchase is a big investment, and seeing your options in person in a showroom is the best way to ensure you're getting the most value. No longer will you be waiting and wondering whether or not your bed-in-a-box is going to be comfortable, if you'll be able to put it together properly, or if it will last. When you visit a Valet showroom, you will be working with a team of professionals to design and install the furniture of your dreams. If you're ready to get started, schedule your free design consultation today.
---
Valet Custom Cabinets & Closets designs, manufactures and installs custom organizational solutions that enhance the functionality of your living space while complementing the décor of your home.
Our talented design team creates unique solutions tailored to your specific needs, style, and budget. We are independently owned and a direct manufacturer.
Our areas of specialty include Home Offices, Wall Beds, Media Centers, Closets, Pantries, Garage Cabinetry, and much more.
Exceptionally Designed & Styled * Expertly Crafted with 5-Star Execution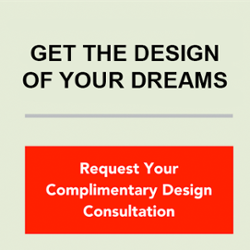 ---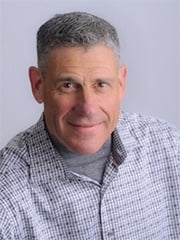 About Larry Fox, President
Larry is a graduate of the University of Southern California School Of Business. After receiving his degree he returned to the Bay Area and spent 18 years working in his family's 100+ year old metals recycling business. Upon the sale of that business in 2000, Larry and his wife Audrey purchased Valet. Larry has become a leader in the industry and is a past president of the National Closet Group. Larry loves turning people's dreams into reality, and remains as enthusiastic about the business today as he was when he first acquired it. View Larry's Houzz Page.