Tri-Valley residents understand what many tourists seem to miss: this is some of the best wine country in Northern California. Sonoma and Napa have had their day, and slowly we're starting to acknowledge the charm and viniculture of the region just a little further south. Places like Pleasanton, Livermore, Dublin, and Danville are regionally known for their local vino, which has been developing since the 19th century. This is a place of deep historical roots, small town quaintness, and a unique mix of winery-style architecture.
I always enjoy visiting clients in the Tri-Valley area—mainly because of the beautifully rolling hills I get to dream about while passing through, but also because of the community's unique sense of style. The wine country influence provides a fantastic blend of elements to inspire custom cabinetry design.
Mediterranean-Style Stucco
Where there is wine, there is stucco (so says my personal adaptation of the old adage). The cool breezes that move eastward through the valleys make for a unique climate that's perfect for grape-growing—and what better backdrop for a vineyard than Mediterranean-style white stucco? From Livermore's historic Wente Vineyards to the local Italian favorite De La Torre's (which just celebrated 25 years in Pleasanton), you'll get a heavy Italian vibe wherever you turn in this region.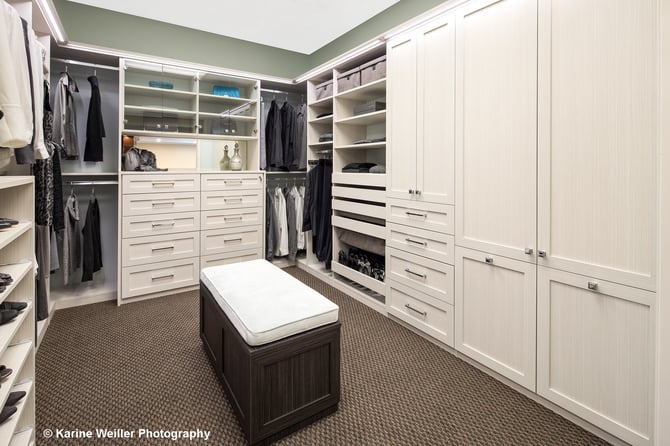 Give your closet the clean feel of Mediterranean stucco with calming neutral finishes.
Image source: Valet Custom Cabinets and Closets
One way to emulate this style in your own home is to incorporate the smooth neutrals of stucco in your cabinetry finish. In the closet example above, a thermally fused laminate (TFL) is enhanced with texture from steel press plates, giving the appearance of a brushed finish while maintaining the durability and wear-resistance of the medium. Textured TFLs are a great choice for emulating the style of wine country stucco inside the home.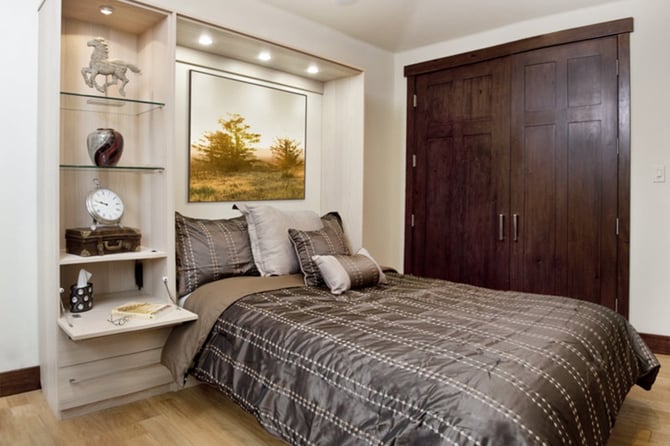 Bring the Mediterranean feel into the bedroom with neutral wood veneers.
Image source: Valet Custom Cabinets and Closets
In another configuration, the same calm appearance is achieved with milk oak wood veneers. The main goal here is to create a softly textured finish that's basically uniform in color. The light neutrals of Mediterranean stucco throughout the Amador, Livermore, and San Ramon valleys inspire these cozy and relaxing furnishings and create a style that our Tri-Valley clients frequently incorporate into their homes.
The Rustic Feel of a California Tasting Room
The Tri-Valley area is chock full of wineries: more than 50, in fact, and most have their own tasting rooms for your wine sampling pleasure. Locals and visitors alike crowd into tasting rooms and cellars across the region for a taste of delectable wine and rustic Californian decor. If you're looking to bring some of the warm and woody history of the region into your interior design, look into using wood finishes in darker tones for your cabinetry.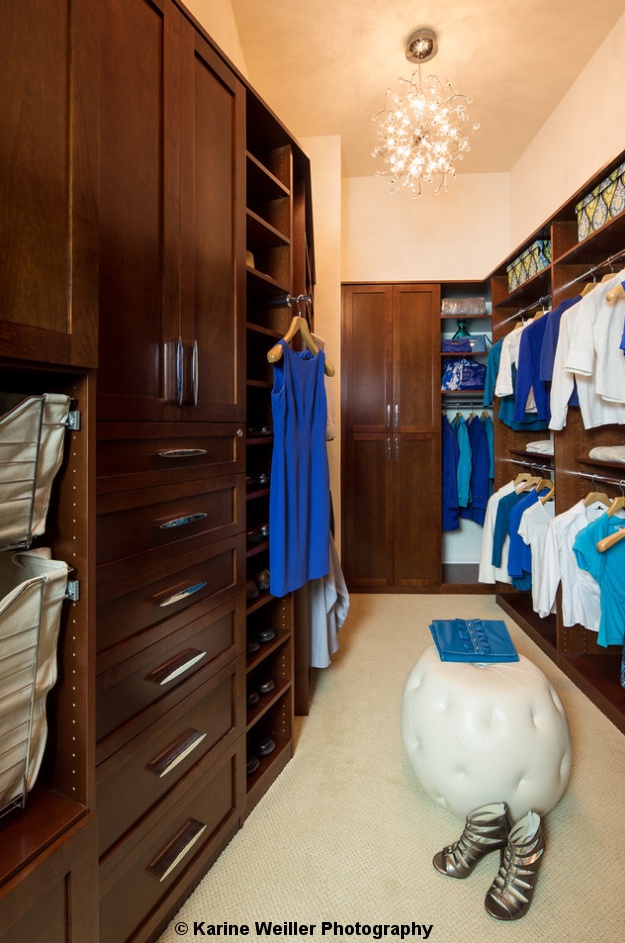 Warm wood tones combine with sleek style in this walk-in closet.
Image source: Valet Custom Cabinets and Closets
Warm wood stains create a rustic feel without needing to seem "old" or outdated. This closet incorporates wood grain thermally fused laminates that emulate the feel of real hardwood but give a sleeker, contemporary atmosphere. Especially when combined with a warm neutral paint color and plenty of lighting, this walk-in will no doubt remind you of a luxurious tasting room at Livermore's Retzlaff Winery.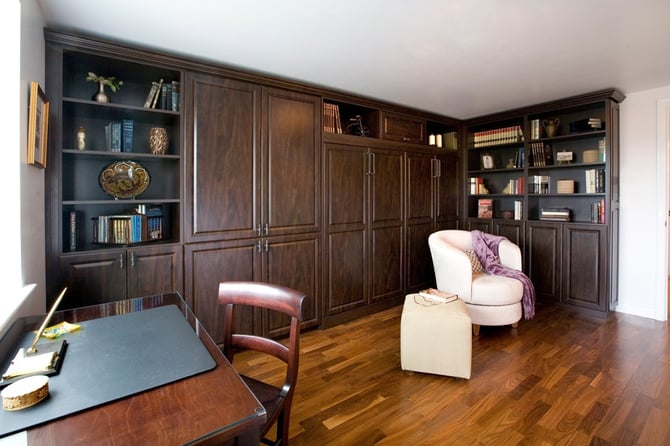 Give your home office some depth with a dark wood TFL finish.
Image source: Valet Custom Cabinets and Closets
The darker you go, the deeper your home feels rooted in Tri-Valley history. A rich Belgian chocolate finish reminds you of the first cellars of the region in 1895. To keep a home office bright (since we're not going for a complete cellar immersion effect), you'll want to incorporate lighter wood tones in your furnishings and bright neutral accents.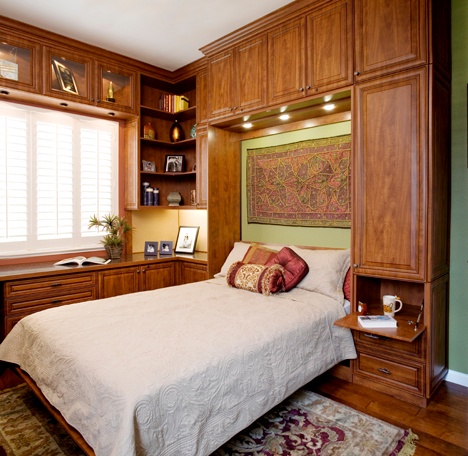 A summery oak finish brings coziness to the bedroom.
Image source: Valet Custom Cabinets and Closets
The warmth of the winery can be easily introduced in a bedroom space as well. A summer flame wood grain TFL in this space is reminiscent of Chouinard's rustic honeyed oak flair. These finishes tend to work particularly well in homes near downtown Pleasanton, with its perfect main street charm (assuming the current strategy to revamp downtown goes according to plan).
The sunny side of the bay is the perfect location to bring wine country style into any room of the home. Whether you're incorporating the calm neutral of stucco or the wood-inspired warmth of the winery, these finishes will bring a sense of Californian comfort to your space. If you're ready to jump in and get started with the Valet design team, schedule your free consultation today.
---
Valet Custom Cabinets & Closets designs, manufactures and installs custom organizational solutions that enhance the functionality of your living space while complementing the décor of your home.
Our talented design team creates unique solutions tailored to your specific needs, style, and budget. We are independently owned and a direct manufacturer.
Our areas of specialty include Home Offices, Wall Beds, Media Centers, Closets, Pantries, Garage Cabinetry, and much more.
Exceptionally Designed & Styled * Expertly Crafted with 5-Star Execution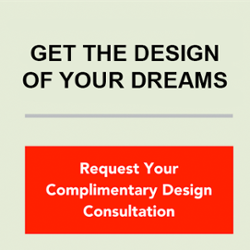 ---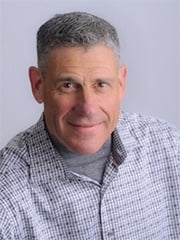 About Larry Fox, President
Larry is a graduate of the University of Southern California School Of Business. After receiving his degree he returned to the Bay Area and spent 18 years working in his family's 100+ year old metals recycling business. Upon the sale of that business in 2000, Larry and his wife Audrey purchased Valet. Larry has become a leader in the industry and is a past president of the National Closet Group. Larry loves turning people's dreams into reality, and remains as enthusiastic about the business today as he was when he first acquired it. View Larry's Houzz Page.