If you're raising a family anywhere in the Bay Area, you can't get a more picture-perfect neighborhood than Los Gatos. Old-growth trees flanking unique homes and the stunning Los Gatos Creek Trail make for a beautiful place for kids to ride bikes or draw with chalk in the driveway. 10 square miles of residential perfection sandwiched between Saratoga and Sierra Azul couldn't be more quaint.
If you've got your dream home in Los Gatos and are looking to add to your family in the near future, your mind is likely filled with dreams of baby clothes and children's toys—and, of course, new bedroom furniture. Do you go for the convertible crib-bed scenario that your daughter will undoubtedly outgrow before you can blink? When are you supposed to shell out for a full-sized bed, if you're still trying to fit a crib into the nursery? Wall beds provide the perfect solution for growing families in Los Gatos who are in between furniture stages in their lives.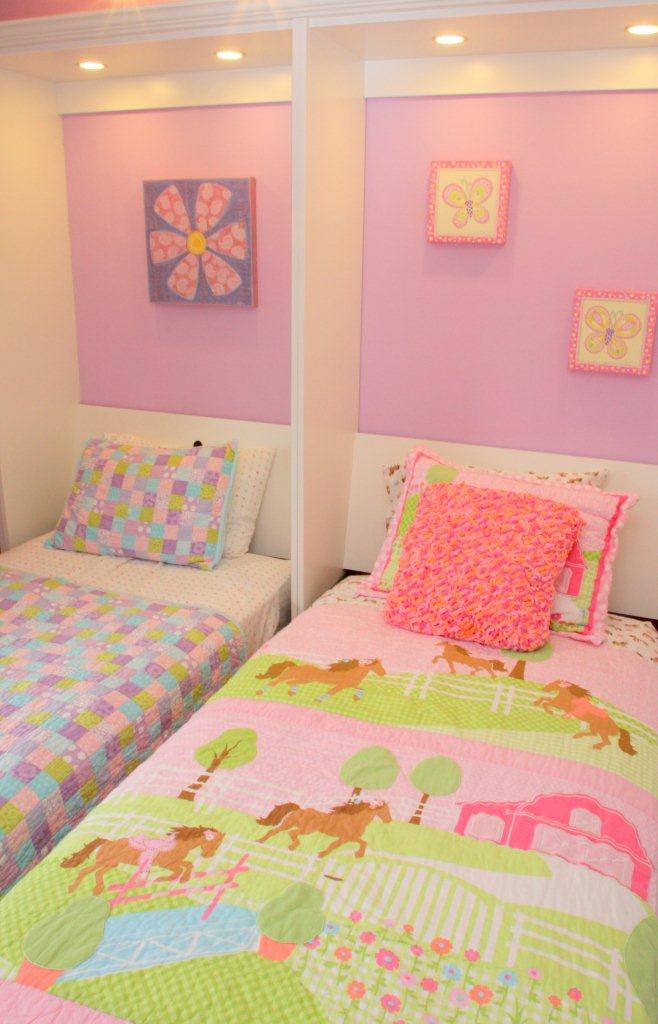 Twin wall beds coexist side by side and hide away when you don't need them for sleeping.
Image source: Valet Custom Cabinets and Closets
A Hidden Comfort When You Need It
When shopping for kids' furniture, salespeople tend to argue that your kid will grow up quickly anyway, so the time to purchase a big bed is now. That's a sound argument, assuming your nursery has the floor space for both a big bed and a crib. When the crib suddenly becomes too small, you have a slim margin of time to hurriedly purchase something bigger and do a hasty transition with your toddler. You're already trying to graduate him to Los Gatos Parent Nursery School—you definitely don't need to worry about purchasing furniture. With wall beds, you can be prepared and have all the floor space you need all at the same time.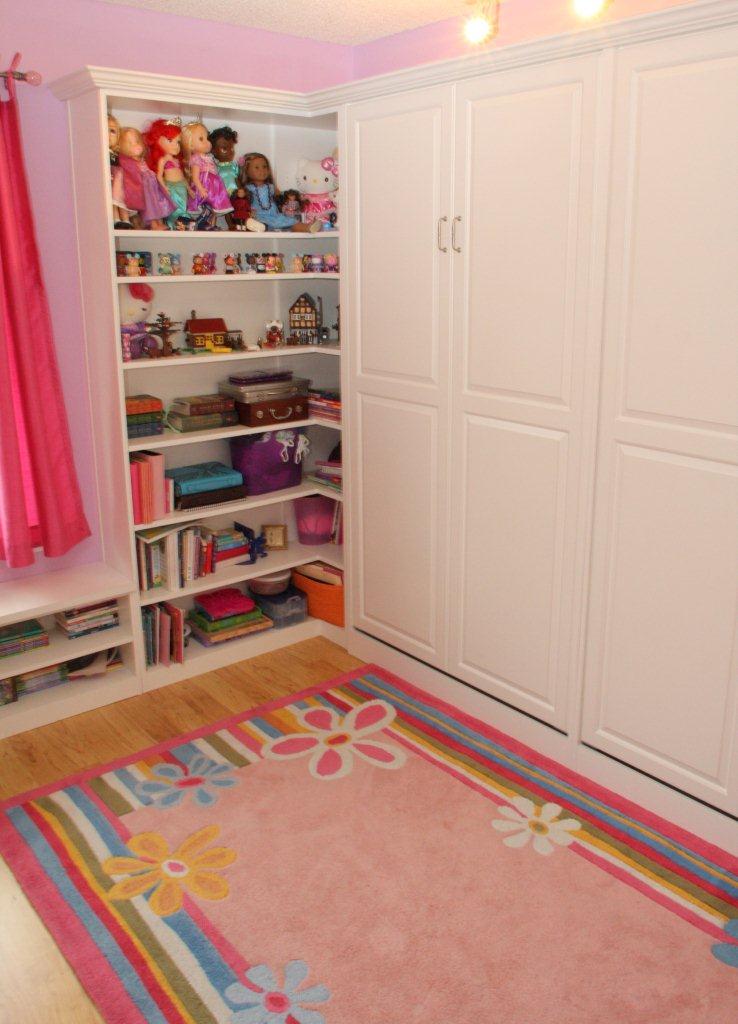 Wall beds hide away until you need them at night, or in a couple of months.
Image source: Valet Custom Cabinets and Closets
With a big kid bed (or two) tucked away until you need them, your nursery itself becomes a convertible bedroom. No longer do you have to shift kids from one side of the house to the other as they outgrow the official "nursery." Instead, you can leave them in their own rooms and still be ready for their next stage of life. These full-size vertical-tilt wall beds (that come in various sizes from twin to queen) remain beautifully encased within custom cabinetry in your choice of finish and hardware, so they actually add to the style of your child's room.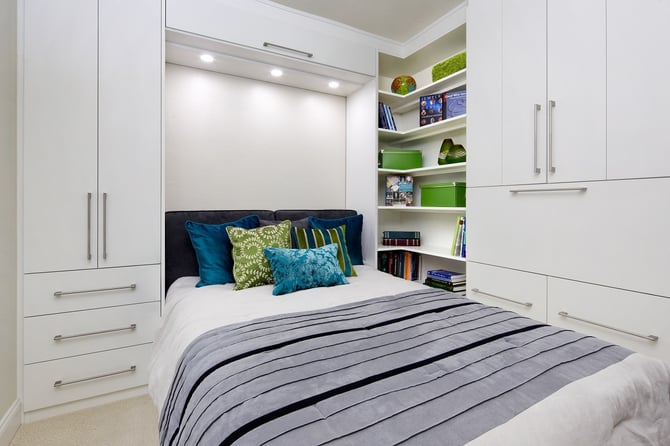 A full size "big kid" wall bed appears when you need it and hides when you don't.
Image source: Valet Custom Cabinets and Closets
When you no longer need the crib (and have the free floor space), simply use the counterbalanced design to easily and safely open your wall bed with the touch of a finger. This is the perfect solution for a child's bedroom, because a parent will usually always be around to open and close the bed when necessary until the kids are tall enough to accomplish the task themselves. These beds are so easy to use, even a child's (ever so mighty) strength can open and close them—with an adult's handy boost, of course.
Enjoy Extra Features As They Grow
One thing I personally appreciate about the wall bed design is its incorporation of various innovative features that can be used at any time, open or closed. You can incorporate an infinite variance of drawer, shelf, and cabinet combinations to achieve any storage purpose you have in mind. Need a shelf for American Girl dolls? Easy. Want to store reminders of your kids' LGS Recreation escapades? Done.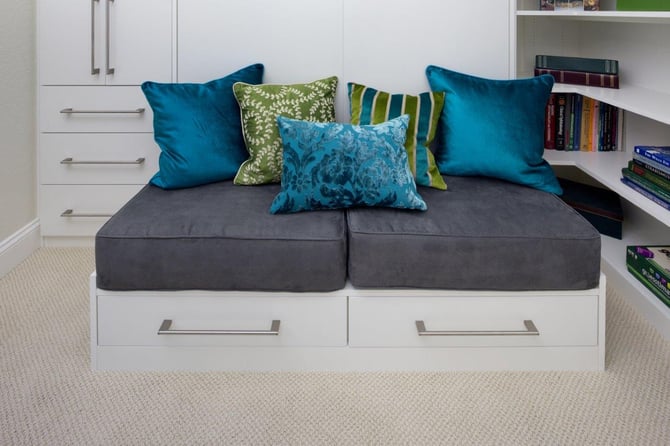 Using a wall bed with a bench seat gives extra storage to a kid's bedroom.
Image source: Valet Custom Cabinets and Closets
Adding a bench seat to your wall bed configuration is one of those genius ideas that I wish I had come up with first. My kids' rooms were always lined with toy boxes, and I never imagined another solution. Why not build one into the furniture? A bench seat acts as the perfect toy storage location, and also serves as a handy spot for reading stories together, sitting down to help lace up sneakers for a walk through the wooded hillsides of the Santa Cruz Mountains, and enjoying a brief rest together after some rough and tumble dinosaur play on a wintery afternoon.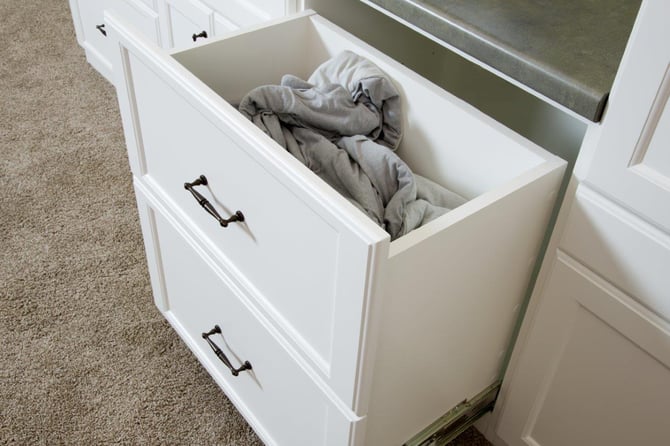 Add even more storage opportunities to your custom cabinetry (like a hamper drawer).
Image source: Valet Custom Cabinets and Closets
It's equally as important to have hideaway places in a kid's room for clothes—dirty or clean. Adding a hamper drawer to your cabinetry hides the laundry basket away and leaves more room in the closet for storing sports gear, dance costumes, or dress up clothes. Living in such a gorgeous rural community, kids are likely to have plenty of dirty laundry from climbing trees, falling down in the grass, and playing at Oak Meadow park. Long after you leave the unending baby laundry stage, you'll be needing a storage solution.
In truth, pretty much every standalone item you have in your child's bedroom can be combined into one custom cabinetry design. Free up floor space for train tracks, spinning contests, and just plain rolling around, and your kids will love being in their bedrooms. All the clutter stays out of sight (and organized) until you need it.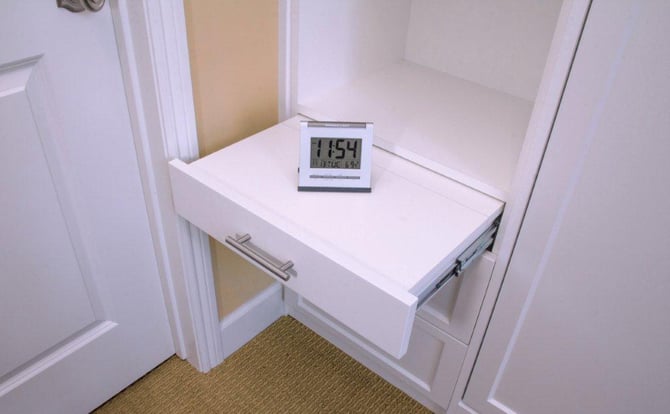 Our Murphy beds also come with built-in nightstands, freeing up even more floor space for play.
Image source: Valet Custom Cabinets and Closets
Our clients tend to love the idea of incorporating built-in nightstands into their wall bed cabinetry. This further frees up floor space in what may be a small bedroom. However, when your kids are old enough to need one, you can have a nightstand flip down or pull out as easily as opening a drawer. The rest of the time, there are no extra corners to bump into (or fall on).
With the addition of wall beds to your transitional nursery, you no longer need to worry about scrambling to find a big kid bed when the time comes. You can enjoy living in a quiet, walkable community where the most newsworthy event is the Vasona Park light festival, and your growing family will have plenty of room to sleep and play.
Our expert staff will manufacture and install your custom cabinetry in person (no subcontractors) to ensure that you get the pristine finish you expect. Your kids will love having their bedroom floor to play on, and you'll have peace of mind knowing that you're ready for their next life transition. Schedule your free design consultation today to see how a custom wall bed design will look and function in your nursery space.
---
Valet Custom Cabinets & Closets designs, manufactures and installs custom organizational solutions that enhance the functionality of your living space while complementing the décor of your home.
Our talented design team creates unique solutions tailored to your specific needs, style, and budget. We are independently owned and a direct manufacturer.
Our areas of specialty include Home Offices, Wall Beds, Media Centers, Closets, Pantries, Garage Cabinetry, and much more.
Exceptionally Designed & Styled * Expertly Crafted with 5-Star Execution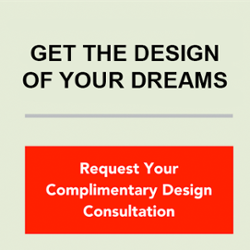 ---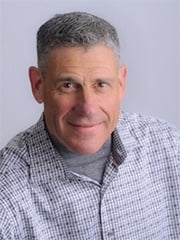 About Larry Fox, President
Larry is a graduate of the University of Southern California School Of Business. After receiving his degree he returned to the Bay Area and spent 18 years working in his family's 100+ year old metals recycling business. Upon the sale of that business in 2000, Larry and his wife Audrey purchased Valet. Larry has become a leader in the industry and is a past president of the National Closet Group. Larry loves turning people's dreams into reality, and remains as enthusiastic about the business today as he was when he first acquired it. View Larry's Houzz Page.