If Chicagoans discuss the Cubs and Portlanders chat about the rain, Bay Area residents belabor house prices. It's always on our minds—rising mortgages, increased rent prices, and an ever-growing influx of new neighbors make housing our number one concern. Some even joke that newcomers to the Bay should stay for a couple of years and then move along to make space for others to cycle through. We know house prices are high, and growing steadily higher.
As 2016 drew to a close, single-family residences in the Bay saw an all-time high in price (according to the Case-Shiller Index). What's more interesting, in my opinion, is that homes in the bottom third of the market increased the most, surpassing the rest to reach a level almost 5 times what it was in the late 80s. Homeowners, this means that your "lower-end" property is becoming more valuable than ever. If you're looking to sell and need a way to increase your profit—or if you're just looking for a way to increase your home value without the pressure of selling—you may want to consider going in for a closet makeover.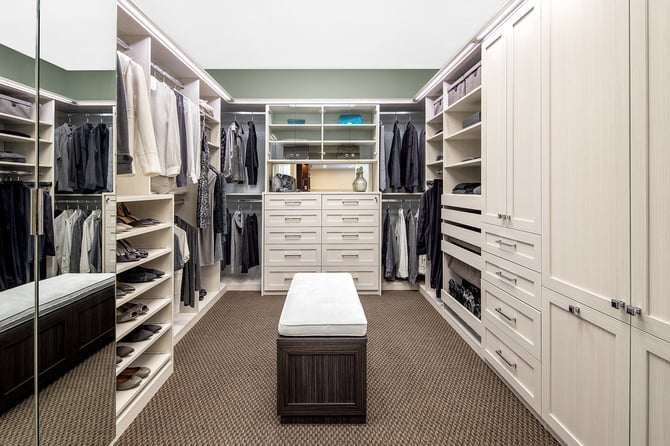 There's nothing like the feeling of being in an organized and beautifully crafted master closet.
Image source: Valet Custom Cabinets and Closets
Make Magic In Your Master Closet
People looking for a new home want to feel great when they imagine themselves living there—and good vibes often begin with good closets. The master in particular is where you can really add value to your home, because that's a room that sees traffic day in and day out. Make your master walk-in worth a visit.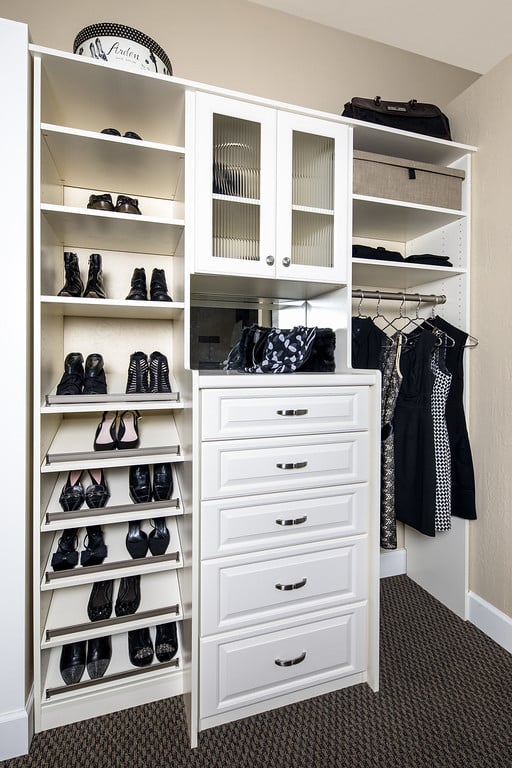 Mix up your master with drawers, cabinets, and display areas.
Image source: Valet Custom Cabinets and Closets
When sitting down with a client to design a master closet space, I always have them describe their organizational style. Do they value convenience, categorization, or a little bit of both? Your new master closet can incorporate space for any items you can think of, from jewelry to golfing attire, and it's always a good time piecing those elements together. Your finished design will make use of the entire room and provide both form and function to suit your needs.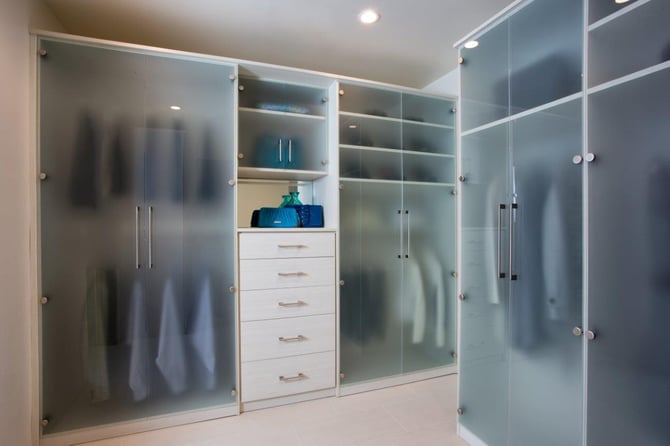 Custom cabinetry allows your design preferences to dictate each style decision.
Image source: Valet Custom Cabinets and Closets
With a custom closet design, you can create whichever aesthetic you prefer. Care for a bright and airy Los Altos feel, with plenty of display space? It's just as easy to create as it is to put together a minimized look that fits well with an East Bay aesthetic. Custom finishes such as a thermally fused laminate, prefinished wood veneer, and acrylic high-gloss allow style to influence your master closet space. Especially in a market as favorable as ours, updated finishes are an easy way to add immediate value to your home.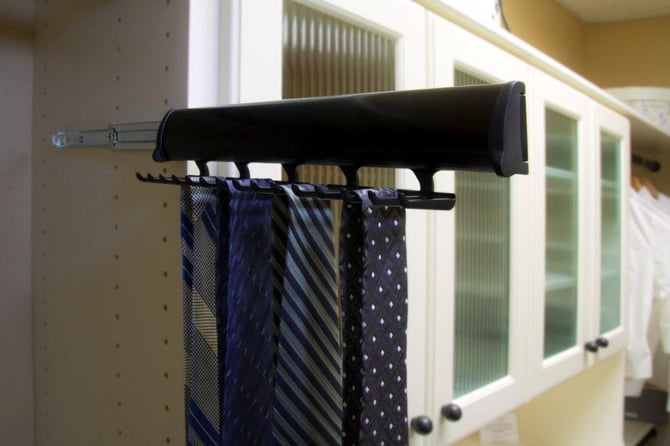 Sliding tie racks add an element of luxury to your master closet design.
Image source: Valet Custom Cabinets and Closets
If you're looking to sell (or just want an upgrade of your own) you'll want to incorporate luxury touches throughout your master closet. Little extras like sliding tie racks, angled shoe shelves, and accessory drawers help your master closet become a space you will enjoy spending time in. Plus, these elements help to efficiently store items that might have taken up unnecessary space in your previous configuration.
Smaller Closets
The master closet is the first place to start when you want to add instant value to your home. Commuters in San Ramon and stay-at-home moms in Silver Creek alike will appreciate the details you incorporate to make the space more functional. Of course, the remaining closets in the home could probably use some improvement too.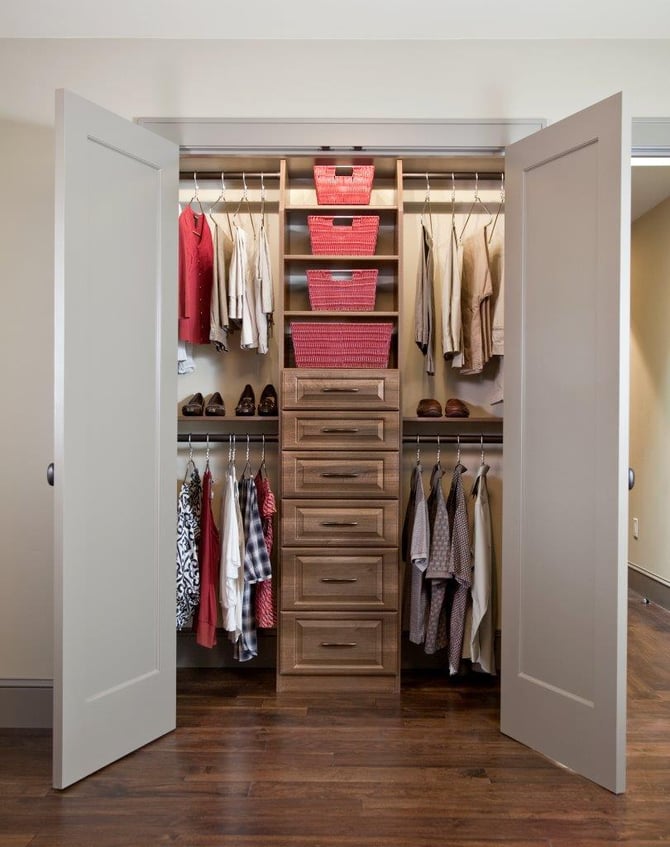 Adding built-in cabinetry helps to utilize every available square inch of a reach-in closet.
Image source: Valet Custom Cabinets and Closets
If you're working with a reach-in closet, one way to double your storage capacity is to add another hanging rod (or two). Clients typically don't need to hang floor-length items throughout the entirety of their closets—unless they're competing in the Miss Bay Area pageant—so this quick fix adds a lot of potential to even the smallest closets in your home.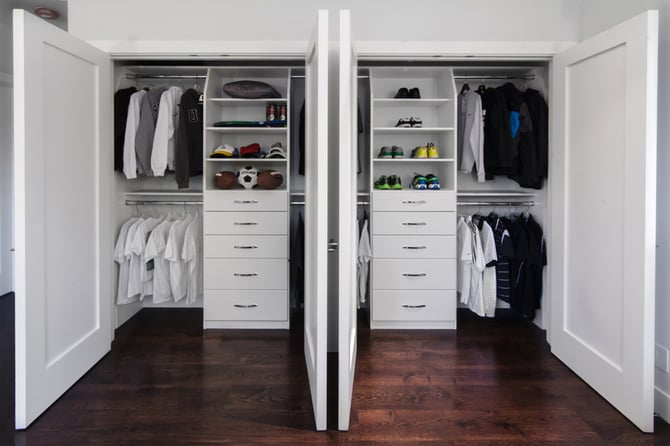 Including drawers in a reach-in closet helps keep smaller bedrooms organized.
Image source: Valet Custom Cabinets and Closets
Adding built-in storage can transform a closet space. An in-closet dresser or shelving unit will help corral competition dance shoes, soccer uniforms, and other knick-knacks and keep them off the floor. Incoming families will sincerely appreciate the added organization bonus.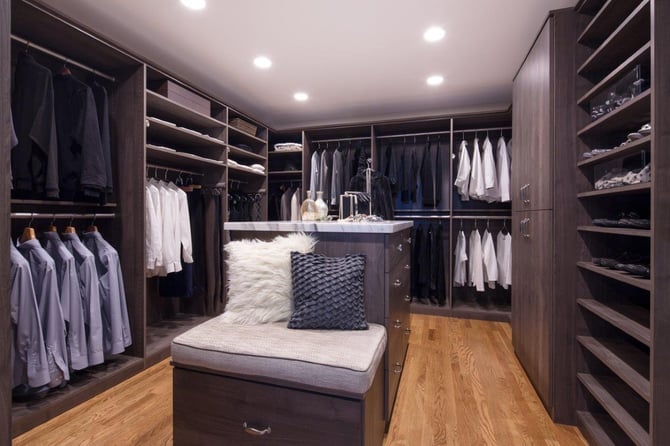 Upgraded closets add untold value to your home.
Image source: Valet Custom Cabinets and Closets
In any home, closet improvements will make a big statement and add incredible value. Whether you own a rental home in Stanford or are working with a ranch-style post-WWII number in Oakland, your home will be worth more than even that record high price with the help of custom closet design. Schedule your free design consultation now to get started on cashing in that new profit.
---
Valet Custom Cabinets & Closets designs, manufactures and installs custom organizational solutions that enhance the functionality of your living space while complementing the décor of your home.
Our talented design team creates unique solutions tailored to your specific needs, style, and budget. We are independently owned and a direct manufacturer.
Our areas of specialty include Home Offices, Wall Beds, Media Centers, Closets, Pantries, Garage Cabinetry, and much more.
Exceptionally Designed & Styled * Expertly Crafted with 5-Star Execution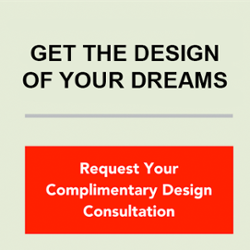 ---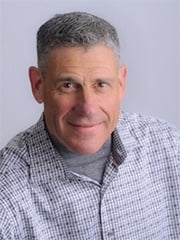 About Larry Fox, President
Larry is a graduate of the University of Southern California School Of Business. After receiving his degree he returned to the Bay Area and spent 18 years working in his family's 100+ year old metals recycling business. Upon the sale of that business in 2000, Larry and his wife Audrey purchased Valet. Larry has become a leader in the industry and is a past president of the National Closet Group. Larry loves turning people's dreams into reality, and remains as enthusiastic about the business today as he was when he first acquired it. View Larry's Houzz Page.