As the 8th most expensive zip code in the United States, Los Altos Hills (94022, to be exact), is definitely not a cheap place to live. You get a lot of bang for your buck here, however, with guaranteed lot sizes, beautiful residential areas with restricted zoning (no apartments or commercial buildings here), and a fantastic community of adults to socialize with at the farmers' market on Thursdays. It's a quiet, ranch-reminiscent town that's unfortunately about to get even more pricey.
By the end of 2017, the Fed expects yet another ¾ point increase in interest rates—meaning your LAH mortgage has the potential to rise more than $500 per month. If you're lucky enough to live in this coveted zip code, that number may not concern you. However, it definitely serves as that market's warning to stay put. Now is definitely not the time to buy new.
Consider why you'd be looking for a new place. You can hardly score a better location, a lower mortgage, or a nicer neighborhood—so you're probably looking to improve your in-home amenities. If that's the case, consider saving money (and the hassle of moving) by instead creating sophisticated home office renovations that transform your home and make it an even nicer place to live and work in.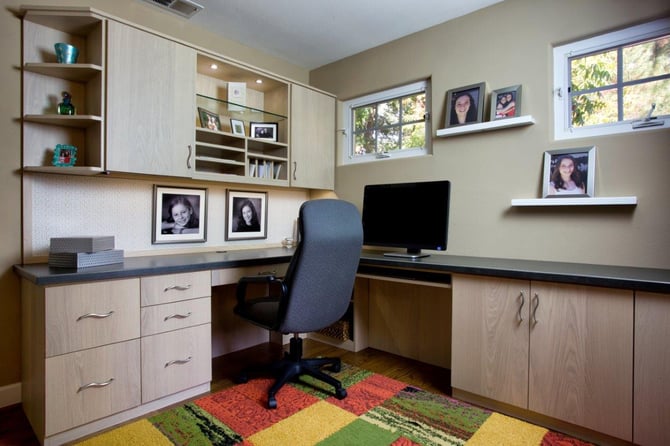 A renovated home office space makes your home feel new and exciting again.
Image source: Valet Custom Cabinets and Closets
Update Your Home Office Aesthetic With Thermally Fused Laminates
When homeowners search for a new place to live, they're most often looking for the luxurious feel of a new house with all the trendiest furnishings. You can get the very same effect in your existing home by updating your finishes with custom cabinetry and thermally fused laminates (TFLs).

TFL finishes make for a classy and updated choice in a home office.
Image source: Valet Custom Cabinets and Closets
If you're looking for the "new" feeling of that custom build over on Miranda Way, you're going to want to go for a sleek and airy style with your finishes. Variations on desert beige work well here, with plenty of shine balanced by just a hint of tradition. I'd select a TFL finish in the light beige color family and pair that with some oil rubbed bronze hardware that emulates the ranch tradition of the neighborhood.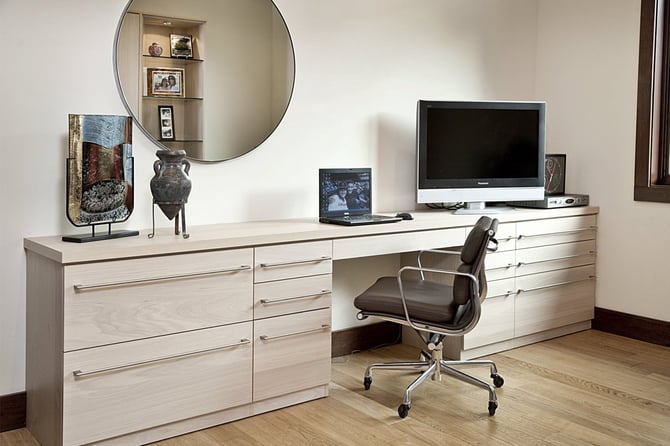 Smooth finishes make for an instant update, especially when unique hardware is added.
Image source: Valet Custom Cabinets and Closets
Synchronized TFLs are a fantastic choice for clients who seek to bridge the old and the new of Los Altos Hills with their design. The smooth finish is more trendy and long-lasting than regular wood cabinetry, but the wood grain effect still lends visual interest.
Go For a Classic Look With a Brand New Design
If the ranch-style fences along Robleda Road perfectly encapsulate what you're looking for in home style, you're probably going to want to upgrade your LAH home office with upgraded cabinetry in a real-wood finish. When you get tired of trying to run into Barry Bonds at Rancho San Antonio, you can bring the natural world inside with prefinished wood veneers and an updated office design.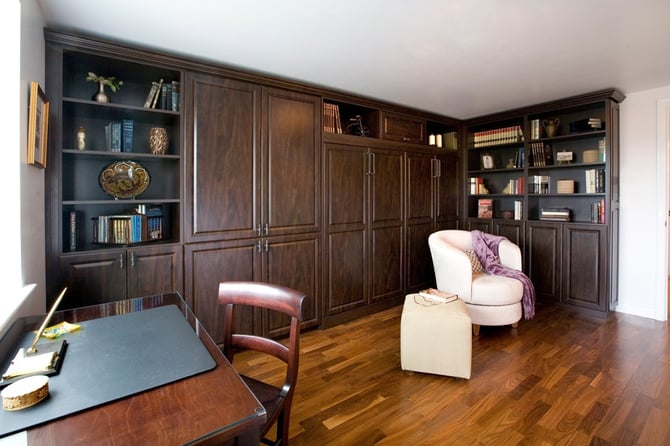 Looking for a solid-wood look that's still modern? Go for prefinished wood veneers.
Image source: Valet Custom Cabinets and Closets
Prefinished wood veneers look best with raised panel foil fronts that bring out the beauty in the wood grain of your choice. For a home office that's classic and sophisticated, choose a maple or mountain cherry finish in a darker shade and accessorize the space with bright neutrals that bring a new feel to the room.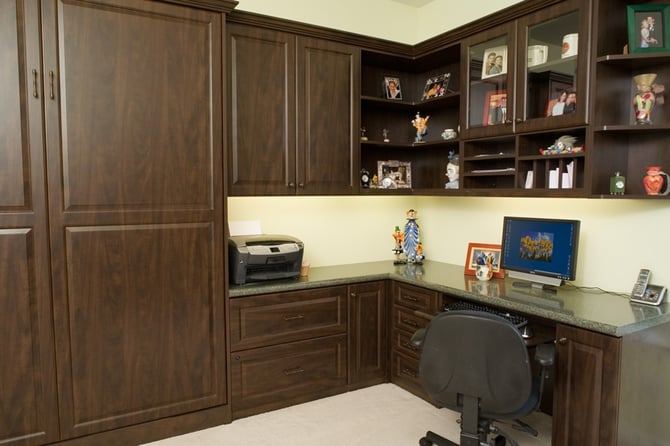 Mixing materials in your custom home office keeps things interesting.
Image source: Valet Custom Cabinets and Closets
A surefire way to up the luxury in your existing home office is to improve your work surface. Lusting after the granite office countertops in the home for sale over on Elena? Get your granite fix as part of your new design. For pairing with a dark wood, I especially like the look of warm-toned granites with a lot of slate gray. This combination goes beautifully with slate hardware in a minimal style that evokes the turn-of-the-century homes nearby.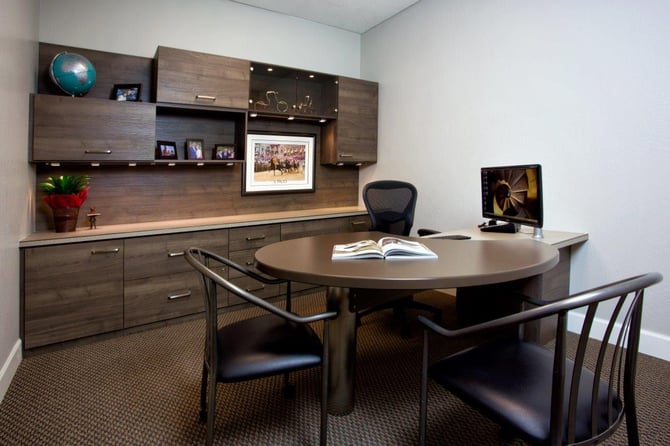 Whether classic or contemporary, a custom home office design can change the way you see your home.
Image source: Valet Custom Cabinets and Closets
It can be fun to tour the homes in Los Altos Hills that are for sale, especially as they're being newly built from the ground up. We can all take design inspiration from these properties and apply our favorite aspects in our own homes. Whether you're going for a contemporary style upgrade in your home office or a remodel with ranch-style coziness, your new custom design will reflect exactly what you want in a home (and save you the extra cash of a new house payment). Schedule your free design consultation today to bring your ideas to life.
---
Valet Custom Cabinets & Closets designs, manufactures and installs custom organizational solutions that enhance the functionality of your living space while complementing the décor of your home.
Our talented design team creates unique solutions tailored to your specific needs, style, and budget. We are independently owned and a direct manufacturer.
Our areas of specialty include Home Offices, Wall Beds, Media Centers, Closets, Pantries, Garage Cabinetry, and much more.
Exceptionally Designed & Styled * Expertly Crafted with 5-Star Execution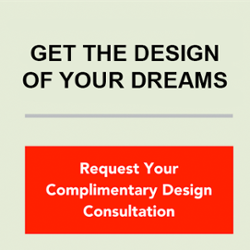 ---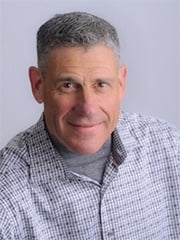 About Larry Fox, President
Larry is a graduate of the University of Southern California School Of Business. After receiving his degree he returned to the Bay Area and spent 18 years working in his family's 100+ year old metals recycling business. Upon the sale of that business in 2000, Larry and his wife Audrey purchased Valet. Larry has become a leader in the industry and is a past president of the National Closet Group. Larry loves turning people's dreams into reality, and remains as enthusiastic about the business today as he was when he first acquired it. View Larry's Houzz Page.