I recently got into a somewhat heated debate with a colleague about a very pressing current issue—e-readers versus paperbacks. While my opponent made some good points about accessibility, I couldn't concede. You just can't beat the feel of crisp pages and the smell of fresh ink—and those are things that your tablet just can't provide (yet).
One of my main selling points in the support of real books was, of course, our client base. Ever since the new Rinconada library renovations completed, many people have walked through our Campbell showroom looking for a very specific bookshelf configuration. They're seeking an at-home, master-bedroom library—and as a proponent of real books, I am only too happy to oblige. Use custom bookshelves, cabinets, and drawers, to your advantage to create an ultra-functional library design for use in Palo Alto (or anywhere else we book lovers congregate).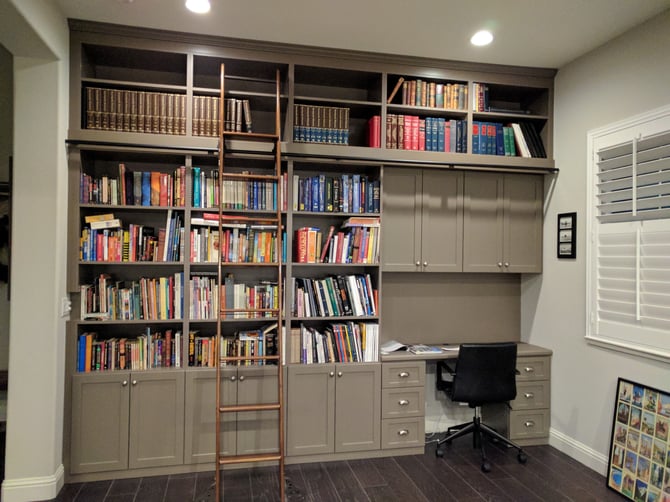 Mixed-height shelves get improved access with a custom sliding library ladder.
Image source: Valet Custom Cabinets and Closets
Creative Interpretations of Your Basic Master Bedroom Library
Whether you're looking for floor-to-ceiling bookcases to rival the best of Rinconada's collections or you need a more mixed-use approach, a master bedroom library adds a touch of sophistication to any home. While standalone bookshelves do their job well, an integrated design with cabinets, drawers, and entertainment space makes your bedroom wall that much more functional and visually interesting.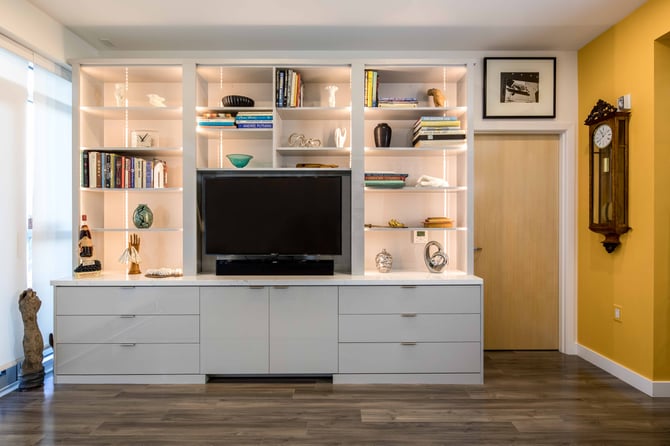 Incorporating an entertainment space within your master bedroom library cabinetry is easy and effective.
Image source: Valet Custom Cabinets and Closets
Clients rarely think about putting their master TV in the middle of their library shelves, but they're always pleased with the result. Mixing shelf heights and adding space for TVs, decor, or art can give your wall of books a more eclectic and lived-in feel (if that's what you're going for). This strategy gives you something beautiful to look at even when you're not running ABC7 as background noise.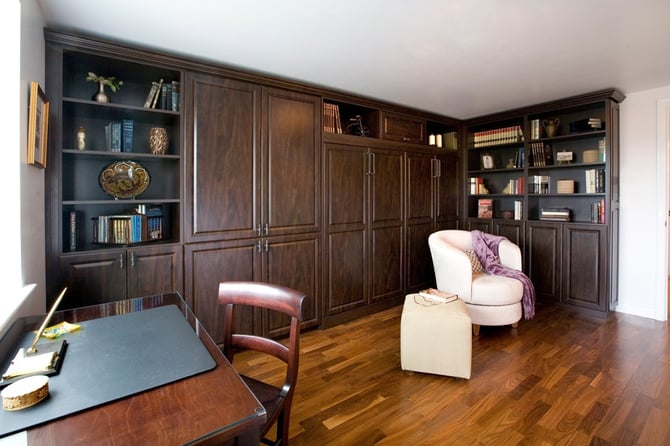 A wall bed blends in seamlessly with a master bedroom library.
Image source: Valet Custom Cabinets and Closets
Library configurations can also be made to include a wall or Murphy bed, which hides beautifully among the custom cabinets during the day. If you'd like to make your master bedroom multi-purpose without sacrificing on luxury, this is a perfect solution. Our Palo Alto clients tend to love the wood grain TFL finishes, which lends the cabinetry the appearance of real wood and the feel of a traditional Stanford library.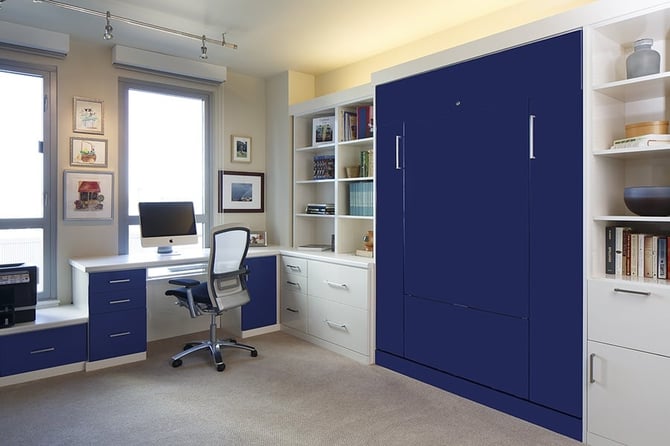 Custom library spaces can incorporate different colors and finishes for an eclectic and innovative feel.
Image source: Valet Custom Cabinets and Closets
Alternatively, we've also designed custom libraries with super matte and acrylic gloss finishes. Acrylic gloss cabinetry looks modern and sleek, reminiscent of the Teslas produced in Palo Alto. With an extensive array of hardware options to further personalize and tie together various mixed materials or finishes, you can have a home library that is as colorful (or as minimalist) as you wish.
Upgrade Your Home Library Design With Luxurious Extras
When I recently visited Rinconada Library on a whim, I was struck by how much light illuminated the manuscripts within. Between a ceiling's worth of skylights, floor to ceiling windows, and modern suspended lighting, the aesthetic was bright, warm, and welcoming. It's no surprise that clients wish to include a similar feel into their own at-home libraries. Reset LED lighting adds extra shine to bookcases and media centers that would normally rest in a natural shadow.
Adding custom lighting brightens a library space.
Image source: Valet Custom Cabinets and Closets
I've also found adding glass, whether as shelving or as cabinet door panels, tends to add even more brightness to a bookcase configuration. Serious book connoisseurs will want to be careful not to overload glass shelves with heavy tomes (instead, go for sturdy 3/4" thick wood shelving), but for more casual collectors, glass shelves present a lovely opportunity to open up their library space and showcase their favorite hardcovers in style.
Utilize glass in your custom library to create even more visual interest.
Image source: Valet Custom Cabinets and Closets
As Santa Clara County residents are clearly in favor of increasing local taxes for public improvement projects (as of November 8th, anyway), it seems like our libraries are here to stay. Book lovers, rejoice! And if you're ready to take the next step toward creating the home library of your dreams, be sure to schedule your free consultation with our designers today.
---
Valet Custom Cabinets & Closets designs, manufactures and installs custom organizational solutions that enhance the functionality of your living space while complementing the décor of your home.
Our talented design team creates unique solutions tailored to your specific needs, style, and budget. We are independently owned and a direct manufacturer.
Our areas of specialty include Home Offices, Wall Beds, Media Centers, Closets, Pantries, Garage Cabinetry, and much more.
Exceptionally Designed & Styled * Expertly Crafted with 5-Star Execution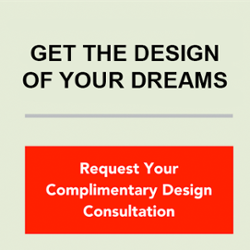 ---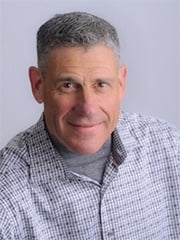 About Larry Fox, President
Larry is a graduate of the University of Southern California School Of Business. After receiving his degree he returned to the Bay Area and spent 18 years working in his family's 100+ year old metals recycling business. Upon the sale of that business in 2000, Larry and his wife Audrey purchased Valet. Larry has become a leader in the industry and is a past president of the National Closet Group. Larry loves turning people's dreams into reality, and remains as enthusiastic about the business today as he was when he first acquired it. View Larry's Houzz Page.