I recently worked with a winery owner and his wife who were retiring to a small home in the Lakewood neighborhood of Walnut Creek but still wanted to be able to gather friends and family to enjoy the occasional glass together. They had an extensive wine collection and were worried about how to store it without sacrificing too much of their limited space.
Most homes in Walnut Creek don't have a full-blown wine cellar—and it isn't exactly a cost-effective addition given the area's surge in housing prices—so it was an interesting conundrum. What do you do when you have a modest two- or three-bedroom home and no room to add a regular pantry, much less a wine pantry?
A Multipurpose Solution
Heat and extreme humidity are the foes of any wine collection, so storing it near the kitchen range, or in a laundry room or garage, is not ideal. Why not add a wet bar and wine storage area to your dining room or living room instead?
If you're like most people, you bring out the wine for an intimate gathering or a quiet night in, so it makes practical sense to store it nearby. You won't have to walk away and miss out on the fun every time the bottle needs to be replaced.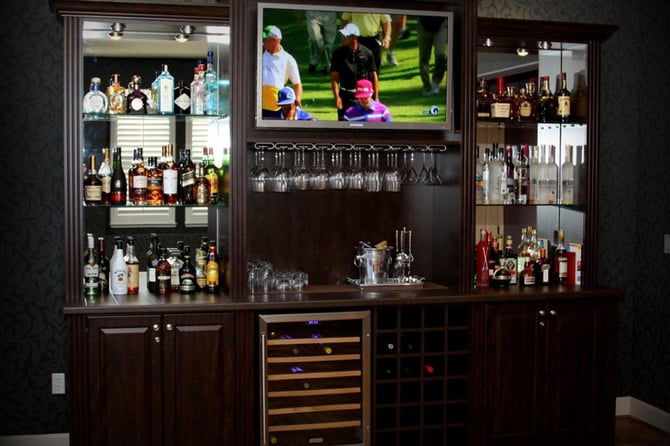 Make your entertainment center even more entertaining by adding wine storage.
Image source:
Valet Custom Cabinets & Closets
.
Your storage solution doesn't have to be confined to wine, either. We can add a liquor cabinet for guests who might want more options, in addition to traditional entertainment center features, like room for a flat screen TV so that you can catch the game.
And while we're on the subject of games, cards and board games come in all different sizes and can be tricky to store without turning into a complete mess. But adding adjustable shelving and elegant cabinet doors to your unit means that all your options are on-hand for game night without cluttering up the rest of the room.
Keeping Your Wine Cool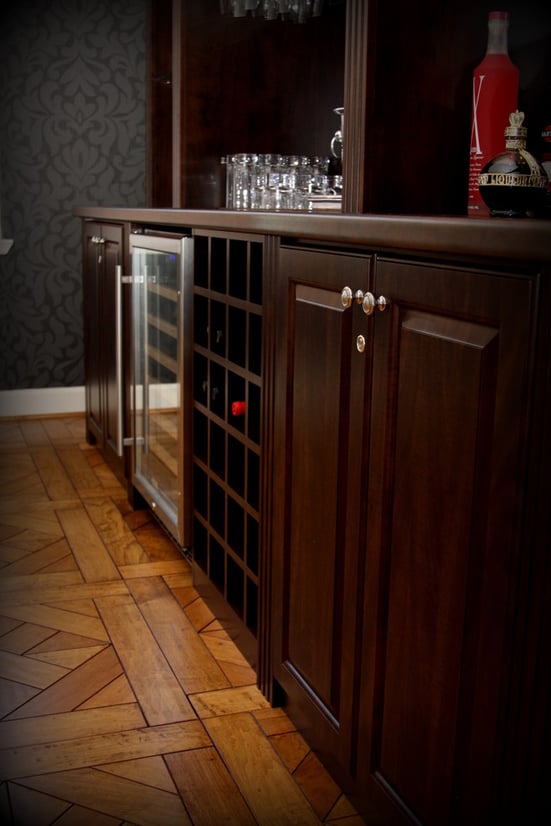 Keep cool with a wine refrigerator.
Image source: Valet Custom Cabinets & Closets
Of course, if you're a true wine aficionado, you've probably got a few bottles you're saving for special occasions—or even just a favorite white you like to keep chilled and ready to go. A wine cooler is the best way to achieve the correct storage temperature and humidity since a standard refrigerator is set to 45 degrees or below and doesn't do much in the way of humidity control. We can work with you to create custom cabinetry that leaves plenty of space for a small wine cooler and even help you source one from our local partners.
Stay organized with individual cubbies.
Image source: Valet Custom Cabinets & Closets
For wine you'll be drinking within a year or two of purchase, storing sideways or slightly slanted down—and, most importantly, out of direct sunlight—is still an efficient way to protect your collection. Whether you decide to add cubbies or scalloped storage, just make sure you store all bottles with their labels facing up so that you can easily see what you're grabbing when it's time to serve.
If you don't have the space for a designated serving counter, some folks also like to add a pull-out table top for pouring, which slides away when not in use. I'd suggest adding one or two designated drawers, as well, which you can use to corral all the necessary accessories: corkscrews, bottle stoppers, wine saver pumps, and coasters.
Organizing Your Glassware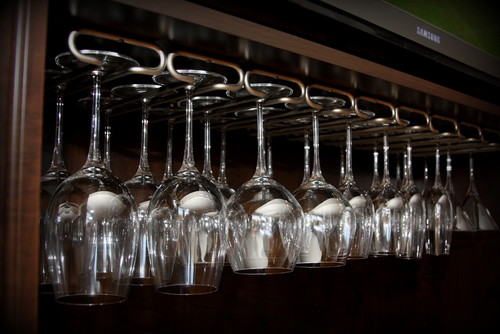 Wine racks can be both convenient and eye-catching.
Image source: Valet Custom Cabinets & Closets
With your wines at the ready, you'll also want a spot nearby for wine glasses so that they're easy to retrieve without a trip to the kitchen. A rack or two for glassware doesn't have to take up much room and creates an eye-catching display.
Shelves with mirrored back panels are another possibility—and can serve double-duty by displaying artwork, too. You have several beautiful design options to choose from. Frosted glass shelves, panel inserts, and angled side cabinets are particularly great for adding depth and charm, while LED lighting can help brighten up the space.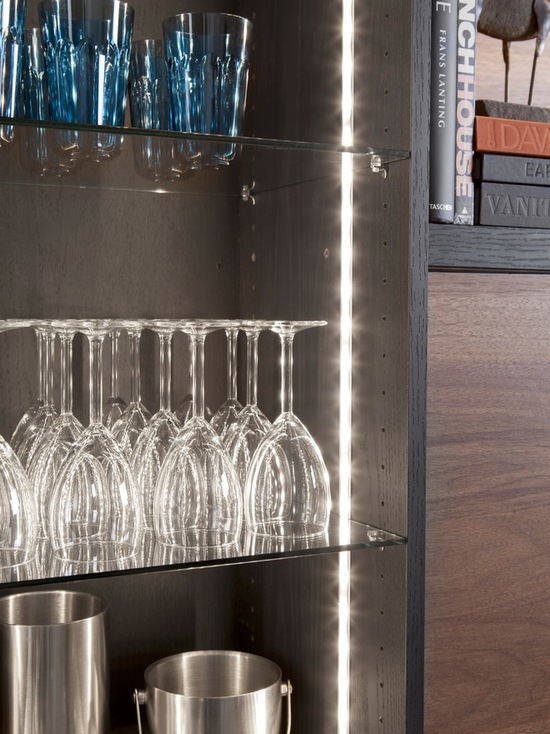 Glass shelves and LED lighting make any collection more elegant.
Image source:
TransFORM
.
If you're a wine aficionado and love having guests over, get in touch with us to begin the process of installing custom cabinetry in your Walnut Creek living room or dining room. A small house doesn't mean you can't still play host.
---
Valet Custom Cabinets & Closets designs, manufactures and installs custom organizational solutions that enhance the functionality of your living space while complementing the décor of your home.
Our talented design team creates unique solutions tailored to your specific needs, style, and budget. We are independently owned and a direct manufacturer.
Our areas of specialty include Home Offices, Wall Beds, Media Centers, Closets, Pantries, Garage Cabinetry, and much more.
Exceptionally Designed & Styled * Expertly Crafted with 5-Star Execution
---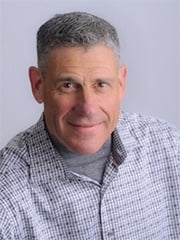 About Larry Fox, President
Larry is a graduate of the University of Southern California School Of Business. After receiving his degree he returned to the Bay Area and spent 18 years working in his family's 100+ year old metals recycling business. Upon the sale of that business in 2000, Larry and his wife Audrey purchased Valet. Larry has become a leader in the industry and is a past president of the National Closet Group. Larry loves turning people's dreams into reality, and remains as enthusiastic about the business today as he was when he first acquired it. View Larry's Houzz Page.