When your kids move out, a whole new world of exciting opportunities opens to you. You can sell your home and downsize to fund travel or to go back to school and learn something new. Or, like a recent Lamorinda client of mine, you could finally do that home remodel you've been putting off. With the kids at home, a large renovation had always seemed too overwhelming a task to undertake. With their newly empty nest, however, they found they now had the space (and time!) to finally escape the constraint of sharing a cramped master bathroom and a tiny closet.
The cities that make up Lamorinda happen to be a popular empty nest community—some folks call it "Morindette" (more in debt) because couples spend good money relocating to this beautiful area just to downsize. Thus, square footage here is a bit of a precious commodity. If, like my clients, you're an empty nester looking to make closet space where space in general is limited, consider converting one of your spare rooms into a brand-new closet.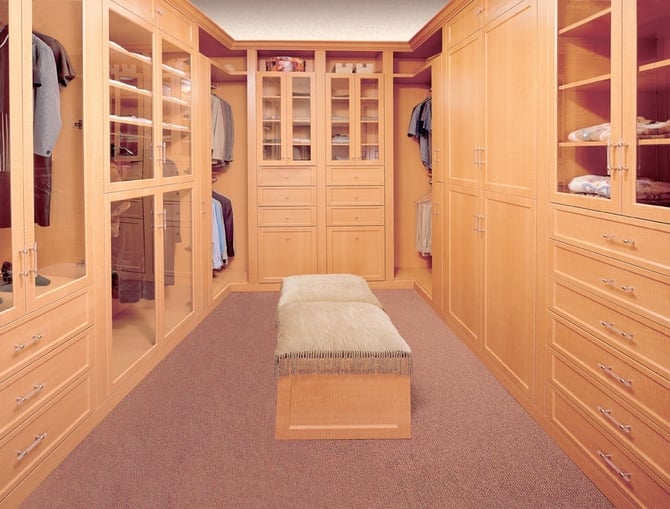 Transform an old room into a new closet to take advantage of extra, unused space.
Image source: Valet Custom Cabinets & Closets.
Form and Function
One remodeling trend that's become popular is having the entrance to a new closet in the bathroom, rather than the master bedroom. This is particularly convenient for couples with different morning schedules. Rather than risk rousing your sleeping spouse, you can head straight into the bathroom and go about your full morning routine without even having to switch on the bedroom light. Adding a few valet rods makes things even easier by allowing you to plan your outfits ahead of time and hang them in easy reach.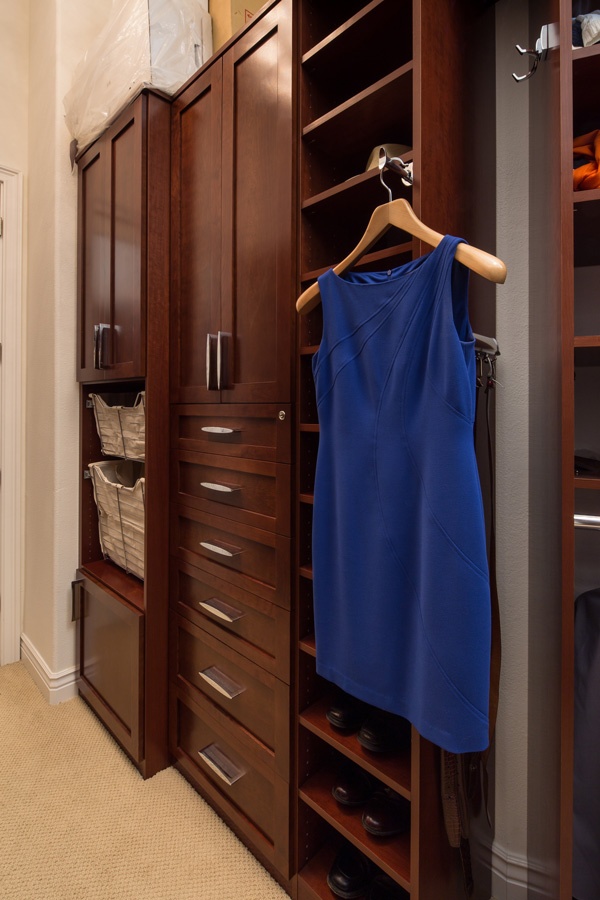 Plan important outfits ahead of time and hang them on valet rods until the big day comes.
Image source: Valet Custom Cabinets & Closets.
This layout also means your clothes closet can double as a new linen closet. With a few extra drawers or cabinets, you can create space for your towels, linens, and toiletries right alongside your wardrobe, while adding a hamper helps keep dirty clothes off the floor. Pull-out baskets are easy to pop in and out, while flip down hampers provide a subtle storage solution that keeps dirty laundry out of sight and out of the way. You can even include multiple hampers for pre-sorting clothes before laundry day, saving you time (and hassle) in the long run.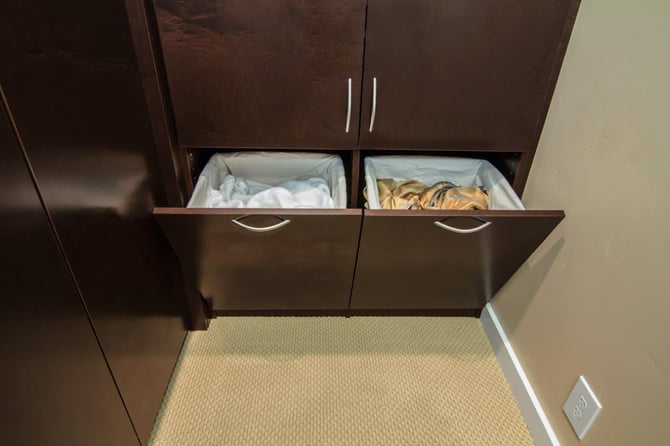 Flip-down hampers help keep dirty laundry a well-kept secret.
Image source: Valet Custom Cabinets & Closets.
The Great Divide
Tired of sifting through piles of ratty old t-shirts while scavenging for that one perfect blouse, or foraging in a forest of high heels in search of work shoes? Now that you've got the space, you can customize your new closet so that you and your spouse each have your own "side" where you can organize your things in a way that best fits both your style and your schedule.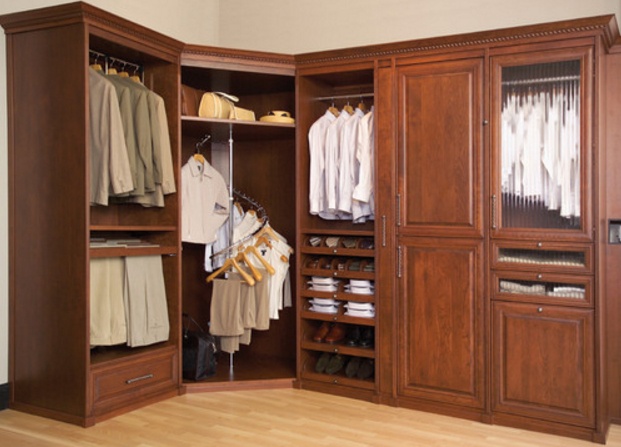 Having separate sides for each of your wardrobes cuts down on both clutter and stress.
Image source: Valet Custom Cabinets & Closets.
Business casual shirts and pants can be kept near your ties with a slide-out tie organizer. Fancy dresses for evenings out can be stored next to your jewelry with a double jewelry drawer, while sweaters and other outerwear can be neatly folded above a pull-out scarf rack, with your scarves neatly organized by size and color.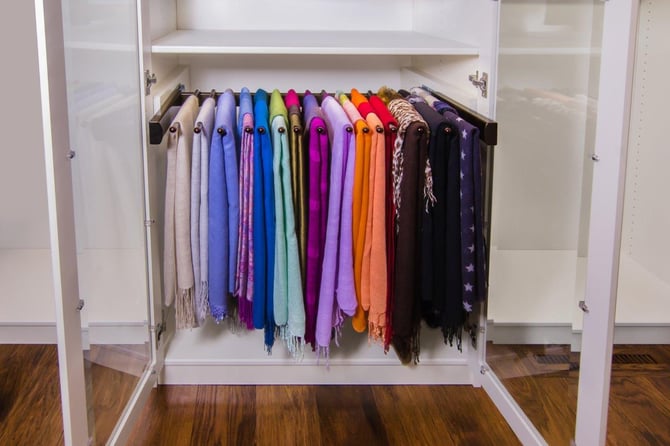 A pull-out scarf rack provides a neat, eye-catching way to keep your collection in check.
Image source: Valet Custom Cabinets & Closets.
Choose Shoes
Whether big or small, there's always room for your shoe collection in a custom closet. One popular option is to kick off your shoes the minute you come in the door—that way you can always find them. Or, for a more civilized (and organized) approach, there are a variety of closet storage options to consider.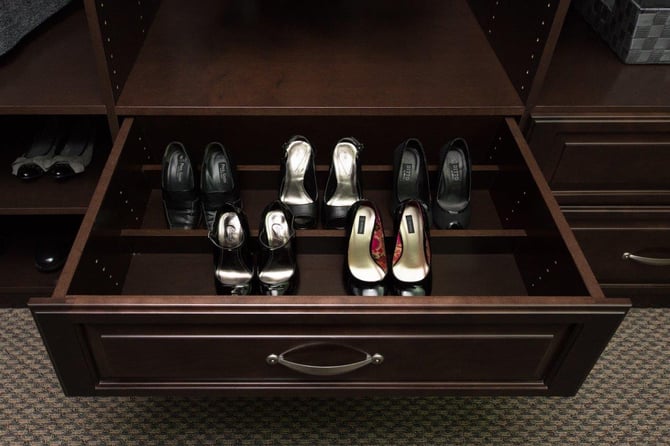 Keep your fancy shoes dust-free and easy to find.
Image source: Valet Custom Cabinets & Closets.
Perhaps you're proud of your collection, or maybe you just prefer the convenience of having your shoes out in the open, where they're easy to grab when you're in a hurry. Slanted shoe shelves free up room by storing your shoes vertically, rather than horizontally (i.e., all over the floor).
Another option is to store your shoes along the bottom of your closet with shoe shelves, slide-out shoe shelves, or slide-out shoe drawers. Shoes are pretty dirty, especially the well-worn ones—storing them separately keeps your clean clothes, well, clean. Store your dress shoes underneath the dress clothes you'd wear them with, or keep your socks in drawers directly over your shoe shelves, for extra convenience.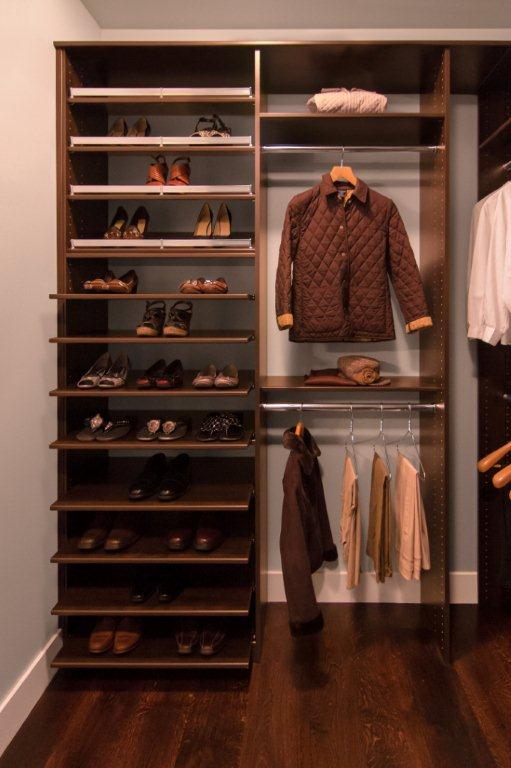 Display and organize your shoes by type, color, or preference with custom shoe shelves.
Image source: Valet Custom Cabinets & Closets.
Whether you're an empty nester or just fed up with your tiny, cramped master closet, converting a spare bedroom into a custom luxury walk-in could be exactly the storage solution you're looking for. Reach out to us today to start creating the closet you've been craving!
---
Valet Custom Cabinets & Closets designs, manufactures and installs custom organizational solutions that enhance the functionality of your living space while complementing the décor of your home.
Our talented design team creates unique solutions tailored to your specific needs, style, and budget. We are independently owned and a direct manufacturer.
Our areas of specialty include Home Offices, Wall Beds, Media Centers, Closets, Pantries, Garage Cabinetry, and much more.
Exceptionally Designed & Styled * Expertly Crafted with 5-Star Execution

---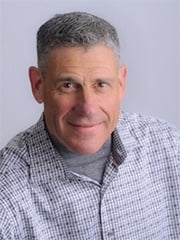 About Larry Fox, President
Larry is a graduate of the University of Southern California School Of Business. After receiving his degree he returned to the Bay Area and spent 18 years working in his family's 100+ year old metals recycling business. Upon the sale of that business in 2000, Larry and his wife Audrey purchased Valet. Larry has become a leader in the industry and is a past president of the National Closet Group. Larry loves turning people's dreams into reality, and remains as enthusiastic about the business today as he was when he first acquired it. View Larry's Houzz Page.