Los Altos' development history is actually pretty interesting. It used to be a notable bedroom community, but the city became concerned when malls and chain stores started sapping its retail district. They got aggressive, and now have a long list of mixed-use development projects in various states of completion. These condo, retail, and commercial buildings center around the now-booming First Street district and are complemented by great restaurants and boutique shops.
Los Altos has become the perfect place for Silicon Valley professionals to come home after work. The new condos are luxurious, have fantastic views, and are close to (sometimes on top of) some of the best places to eat and drink in the Valley. And with tech and other companies embracing the telecommute ethos, Los Altos residents can live, play, and work in these luxury condos. To create a mixed-use unit in your mixed-use building, though, you'll need a custom-designed home office that fits your space. Having work and living space in the same condo is a perfect fit with the growing Los Altos downtown lifestyle.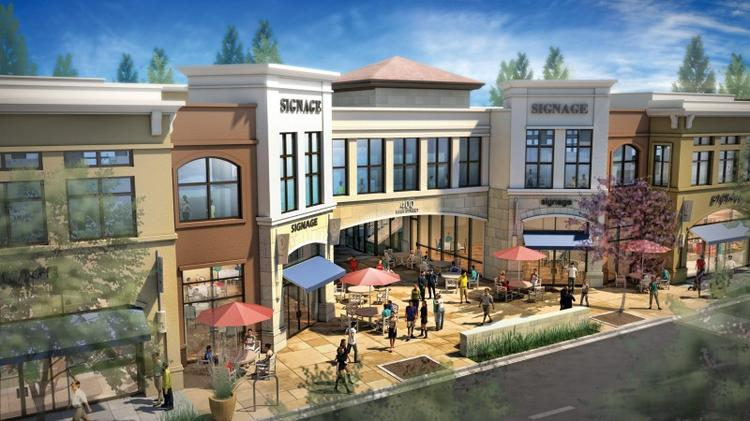 The
Downtown Los Altos plan
, filled with multi-family mixed-use development.
Image from City of Los Altos.
The Custom Home Office
It's amazing how many people work from home these days, but what's even more amazing is how many of them work on kitchen tables and outmoded desks. These circumstances make working from home pretty unpleasant. If you're going to be spending work hours in your Los Altos condo, it's important to make your home office comfortable and productive.
Depending on the size of your condo, your home office can also be integrated into daily living. Many have enough shelving and storage that they can be used for much more than an office. You can store your personal book collection, display pictures, and make use of the ample filing space for personal documents. Because of this multi-function, you'll want a home office that is designed to fit the space you have, and that looks great while doing so.
There are a few different kinds of home offices you can choose from, depending on your needs. The best part of a custom design is that what you see isn't all there is: we work with you to create something that fits your needs and your space. Our expert designers know there's no such thing as a one-size-fits-all solution.
The Office for Two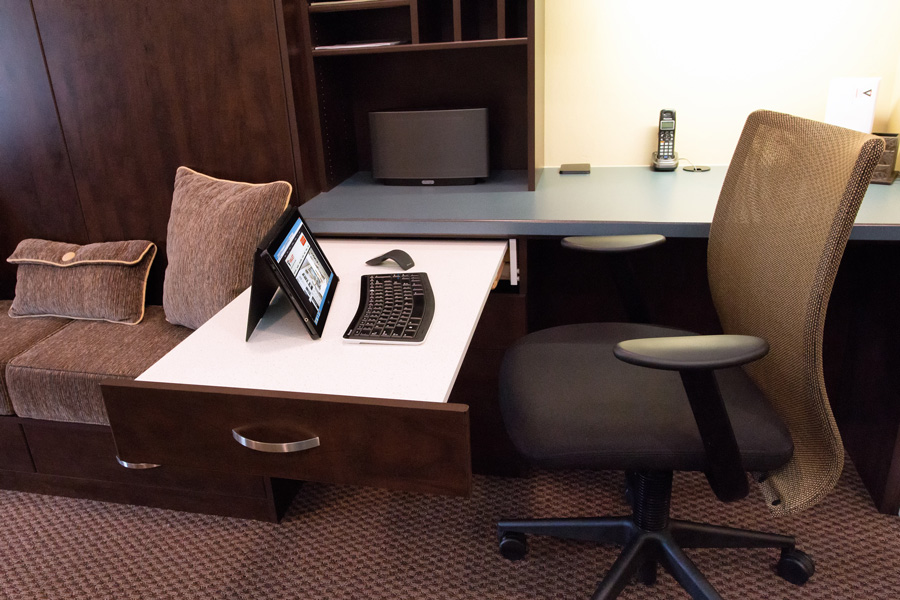 Working with others? Roll up a chair…
Image from Valet Custom
When working from home, there are times when you'll still need to work with other people. You might be sharing a home office with a roommate or significant other. If that's the case, you need space for your equipment and theirs. One of our most popular home office features is a pull-out desk built to accommodate more people. There are nooks for computers, cabinets for your files and papers, and space to store anything else you might need (or that will look good in the background on a video meeting).
This is an ideal space for people to work together. It's like having your own open-office plan right in your Los Altos condo. So if you have the sort of job where you may need direct face-to-face collaboration, or if you just want to have the work team over every once in awhile, a custom office designed for multiple people may be what you're looking for.
Home, Office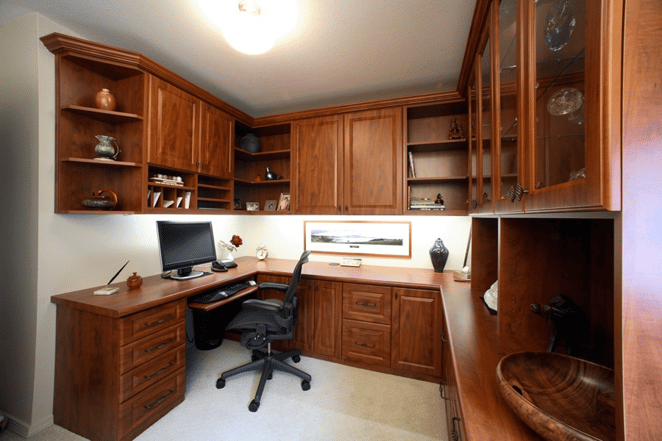 Everything in its right place.
Image from
Valet Custom Cabinets & Closets
Many of our clients use custom-designed cabinetry to maximize large alcoves or small open rooms, as in the picture above. The traditionally styled office in a Summer Flame cherry tone finish with raised panel fronts fills all three sides of an alcove in an upstairs landing area. Paper management slots keep bills and envelopes neat and organized. Hidden wire management chase ways keep wire concealed yet fully accessible.
The best part about this particular client's arrangement is that, because it was designed with his record collection in mind, we were able to design the office so that the cords he needed aligned with his wall outlets. We took careful measurement and built in a way that he no longer has to snake cords around in an effort to reach a plug. Everything is neat and organized. It's an efficient and beautiful use of his space.
The Wall Unit Bed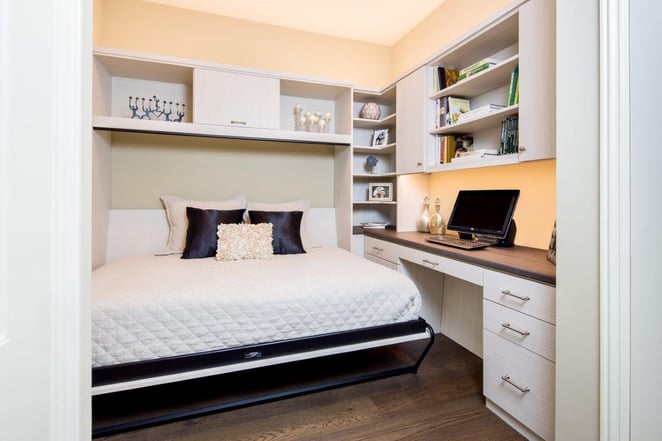 This contemporary styled horizontal tile wall bed and office in a Bianco textured laminate finish turns an open space at the entry of a downtown Los Altos condo into both a work space and a guest room.
Image from
Valet Custom Cabinets & Closets
Sleeping at the office isn't usually a phrase that makes people happy. But not if you work from home. Many people plan home offices with built-in wall beds, in order to maximize tight space. You can sleep in comfort, or use the wall bed for family or friends who come to visit. The bed, which is a luxury piece of furniture in and of itself, can fold up into the wall so that it's out of your way when not being used.
Indeed, your main problem might be trying to explain where the bed is. Our custom designs mean that the bed, when stored, blends in seamlessly with the rest of the furniture. It looks like a part of the whole, a piece of the overall aesthetic. It will look like part of your office—because it is part of your office. And when you or your guests return after enjoying the night in downtown Los Altos, the bed will be just as classy, luxurious, and well-developed as the rest of First Street.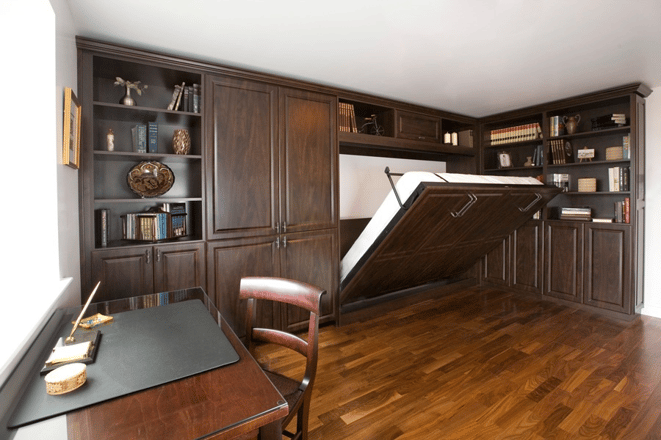 Easy to hide away during the day or when guests are over.
Image from
Valet Custom Cabinets & Closets
At Valet Custom Cabinets & Closets, it's our pleasure to work in Silicon Valley and the Bay Area. We get to see cities booming, developing amazing downtown areas and gorgeous mixed-use multi-families like in Los Altos. It's an exciting time to be in this business.When you move into one of these cities, or when your job changes and you can suddenly work from home, there is a lot you want to do to make your space truly feel like both an office and a home. It's a tricky balance. We want to design your home office and wall bed so that when you're done with work, you don't feel like you're looking at a workstation. You're looking at the furniture that ties your room together and defines your living space. Connect with us and visit our showroom today to learn how we can design the next stage of your life.
---
Valet Custom Cabinets & Closets designs, manufactures and installs custom organizational solutions that enhance the functionality of your living space while complementing the décor of your home.
Our talented design team creates unique solutions tailored to your specific needs, style, and budget. We are independently owned and a direct manufacturer.
Our areas of specialty include Home Offices, Wall Beds, Media Centers, Closets, Pantries, Garage Cabinetry, and much more.
Your Space - Exceptionally Designed - Uniquely Styled - Expertly Crafted
---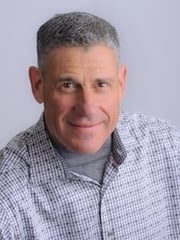 About Larry Fox, President
Larry is a graduate of the University of Southern California School Of Business. After receiving his degree he returned to the Bay Area and spent 18 years working in his family's 100+ year old metals recycling business. Upon the sale of that business in 2000, Larry and his wife Audrey purchased Valet. Larry has become a leader in the industry and is a past president of the National Closet Group. Larry loves turning people's dreams into reality, and remains as enthusiastic about the business today as he was when he first acquired it. View Larry's Houzz Page.