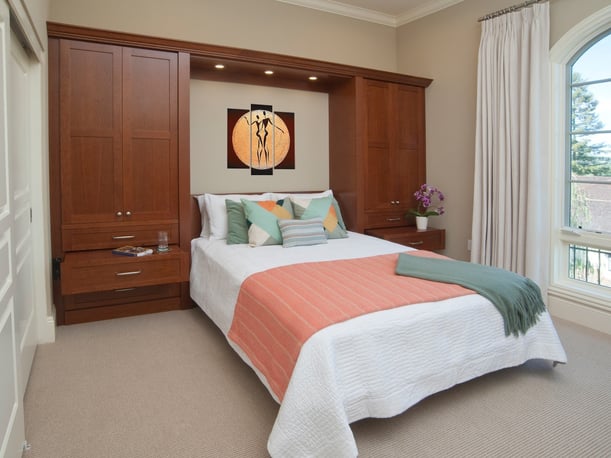 Tumalo Mountain Cherry wood veneer cabinetry surrounding a wall bed brings warmth to the room as well as providing storage space for clothes
Image source: Valet Custom Cabinets & Closets
San Francisco is one of America's great cities, and it's the heart of the tech industry. What it isn't, always, is the easiest place to commute to. The difficult (some use stronger language) commute is why so many people who work here own a studio condo or loft which they stay in for the week, then go home to Mountain View, Palo Alto, Santa Clara, south San Jose or other Bay Area cities like Los Gatos on the weekends.
It makes sense. After all, for people living in the South Bay, commute times to San Francisco are at least one hour (and can reach over two hours), more than double the national average--and for those who don't have the convenience of hopping on Caltrain or a company shuttle, it's much worse. That's why we see many professionals who work in San Francisco looking to outfit a studio condo for weekly use. After all, when rent for a one-bedroom apartment in SF is higher than in Manhattan, owning seems a smarter bet and a safer long-term investment. The only issue is size: space is at a premium in the Bay Area. That's where luxury custom-designed solutions for home offices, media centers, wall beds and more come in. These spasce-saving design ideas can make a small Bay Area studio condo feel like home, not just a place to crash.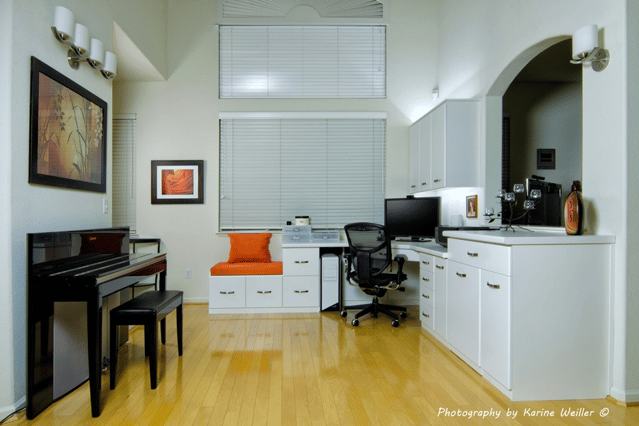 White thermally fused laminate cabinetry keeps a small home office space neat and tidy.
Image from Valet Custom Cabinets & Closets
The Issue of Space In a Bay Area Studio Condo
By definition, a studio condo is going to be small, and that's fine. But that doesn't mean it has to be spartan and uncomfortable. You may be spending 4 nights a week there, after all, and may even use it some weekends. It should feel like more than just a place to hang your hat. The smallest condo in San Francisco is a mere 291 square feet, but you can expect more like 600-800 feet in a nice place near the Bay. That is still space that needs to be maximized for comfort and efficiency to make a condo a good investment. We've seen friends tire of living in a small space, and end up commuting most of the time. Making sure that all your needs fit in the space, so that the space fits you, is the best way to get the most out of a small condo.
A Wall Bed Creates Room for Improvement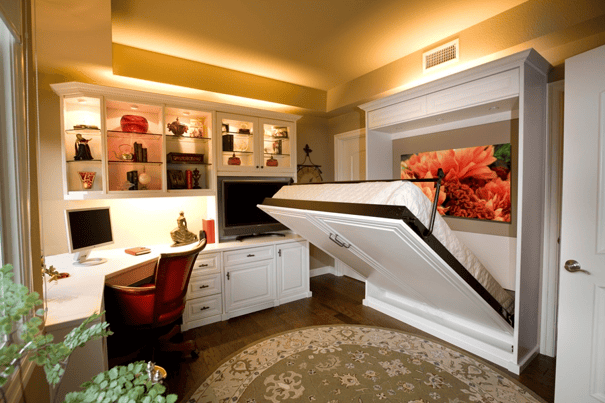 Elegant chateau panel fronts hide away a bed during the day, freeing up floor space.
Image from Valet Custom Cabinets & Closets
The biggest problem with any studio is where to put the bed. It usually sits in the middle of the main room, taking space away from chairs, a TV, a table--anywhere you might want to relax or entertain guests. We know a guy who, when downsizing to a studio, brought his California king bed with him. It took up about 65% of the apartment. That's not a good use of space.
This is where luxury-designed wall beds come in. Murphy beds, as they are commonly known, are becoming increasingly popular and trendy, because they are such an efficient use of space. Don't think back to old Abbot and Costello routines, in which they get trapped in a wall bed at some flytrap motel. A luxury wallbed blends in seamlessly with the decor, and is essentially unnoticeable until you pull it out. They are easy to use--a well-designed wall bed can be pulled down and folded back up with just one finger--and they free up lots of space in your studio condo. This makes a wall bed the perfect blend of design, beauty, and function. Whatever the aesthetic you choose for your condo, you don't have to worry about a bed being in the middle of it. It can be hidden inside cabinetry so that your style forms a cohesive whole.
Home Office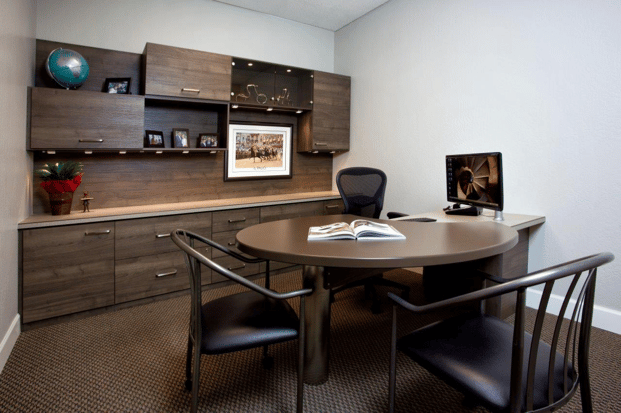 A home office can be attractive, elegant and functional with thoughtful design, like this one with Hudson textured thermally fused laminate cabinetry.
Image from Valet Custom Cabinets & Closets
Chances are, you say that you aren't going to work when you get back to the condo, but work is always there, popping up on smartphones and tablets. Beside, if you get everything done, you can cut out early on Friday, and maybe beat some of that traffic getting back to where you have your grill.
Of course, if you're going to be working, you'll need an office area where you can keep files, manage important documents, set up your laptop and all your devices without cords getting in the way, and even bring people over to do work or host a conference call. A proper office needs a few primary features, including:
Drawer space to organize your papers and anything else you may be bringing back and forth between the condo and work.

Adequate space for your computer, printer, and other necessary gadgets. This, more than your house, is your secondary workstation. That means you may need everything from a scanner to paperclips to video conferencing equipment. The desk area should be designed with each of these needs in mind, including ways to easily plug in laptops, printers, and chargers.

Shelves for books, binders, pictures, and other important work-based documents.
Feeling cramped and unable to stretch out to work is replicating the worst office, not your best home. A custom design works within the contours of whatever space you have in order to create the greatest efficiency and a quiet space to spread out your work. The designers at Valet Custom Cabinets & Closets can help you create the right desk and office set that fits your needs, and your space.
Belgian Chocolate thermally fused laminate gives a warm feel to a office/bedroom combo.
Image from Valet Custom Cabinets & Closets
Depending on the size of your studio, fitting in both a bed and an office could be difficult. To absolutely maximize space, many professionals turn toward home offices with wall beds as part of the furniture. These blend into the cabinetry, creating a consistent aesthetic and freeing up floor space.
As in the photo below, a desk can even be combined with a wall bed, allowing you to fold a table down from the wall bed when you need to work, and fold it back up when it's time to turn in. A fold-down table can be used as the only desk in the condo, or can be opened out as additional desk space when needed.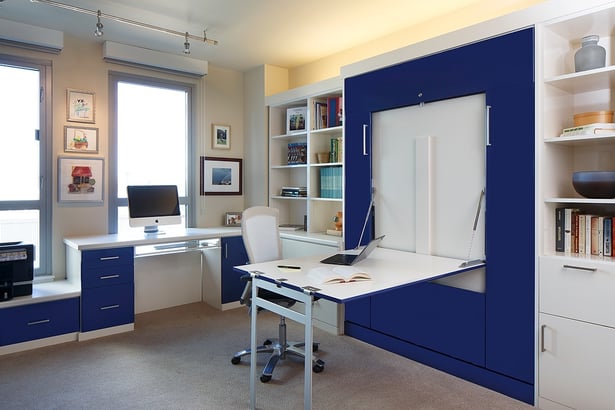 A Glossy Antique White and Sonic Blue foil front desk folds down from a wall bed in this compact San Francisco room.
Image Source: Valet Custom Cabinets & Closets
Media Centers: All Work and No Play Is No Good
You aren't going to want to go back to your studio and get to work every night. You'll probably want to play some games, binge watch the show everyone's talking about, or flip to the Warrior's game, just like you do at home. To fit a media center in your condo that makes you feel at home, you'll need something designed to suit your needs and the space you have. It's important to consider the overall picture of how you can use every square foot. Several items need to be incorporated into every room, and a good custom furniture company can bring all of that together in an elegant way.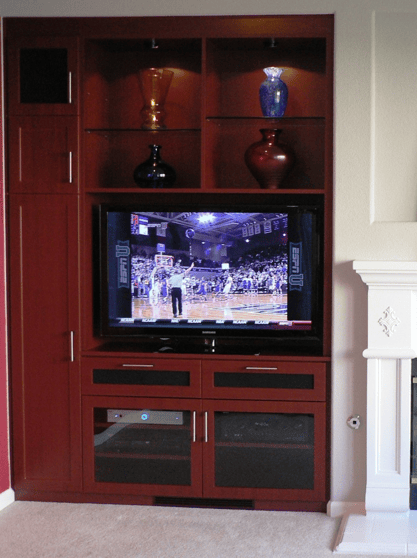 A great media center doesn't have to be huge--what's more important is integrating useful features, like a full-motion TV mount.
Image Source: Valet Custom Cabinets & Closets
Fitting a media center in a small space means designing it--like a puzzle piece--to work with the rest of your furniture. There are electrical considerations to take into account and the location and number of outlets. The right media center will be able to hold cable boxes, streaming devices, video game players, and everything else that's part of the modern connected lifestyle, and to hide them as well. If you'd rather not be tempted to turn on the TV while you work, cabinetry can be designed to cover the TV screen when not in use as well. We'll even work with A/V professionals to get your sound system just the way you want it. Smaller drawers can stow remotes, and cabinets with slide-out shelves are a wonderfully easy way to store and access DVD players, game consoles, and even record players. All you'll need to do is grab a beer and take a seat.
Make Your Bay Area Studio Your Second Home
For many in Silicon Valley and the Bay Area, the choice is between a nightmarish commute and a cramped, impersonal studio. It doesn't have to be that way. At Valet Custom Cabinets & Closets, we work with you, as well as with A/V professionals and other specialists, to get your studio condo or loft exactly the way you want it. We might not be able to shorten your commute, but we can make avoiding it a whole lot more enjoyable.
---
Valet Custom Cabinets & Closets designs, manufactures and installs custom organizational solutions that enhance the functionality of your living space while complementing the décor of your home.
Our talented design team creates unique solutions tailored to your specific needs, style, and budget. We are independently owned and a direct manufacturer.
Our areas of specialty include Home Offices, Wall Beds, Media Centers, Closets, Pantries, Garage Cabinetry, and much more.
Your Space - Exceptionally Designed - Uniquely Styled - Expertly Crafted
---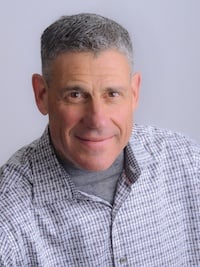 About Larry Fox, President
Larry is a graduate of the University of Southern California School Of Business. After receiving his degree he returned to the Bay Area and spent 18 years working in his family's 100+ year old metals recycling business. Upon the sale of that business in 2000, Larry and his wife Audrey purchased Valet. Larry has become a leader in the industry and is a past president of the National Closet Group. Larry loves turning people's dreams into reality, and remains as enthusiastic about the business today as he was when he first acquired it.

View Larry's Houzz Page

.