---
Steve T. in Palo Alto wanted to redesign his garage to completely eliminate clutter, to get rid of places for dust to collect, and to ensure that everything that needed to be housed in the garage had a proper place to be stored. Enter Ward Wildanger and Valet Custom Cabinets & Closets.
---
Steve is an architect, and already had a design idea for his space. Because we are expert space designers, we brought his dreams to reality! Ward was able to take that initial design and create custom solutions that worked for the entire layout of the room.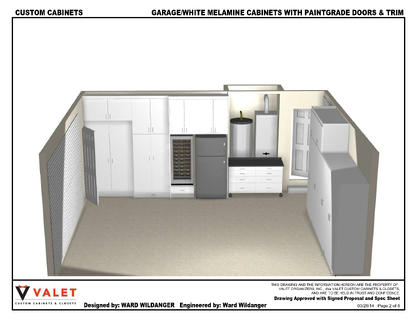 Here is the final product: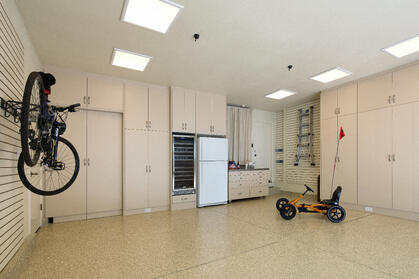 Steve needed a place to hang bicycles up off of the ground, and so a slatwall was installed over a window on the left hand side of the room. He wanted his water softener and water heater to be hidden (which can often be tricky to do), and needed space for a regular refrigerator, as well as a wine refrigerator. He also wanted several accessible power outlets located throughout the garage.


The water softener was located next to a door that leads to the backyard, and so the doorway needed to be recessed slightly to allow the mechanics of both the outside door and the water softener closet door to work properly.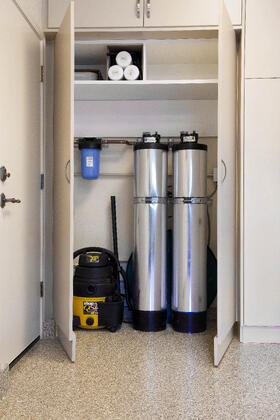 Steve wanted the water heater to be both hidden and accessible. Curtains were an easy solution for this situation. Not wanting to lose all of the space that was in front of the water heater, Ward designed this workbench on wheels. A movable set of drawers allows for storage of tools and other items that would live in a garage drawer, with the flexibility of having these items able to move throughout the room as needed.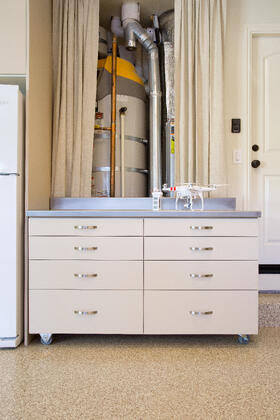 The custom cabinets in this garage are stacked to use all of the space possible between floor and ceiling. Ward's designs reflect the principle that it makes the most sense to store things as close as possible to where they are going to be used, as well as storing things together that are used together. A perfect example of this is the family's new ski closet. It is located close to where the equipment will be loaded onto the car, and because it will be utilized close to the car, the doors are bi-folding to minimize the chance of creating door dings. Each family member has a section of this closet for all of their ski gear, so everything that plays together stays together! Also pictured here is one of the toekick power outlets that Ward worked into the design.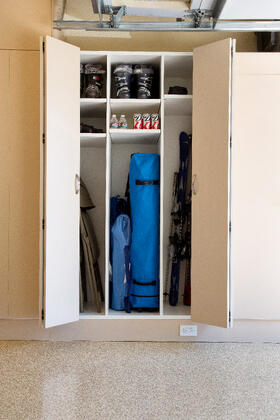 Cabinetry made of Melamine and High Pressure Laminate. Hardware supplied by customer. Hammerschmidt Construction used for lighting and electrical.
---
Steve loves his new garage, and claims he is now the envy of all of his neighbors, and we believe him! This custom design is simple, yet has many special touches that really make this design stand out.
---
Want to make the most of your space? Request your own Complimentary Design Consultation today!