---
Our customers love us. They love us because we provide exceptionally high quality products, and exceptionally high levels of customer service. We have extraordinary customers, and they all deserve nothing less than what we call the "Valet Experience." The Valet Experience is what we are constantly striving to give to our clients. It means that our clients are getting the highest quality, locally made products; outstanding customer service; unparalleled design expertise; competitive pricing and lead times; professional, efficient installations and top notch aftercare. From the conception of a project to the completion of it, it is Valet Custom Cabinets & Closets goal to exceed our client's expectations.
---
Because we consistently deliver the Valet Experience, we see an incredibly high rate of repeat clients.


Our clients deserve the very best, and so that is what we deliver to them. And in turn, our customers like to write us 5 star reviews. While getting these amazing reviews is excellent, and make us incredibly happy, getting another tick on the review board is not our end goal. Simply put, we want all our customers to walk away from their experience with Valet Custom Cabinets & Closets feeling like they are VIP's, because they are, whether the job is the kind we see on a regular basis or one that is a little more out of the ordinary.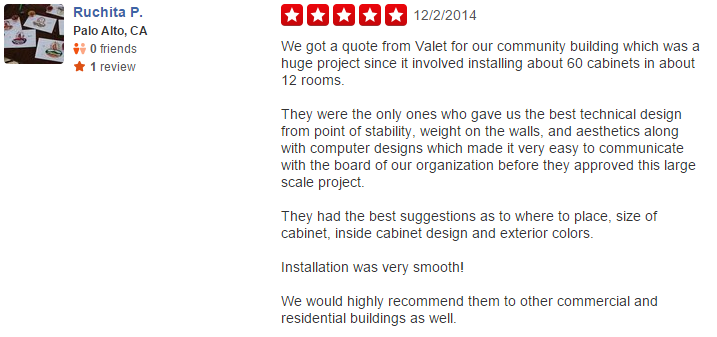 Over the years, we've made a lot of clients happy by taking care of their needs, solving space and organizational problems, and helping to make their homes and offices look beautiful. We have developed a stellar reputation because we always have the best interest of our customers in mind. One way that we truly feel that we stand out from our competition is our ability to deal with the occasional bumps in the road with professionalism, speed and understanding. Valet Custom Cabinets & Closets and our entire process are actually a fairly complex; there are a lot of moving parts from the start of a project to the completion of it. We measure ourselves by what our customers have to say about the end result.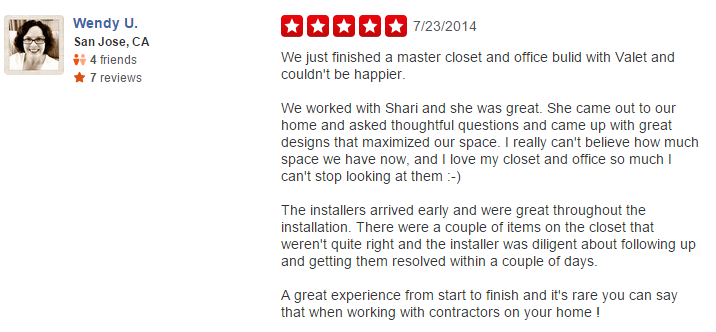 ---
We are proud of the reviews we have gathered over the years, and we invite you to read for yourself why our customers love us and the Valet Experience!

Read our Danville Yelp Reviews

Read our Campbell Yelp Yelp Reviews

Read our Houzz Reviews


Read our Angie's List Reviews


You can also find reviews for us on Facebook and Google+!
---