I was recently sitting in the spacious kitchen of a home in the Blackhawk community outside Danville with some clients. They live near the country club, so golf came up. The couple were excellent golfers, with very low handicaps, and their enthusiasm was contagious. They'd gotten each other new clubs last Christmas, and when I asked to see them, we went to the garage. That's when the situation got complicated.
The garage was a collection of boxes, rickety shelves, and sports equipment from decades past. We had to tread carefully to reach the golf clubs, which struck me as strange – these people truly cared about golf, yet they relegated their passion to teetering piles. It was inconvenient any time they wanted to go to the range.
Garages are like that for a lot of people. You assume a garage will be cluttered, so you tolerate the mess in ways you wouldn't in other parts of the house. Then you spend a lot of time rummaging through it as you look for misplaced items. Perhaps it's time to consider a custom storage solution, so your garage can be clutter-free, stress-free, and beautiful.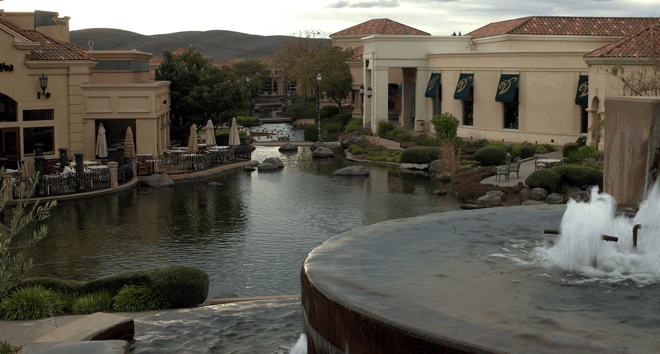 Blackhawk is a beautiful community. A custom-designed garage can fit that style.
Image from
Wikimedia Commons
user
Jon '
ShakataGaNai
' Davis
.
A Custom Designed Garage Helps You Make the Most of the Space You Have
I've looked through the Blackhawk HOA guidelines – the community cares about preserving its uniqueness. Expansion isn't easy, even in neighborhoods with bigger lots, so it's smart to make the most of space you already have. Renovating your garage is a lot easier than wading through paperwork for new rooms or outbuildings – and it opens up just as many options.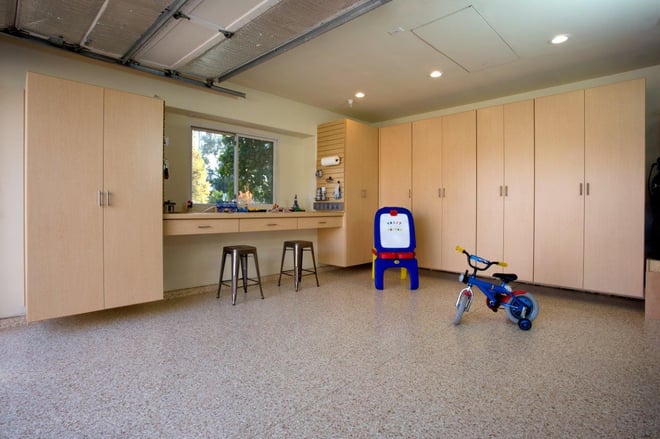 A custom-designed garage can create a whole new look for your space.
Image from Valet Custom.
One important component of any custom garage is large cabinets. On an aesthetic level, they hide everything you keep in your garage, from paint cans to car tools, creating an appearance of neatness and order.
Then there's the functional aspect. Think of all the storage options created by a new cabinet system:
Sports equipment.

One family had different cabinets for each person. The first held hockey gear, the next held golf clubs, the other had basketball equipment, and all had shelves for shoes. It made getting out the door on time for practice much simpler.

Seasonal items.

Christmas comes but once a year – but the lights get tangled in your closet all year round. Consider a designated spot for anything seasonal, from lights to Halloween decorations. Having room to neatly store everything in one spot means less frustration each year.

Garden tools.

Shovels and rakes take up a lot of room indoors but will deteriorate if left outside. The perfect compromise? Designated cabinets for your landscape equipment. You can use extra shelves for other tools, from screwdrivers to your new power drill.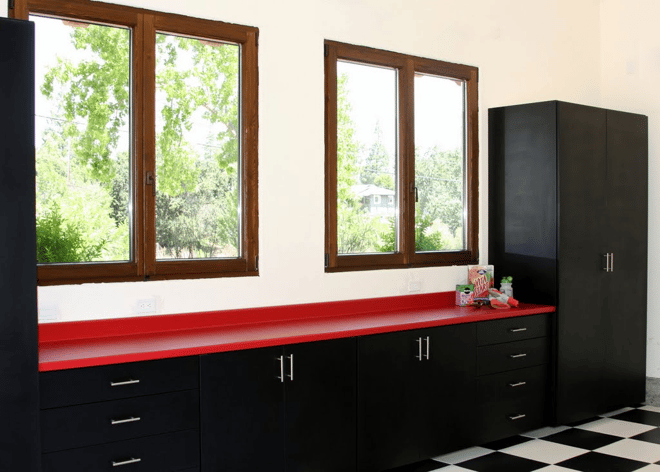 A classic look makes you feel like you're about to race for pink slips.
Image from Valet Custom.
Adding a Workbench
The key to a complete garage is a workbench. Even if you don't care about DIY projects, you'll need space to spread out when working on small tasks, whether assembling a toy or cleaning your clubs. And if you do have particular projects in mind, we can design a work area that meets your exact specifications.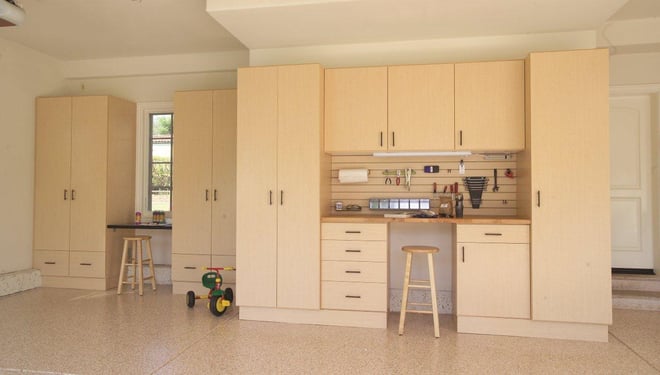 Everything has its place in your new garage.
Image from Valet Custom.
The Benefits of a New Garage for Your Whole House
The great thing about adding storage to your garage is that it creates new possibilities for your entire house. One family freed up enough space in their mudroom and closets that they could design both walk-in and reach-in closets with the extra room.
I've seen it many times. Getting the most out of one space – especially a garage, which is rarely utilized properly – has a cascade effect, making your entire home neater, more efficient, and more beautiful. It's a lot like one of the waterfalls in the Blackhawk community. We want to help you capture that beauty in your own Bay Area home. Connect with us today to learn more.
---
Valet Custom Cabinets & Closets designs, manufactures and installs custom organizational solutions that enhance the functionality of your living space while complementing the décor of your home.
Our talented design team creates unique solutions tailored to your specific needs, style, and budget. We are independently owned and a direct manufacturer.
Our areas of specialty include Home Offices, Wall Beds, Media Centers, Closets, Pantries, Garage Cabinetry, and much more.
Your Space - Exceptionally Designed - Uniquely Styled - Expertly Crafted
---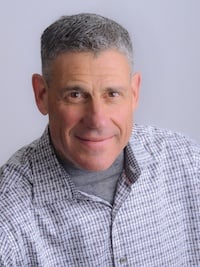 About Larry Fox, President
Larry is a graduate of the University of Southern California School Of Business. After receiving his degree he returned to the Bay Area and spent 18 years working in his family's 100+ year old metals recycling business. Upon the sale of that business in 2000, Larry and his wife Audrey purchased Valet. Larry has become a leader in the industry and is a past president of the National Closet Group. Larry loves turning people's dreams into reality, and remains as enthusiastic about the business today as he was when he first acquired it. View Larry's Houzz Page.