Like a lot of us, I love attending dinner parties with friends. Playing host can be fun as well, as long as things go smoothly, but I was recently reminded just how difficult hosting can be. I have a couple of dear friends in the Los Altos community who love having get-togethers every now and then. They have a lovely mid-century home in the north end, and they really went the extra mile with mojitos to accompany our appetizers, a roast that fell off the bone, and strawberry cheesecake for dessert.
The other guests and I had a great time, but we all shared awkward moments of sympathy for our gracious hosts as they scrambled to get each dish ready. The lack of space and poor organization in their kitchen made it difficult for them to find their serving dishes, save enough room to cook, and keep track of the ingredients they needed for the finishing touches on their blackberry-brie pizzettas (which were delicious, by the way–I highly recommend).
The experience got me thinking about the virtues of custom walk-in pantries. I know that many of us in the Los Altos Hills area enjoy hosting dinner parties, but the fun can bring a lot of frustration along with it when you don't have the space you need and you're not organized enough to bring everything together without a hitch. A well-designed pantry can be a godsend for a party host, and it offers plenty of other benefits you might not have considered.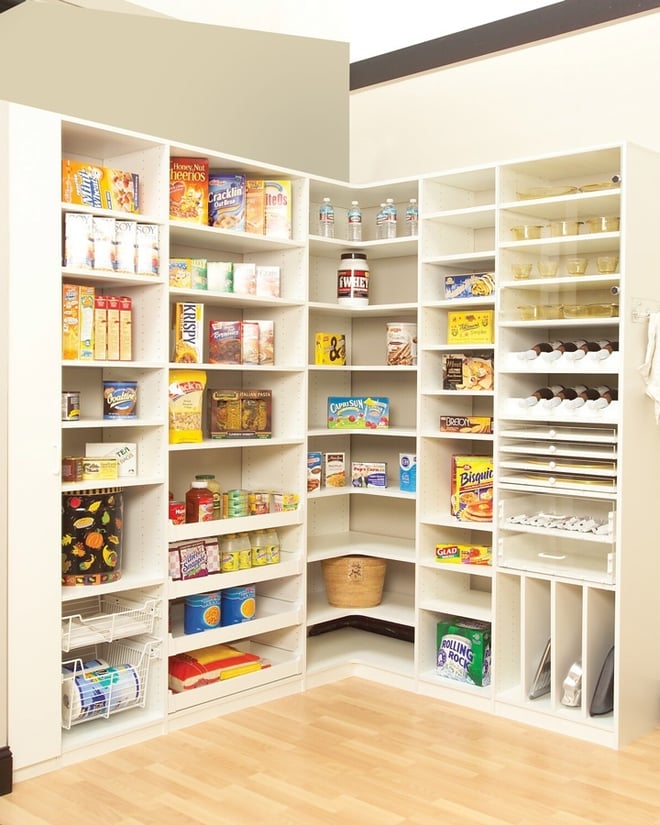 A place for everything and everything in its place.
Image from Valet Custom Cabinets and Closets.
Every Great Host Needs a Staging Area
A good pantry goes beyond dry good storage. When you go custom you can add really useful features like internal counter space, pull out work surfaces, or extra shelving. A client of ours who is an avid cook likes to use this space to arrange all the ingredients she needs for the meals she prepares. You might keep your dinner rolls here until it's time for the main course, stash the extra cheese platters until your guests are ready, or just get your knife block and dish rack out of the way so that your kitchen is free for cooking and serving. This way your friends can focus on the food without being distracted by a crowded mess of utensils and appliances.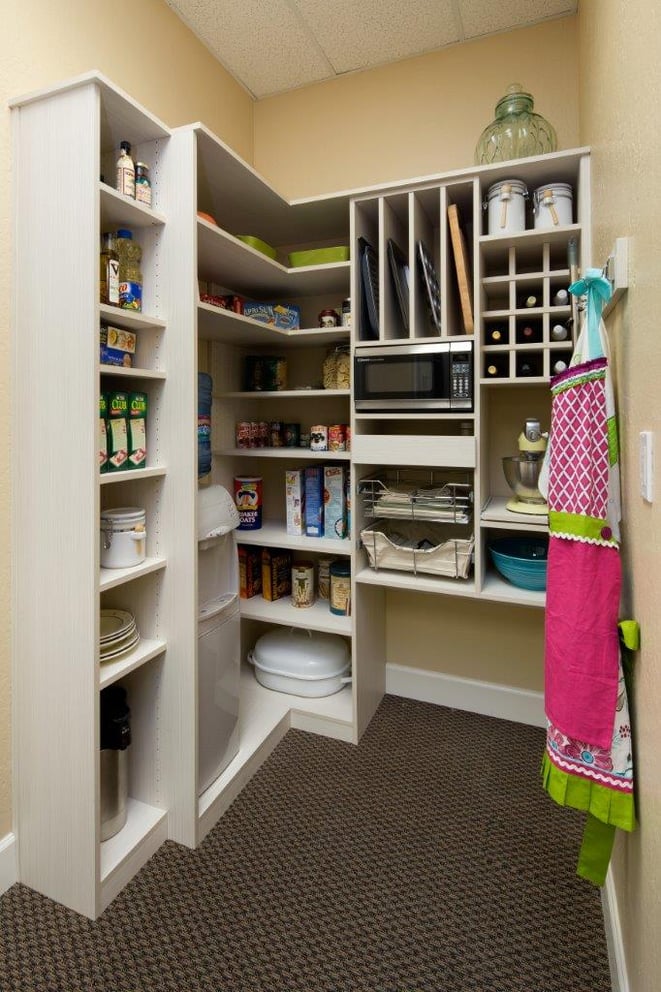 Plenty of room for baking pan and trays, a water cooler, and even a microwave.
Image from Valet Custom Cabinets and Closets.
Get Organized!
Cooking is more enjoyable when you know where everything is. A custom pantry lets you organize your supplies the way you need them. One of our clients installed hooks in his pantry to hang his spatula, tongs, skewers, and other grilling essentials. Another client loved world cuisine and added a custom spice rack so she could arrange her spice collection according to regions of the world. Everyone cooks a little differently and so has different storage needs. When your pantry has been designed specifically for you, it will have perfectly sized spaces for the items you use most.

Adjustable shelves can be rearranged to accommodate items of any size.
Image from Valet Custom Cabinets and Closets.
Pantries Can Store More Than Just Food
Another obvious benefit of a walk-in pantry is the extra storage it provides. A custom design can easily incorporate a range of items:
A wine rack

. Keep your wine easily in reach when your guests' glasses are empty. We can even work with one of our professional partners to help you install a wine refrigerator, so your bottles are always the perfect temperature.

Small appliances.

A custom pantry is the perfect location for your espresso machine, juicer, blender, or waffle iron when they aren't in use. If you love kitchen gadgets, you can more easily manage your growing collection without taking up valuable space on the kitchen counter.

Bulk items.

Stock up on coffee, rice, and canned goods. Buying in bulk saves trips to the store (and dumps less waste on the environment!), but you can only do it if you have enough room for everything.

Lids and containers.

Many of us have "disaster" cabinets full of a jumble of mismatched lids and containers. Incorporate storage space for containers into your pantry and never waste time searching for the proper size and the right lid again.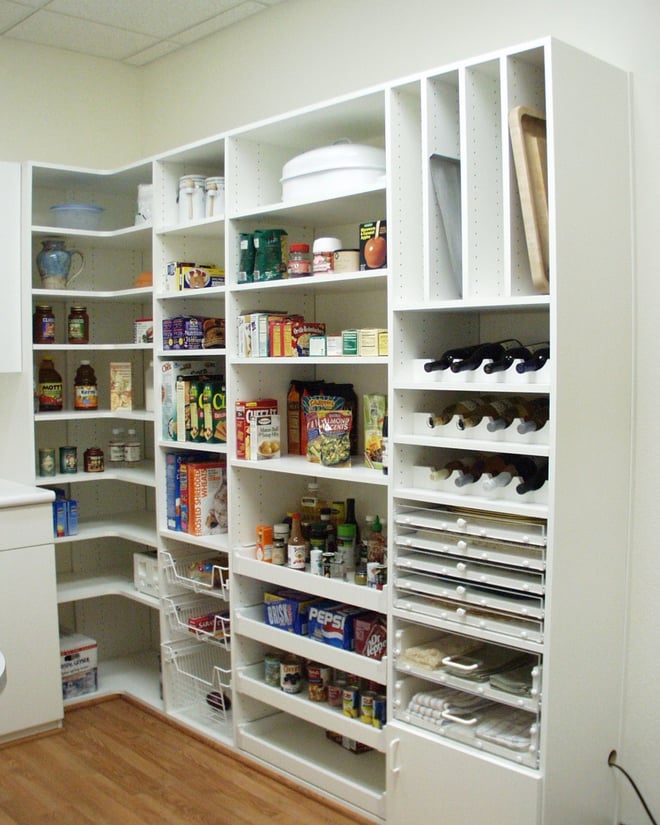 See-through drawers are just one example of the available features that make finding what you are looking for quick and easy.
Image from Valet Custom Cabinets and Closets.
Save Time – And Your Back!
Have you ever returned from grocery shopping only to realize you forgot an essential item? Maybe you planned to make a Thai-inspired dinner and came back from the store only to realize you were out of curry powder. The great thing about a well-organized pantry is that your items are easily visible and accessible. You'll be far less likely to need a return trip to the store for that one item you forgot.
Personally, I've also reached the point in my life where I no longer care to get on my hands and knees to dig around in the back of my cabinets. It's far easier to have my shelving designed to at a height that's easy to reach. We can design your pantry so that your most important items are right there in front of you, or even install sliding shelves that allow you to reach all the way to the back without a hassle.
If you want to make your kitchen, and your hosting skills, less cause for stress and more reason for celebration, get in touch with us to arrange a complimentary design consultation. Our storage experts will create a custom storage solution tailored to your specific needs, so you can make your next party a major success.
---
Valet Custom Cabinets & Closets designs, manufactures and installs custom organizational solutions that enhance the functionality of your living space while complementing the décor of your home.
Our talented design team creates unique solutions tailored to your specific needs, style, and budget. We are independently owned and a direct manufacturer.
Our areas of specialty include Home Offices, Wall Beds, Media Centers, Closets, Pantries, Garage Cabinetry, and much more.
Your Space - Exceptionally Designed - Uniquely Styled - Expertly Crafted
---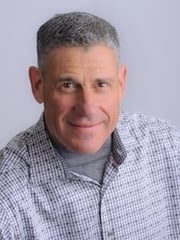 About Larry Fox, President
Larry is a graduate of the University of Southern California School Of Business. After receiving his degree he returned to the Bay Area and spent 18 years working in his family's 100+ year old metals recycling business. Upon the sale of that business in 2000, Larry and his wife Audrey purchased Valet. Larry has become a leader in the industry and is a past president of the National Closet Group. Larry loves turning people's dreams into reality, and remains as enthusiastic about the business today as he was when he first acquired it. View Larry's Houzz Page.