Have you ever gone shopping in Willow Glen? This growing neighborhood in San Jose – known as its "Small Town"– is full of charming houses and luxury condominiums, with dozens of boutiques around Lincoln Avenue. There's a lot to buy, from hot new tech to antiques. And if you're anything like me, when you buy new stuff, you make a solemn pledge to get rid of the old stuff – a pledge that's quickly broken. And so the clothes, and the electronics, and the knickknacks pile up in our homes.
We live lives of quiet accumulation, and even in some of Willow Glen's more spacious homes, it adds up. Closets become overfull and we start to shuffle items around with no rhyme or reason. There never seems to be enough space. But that's not entirely true – there is space. We just don't make the most of it.
In Willow Glen, homes, internal spaces, garages, and basements can be transformed into areas that are good for more than just stacking boxes. Installing custom-designed storage solutions will help you stay organized with elegant and clutter-free spaces. You can create a new feel for your basement and reorganize the areas that were once overcrowded. For example, adding external wardrobe cabinetry to your basement can give you plenty of storage space for seasonal clothing.
The Freestanding Closet In Your Basement
Think about your typical basement. Even if it's mostly finished, the hallmark is usually a lot of empty space – or maybe a maze of boxes, Christmas lights, and old workout equipment. But it doesn't have to be that way.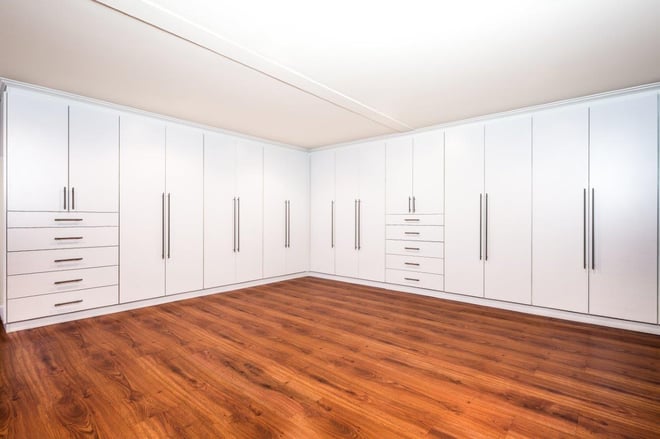 A room that was filled with piles of boxes can suddenly be beautiful and accessible.
Image from Valet Custom Cabinets and Closets
Freestanding Closets Create Room For Everything
One of the great features about a custom-designed freestanding closet or external wardrobe is that it has a multitude of possibilities, allowing you to store and access nearly everything you need:
Clothes. With drawers and tall cabinets, you can fold or hang extra clothing. You'll have space to cycle your wardrobe by season or safely store sentimental items.

Linens and towels. We know people who have shifted their whole linen closet to the basement, where they can keep unused blankets and sheets.

Coats. There aren't long winters in the Bay Area, but it can get downright chilly. Given our unpredictable climate, it doesn't always make sense to put cold-weather gear in the garage or attic – but keeping it in the bedroom or front hall creates clutter. Using one of the tall storage areas in a standalone closet allows you to easily access coats while keeping them out of the way.

Books and papers. Not everyone has shifted to Kindles and iPads. Some of our clients have moved entire libraries and filing systems to the basement, clearing up offices and bedrooms.
Transforming Your Basement
The benefit of setting up a freestanding closet system isn't just that you're more organized. Suddenly, the entire basement is a different room. Installing a custom-designed, luxurious piece of furniture gives you an aesthetic anchor. You have a look to build around. I know a family who got a lovely wooden closet in a deep, rich color, and slowly built up their basement around it, transforming the space into a den and reading room. It felt very old-world, like a library at a prestigious university.
Many of our closets also have space for decorations. You can display pictures, art, or sculpture to really tie the room together. You aren't just gaining space – you're creating one as well.
Room For A Walk-In Redesign
So, you've moved a lot of extraneous clothes from your bedroom or the hallway. Now what? Well, with all the space you've gained, it's the perfect time for a complete overhaul of your existing closets.
With all the extra space, you can install a luxury, custom-designed walk-in for any room.
Replete with mirrors, drawers, tall cabinets, hanging rods, adjustable shoe racks, and whatever else you can dream up, a luxury redesign turns a formerly cramped space into something elegant.
It doesn't have to stop there. Your newly-freed linen closet might be too small for a walk-in, but it can still be organized with a custom design to maximize the space, no matter what you decide to store in it. Might we suggest shoes?
Maybe shoes aren't your thing. Maybe your closet space becomes a spot for photo albums or the kids' toys or video games. It's up to you. And that's the whole point. You live in Willow Glen because you like being able to choose between strolling through quiet neighborhoods or walking over a few blocks to grab a coffee or a bite to eat at your favorite restaurant. You have that freedom. When you clear up space and reorganize your home with standalone wardrobes and closets, you have the freedom to make your home the way you want it, too. At Valet Custom, we love helping the people of Willow Glen transform their homes with our luxury, custom-designed furniture. Connect with us today to see how we can change your house.
---
Valet Custom Cabinets & Closets designs, manufactures and installs custom organizational solutions that enhance the functionality of your living space while complementing the décor of your home.
Our talented design team creates unique solutions tailored to your specific needs, style, and budget. We are independently owned and a direct manufacturer.
Our areas of specialty include Home Offices, Wall Beds, Media Centers, Closets, Pantries, Garage Cabinetry, and much more.
Your Space - Exceptionally Designed - Uniquely Styled - Expertly Crafted
---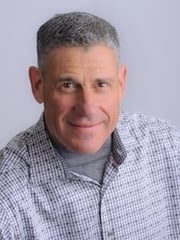 About Larry Fox, President
Larry is a graduate of the University of Southern California School Of Business. After receiving his degree he returned to the Bay Area and spent 18 years working in his family's 100+ year old metals recycling business. Upon the sale of that business in 2000, Larry and his wife Audrey purchased Valet. Larry has become a leader in the industry and is a past president of the National Closet Group. Larry loves turning people's dreams into reality, and remains as enthusiastic about the business today as he was when he first acquired it. View Larry's Houzz Page.