Airbnb's meteoric rise and the impact it has had in San Francisco has been a hot topic for many in the Bay Area, including those of us in the closet and cabinetry business. Custom storage and space-enhancing cabinetry can play a vital role in the ratings and financial value of an Airbnb property. There are key things to consider when you open up your home to Airbnb guests, and the way space can be utilized is a big factor.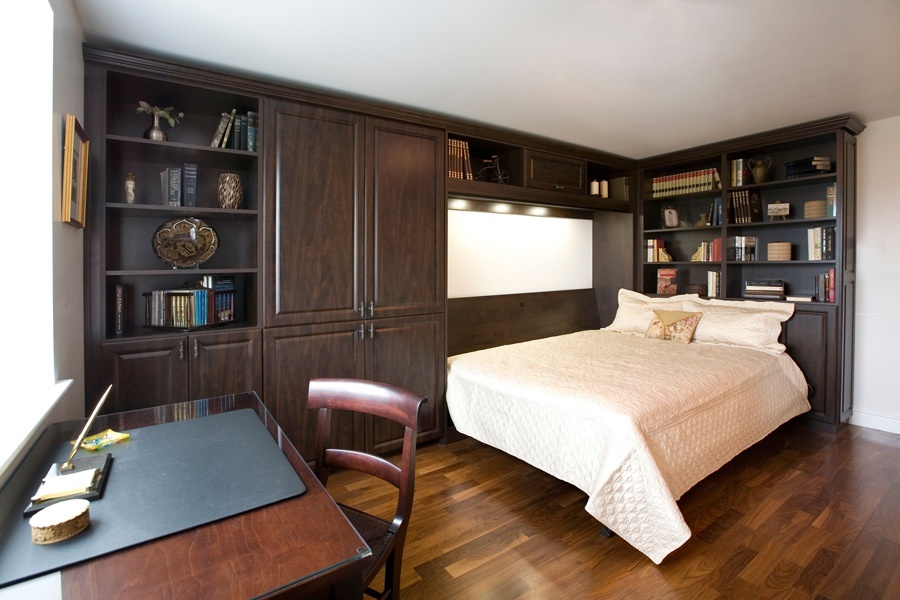 This horizontal tilt wall bed allows the home office to transform into an inviting sleeping area.
Image Source: Valet Custom Cabinets & Closets
Airbnb is fundamentally a reputation-based platform. It bumps up hosts who have excellent home amenities and good reviews to the top of their search results. The company has a few criteria for evaluating the quality of a listing: reviews are important, but the algorithm is especially focused on "what makes your space unique, including any amenities you offer." In San Francisco, square footage is at a premium and creative use of space gives guests the type of unique experience that earns the best reviews. For example, a murphy bed, otherwise known as a wall bed, folds into the wall, allowing a space to be fully used during the day, but at night sleeps an extra person, which also means that you can increase your nightly rate. From the perspective of an Airbnb guest, a wall bed can make the difference between an uncomfortable night on an inflatable mattress and a good night's sleep on a real bed.
Professionally designed cabinetry, closets and home offices can increase storage and functionality significantly while still not infringing on living space. If you've ever stayed in someone else's home, you may know the frustration of finding a coat closet stuffed so full that you cannot even get one more item in, and having to basically live out of your suitcase for a week or two. Having a designated, separate space for guests to unpack their things can add great value to their overall experience, and shows that you're a thoughtful host.
Custom Storage Solutions that Offer a Big Return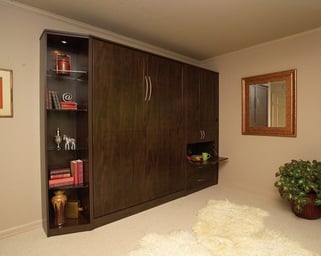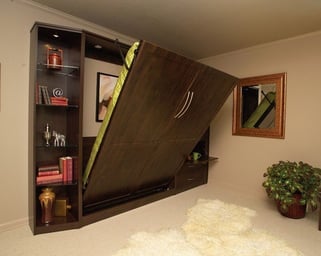 A wall bed allows for a small space to host more guests, increasing the appeal for Airbnb travelers interested in
accommodations for several people.
Image source: Valet Custom Cabinets & Closets
A Bonus Bed—in the Wall
Adding a vertical tilt queen-sized bed anywhere in your house is going to occupy just over 41 square feet of space when fully opened —room that, in San Francisco, most people just don't have. Many Airbnb travellers use the site to find budget accommodations for their family or small groups of friends. Since murphy beds are still quite uncommon, integrating one into a cabinetry system allows your home to host a varying number of people based on the group's needs, while also being a unique perk for guests to experience—these types of details are things people remember for their reviews. Additionally, we can integrate shelving and a clothes rod into the wall bed unit to provide visitors the space to hang up their clothes, and ensure privacy for the host since you won't need to open up your own closet space for guests. If your wall bed occupies the same space as your home office, lockable cabinet space integrated into units can also store your belongings out of sight.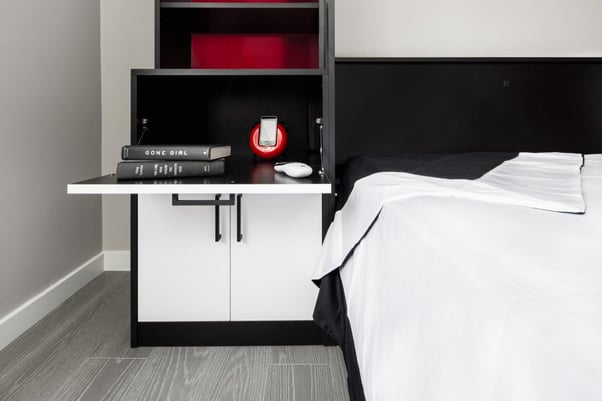 Flip-down nightstand options for wall beds offer Airbnb guests even more space to organize their items and charge
their electronics out of the way.
Image Source: Valet Custom Cabinets & Closets
Window Storage
One of my favorite things about San Francisco architecture is the bay windows—the sight of a Christmas tree framed behind a three-panel window during the holidays plucks a few special heartstrings. But this space can be more than just aesthetically pleasing and installing customized storage can add a lot of extra value to your seating area. Drawers can turn a window-seat into storage for laundry and linens. That way guests can easily access extra sheets and towels, and also have more space to store clothes if they need it.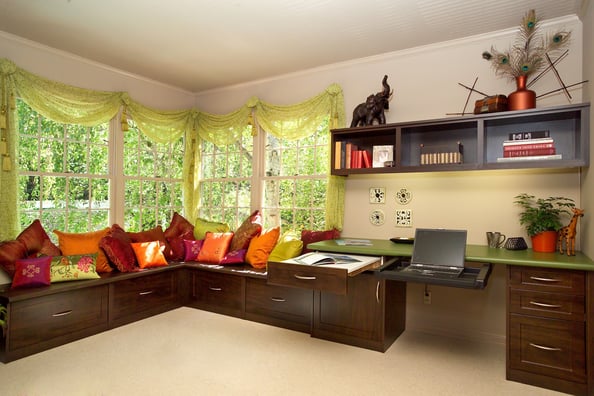 Let your guests keep their bed linens separate from your usual bedding by installing drawers
in your window
seating. Even if your home isn't outfitted with bay window seating, a custom unit installed around the window can
frame your view while adding storage space and seating.
Image Source: Valet Custom
Cabinets & Closets
Get Ready for Elegant Hosting with Style
If you're an Airbnb host looking to increase the popularity of your property and your overall ratings, while also incorporating lasting changes that you can enjoy year round, we'd love to help you get started on your project. Valet Custom Cabinets & Closets has showrooms in Danville and Campbell. You can check out some of our materials and learn more about our design process or get in touch with our team to schedule a consultation.
---
Valet Custom Cabinets & Closets designs, manufactures and installs custom organizational solutions that enhance the functionality of your living space while complementing the décor of your home.
Our talented design team creates unique solutions tailored to your specific needs, style, and budget. We are independently owned and a direct manufacturer.
Our areas of specialty include Home Offices, Wall Beds, Media Centers, Closets, Pantries, Garage Cabinetry, and much more.
Your Space - Exceptionally Designed - Uniquely Styled - Expertly Crafted
---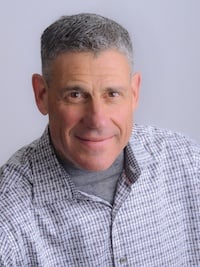 About Larry Fox, President
Larry is a graduate of the University of Southern California School Of Business. After receiving his degree he returned to the Bay Area and spent 18 years working in his family's 100+ year old metals recycling business. Upon the sale of that business in 2000, Larry and his wife Audrey purchased Valet. Larry has become a leader in the industry and is a past president of the National Closet Group. Larry loves turning people's dreams into reality, and remains as enthusiastic about the business today as he was when he first acquired it. View Larry's Houzz Page.