The time we spend at home relaxing can be incredibly valuable for finding inspiration and personal growth. This space is especially important in a town like Los Altos, where most of the city is residential and our families get a fair amount of cultural exposure through books and media. By keeping your home stocked with a range of stimulating literature, you can have the world of culture at your fingertips, even in a suburban setting.
To bring that 'window to the world' into your own home, why not couple your bibliophilia with your love of interior design to create a custom library that showcases your personal and professional interests and ignites your passions? Integrating a library seamlessly into your existing office lets your room pull double-duty and keeps your favorite volumes within arm's reach for easy reference. Valet Custom's designers can integrate bespoke library shelving into your home in a way that supports spending your downtime productively with literature.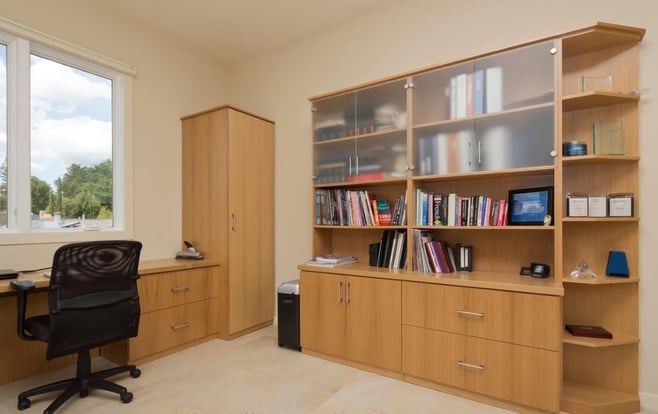 Keeping books close at hand can open up a window to global culture for your kids in their downtime after school, and it's easy with custom shelving that creates a library space in your existing home office.
Image Source: Karine Weiller for Valet Custom
Home Library Directs Downtime Toward Learning, Personal Growth
It's clear that the Los Altos community greatly values education—the public school system is exemplary, and private schools like Ventana and Pinewood are outstanding as well. But with the commercial zoning limited to downtown and the few shopping areas along El Camino Real and the Foothill Expressway, access to bookstores can be limited. And no matter how strong the schools are, having books at home provides some benefits that just can't be paralleled—researchers actually studied statistics from 27 countries and found that the impact is even bigger than you might imagine: "Home library size has a very substantial effect on educational attainment, even adjusting for parents' education [...] and other family background characteristics," the study reports. "Growing up in a home with 500 books would propel a child 3.2 years further in education, on average, than would growing up in a similar home with few or no books." Additionally, kids that grow up around books are 19% more likely to finish college.
In a suburban community like Los Altos, it's especially important for families to provide a culturally stimulating environment for kids. Although access to museums and bookstores requires a bit more travel time than for urban families, there is a lot to be said about the cultural exposure we can provide right at home. Los Altos is blessed with an amazing public school system that gives our kids access to a wide range of experiences and ideology, but why not make their at-home time just as intellectually stimulating by making a space for them to love and get lost in literature? Fortunately, it's quite easy to incorporate a home library into your existing architecture by designing a custom bookshelf that stows your books away neatly and within easy reach for the whole family.
Combination Cabinetry-Shelving for an All-In-One Office Library
It makes sense for Los Altos residents to combine their home office and library space. For many families, the home office turns into a homework area when the kids arrive home from school. Having a dedicated room in which you keep all books, work resources, and tools like the computer is a practical way to make sure everyone has access to everything they need. It also makes it easy for your kids to develop effective homework habits when they know they have a dedicated space to work and read. Parents can easily keep an eye on productivity and be near to offer help when needed, something that is not as easy when kids are each working in separate areas. The trick to successfully combining the whole family's work-space into one room is to design the space with effective storage, and furniture that allows you some flexibility with how you use the room so that everyone has what they need, when they need it.
Think: Mary Poppins' carpet bag—a handbag that holds a full-length hat-rack, small potted tree, wall mirror, and floor lamp complete with its own peach-pink tasseled Art Deco shade. Likewise, your library should be designed to hold your whole family's books in a compact space, with any volume you wish to read right at your fingertips, as well as provide desk space for "grown-up work" as well as homework. Of course, Mary's bag needed a little magic for it to hold a room's worth of furnishings, and your library needs a little "design magic" to consolidate your family's library, office, and homework space into one room. Here are some of our most effective bookshelf solutions for a combination home office and library.
Instead of making the desk the focus of your office, try opting for a drop front table that's only there when you need it. When closed, computer accessories can be hidden and the desk matches the rest of the cabinet front.
Image Source: Karine Weiller for Valet Custom via Houzz
The Unobtrusive Writing & Computer Desk: One of the best furniture decisions you can make in your home office-library space is to opt for a flip-down desk. A drop front table, like the one pictured above, is the murphy bed of desks: you can store the work surface when you're not using it, allowing the desk to blend in seamlessly with the rest of the unit when closed. It also provides additional storage inside to keep office items out of sight when you're not using them. That way, you're able to achieve and maintain the look of a dedicated library. For an even less intrusive desk, try a drawer-desk, such as the one pictured below. A few armchairs or a papasan in the space normally occupied by your desk make the room an inviting nook for the whole family to retreat for a few hours with their favorite stories.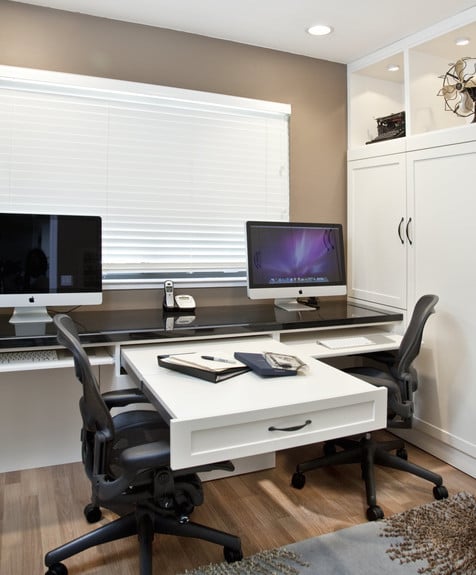 This drawer-desk creates work-space without taking up additional space.
Image Source: Valet Custom via Houzz
Combined Shelving & Cabinetry: Combined shelving and cabinetry are ideal for a room where you already have a media center or office shelving and you'd like to incorporate space for books. A fully integrated solution, like the one pictured below, is proportioned to fit the space of your room, and it creates a unified look. If you gradually accrue shelving over time as your collection grows, you're going to end up with a hodge-podge of furniture that actually makes the room feel more cluttered. Opting for wood or thermally fused laminate panels over your books makes the shelving feel even more integrated into the wall, if you prefer an especially clean look. Moulding around the top of the unit can help solidify the cabinetry unit as an integral and established part of the room.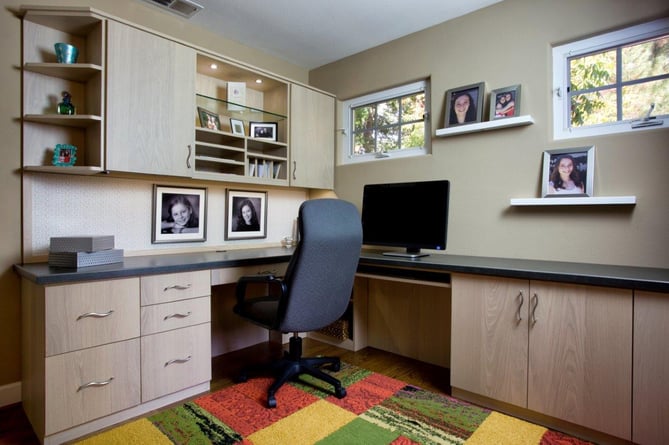 This integrated furniture piece makes the whole room feel unified, whereas stand-alone shelves with a similar capacity would overwhelm the space.
Image Source: Valet Custom
Personalized Reading Nooks: For a cozy place to read, stow floor cushions in custom-storage units built into your shelving unit. A pull-out lamp at chair-height makes a cozy atmosphere for reading anytime. By creating an inviting atmosphere and having amenities readily accessible, kids are more likely to want to curl up with a book than sit in front of the television.
Glass Panes: Keep Your Books Dust-Free In Style: Glass panes give your shelving the classic look of the lawyer bookcase. This look has timeless appeal as well as functionality. You can easily find the volume you're looking for and the glass keeps your books and display items safely sealed away from dust, moisture, or pets when you're not using them. Try lighting the interior of the shelves—it will make your books look gorgeous and much easier to find.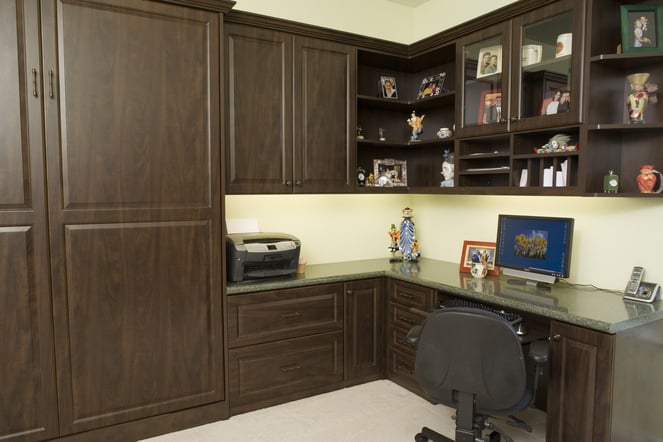 Glass-paned cabinet doors display books and keepsakes while also protecting them.
Image Source: Valet Custom
Housing Memorabilia: The library is the ideal place to show off your family's academic memorabilia and diplomas. Custom memorabilia cabinets or corner shelving make a beautiful place to display these items in the library.
Beyond the ABC's: Functional Advantages of Bespoke Library Shelving over Retail Bookcases
There's a real difference between buying a bookcase and designing and creating a place that renews your love of reading each time you're in the room. That's the advantage of bespoke library shelving: your storage is designed in harmony with your room, and integrating them within a custom unit or into the wall can create a personalized space no retail bookcase can offer. In partnership with your designer, you can tailor the space to meet your unique lifestyle needs—whether that means a fold-out computer desk to telecommute and manage your paperwork, glass shelving to protect your treasured volumes, or additional integrated cabinetry to store your office supplies and household goods.
If you're ready to design custom library shelving for your Los Altos home, contact Valet Custom's team for a design consultation. We would love to work with you to design a storage solution that lets your room live up to its fullest potential and creates a space where you and your family can share your love for literature. Feel free to drop by our showroom in Campbell or check out our online photo gallery for more inspiration!
---
Valet Custom Cabinets & Closets designs, manufactures and installs custom organizational solutions that enhance the functionality of your living space while complementing the décor of your home.
Our talented design team creates unique solutions tailored to your specific needs, style, and budget. We are independently owned and a direct manufacturer.
Our areas of specialty include Home Offices, Wall Beds, Media Centers, Closets, Pantries, Garage Cabinetry, and much more.
Your Space - Exceptionally Designed - Uniquely Styled - Expertly Crafted
---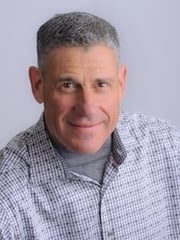 About Larry Fox, President
Larry is a graduate of the University of Southern California School Of Business. After receiving his degree he returned to the Bay Area and spent 18 years working in his family's 100+ year old metals recycling business. Upon the sale of that business in 2000, Larry and his wife Audrey purchased Valet. Larry has become a leader in the industry and is a past president of the National Closet Group. Larry loves turning people's dreams into reality, and remains as enthusiastic about the business today as he was when he first acquired it. View Larry's Houzz Page.