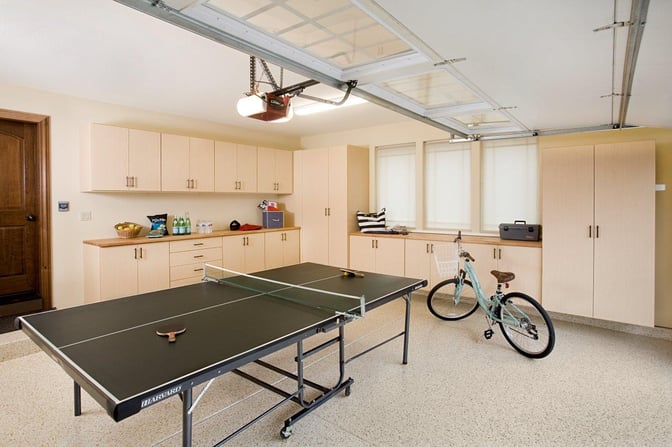 Freeing up space for bikes and recreation with custom garage storage solutions turns what was previously a concrete slab and a parking space into your new favorite room.
Image source: Valet Custom Cabinets & Closets
Palo Alto has amazing natural beauty, a booming economy, and one of the most educated populations in America. There is also a fair amount of traffic. The situation has gotten so severe that Palo Alto's CIO Jonathan Reichental is even pushing for Internet-of-Things (IoT) technology that helps drivers minimize parking time and optimize traffic flow by collecting data on local traffic patterns. This information, along with that already being collected by internet-enabled cars, can create a new data-based urban model.
But why not try the old-fashioned way to "go green" and beat traffic by hopping on your bike? In addition to IoT tech, Palo Alto is addressing the traffic problem by aggressively funding new bike paths that will offer an alternative to many popular commuter routes. As residents start to see a comprehensive network of new bike routes throughout Palo Alto, they can increasingly opt to skip the long commute for the appealing combination of a pleasant ride and a morning workout. Redesigning your garage with custom bike racks and retractable tool chests can facilitate biking. You'll feel good about lowering your carbon footprint and skipping the gridlock when you're easily able to opt for biking. Once you free up space with an effective storage system, a beautiful garage becomes so much more than just a place to park.
Planning a Bike-Friendly Garage
Silicon Valley has a long-standing tradition of finding alternative uses for the garage. As a homeowner, taking an innovative approach to the way you use that space can free up an enormous amount of room to store equipment like bikes, tools, and sporting equipment, and even create a dedicated workbench. For your bikes, imagine your existing garage with:
Custom-sizing corrals different types of gear in one cabinet: These custom shelving units shown below are specially built to hold what you need in your garage; items like folding chairs or skis that would be too bulky for traditional, pre-fab cabinets have their own slot in this storage units. Since the shelf heights are adjustable, these cabinets can also transform as you need. The bifold door with smooth thermally fused laminate fronts keeps the room looking stylish.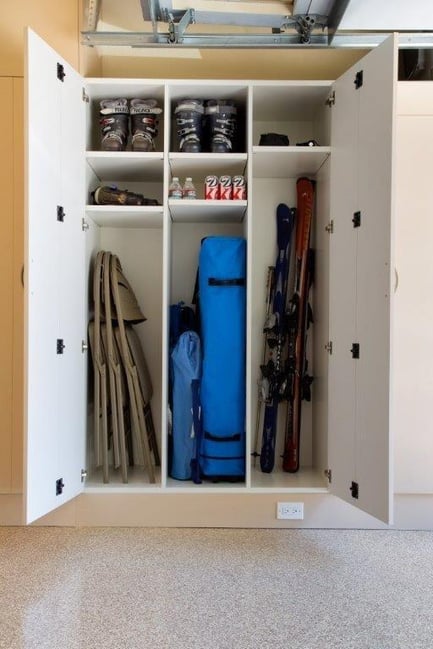 These custom-sized slots make it possible to store oversized items like skis.
Image source: Valet Custom Cabinets & Closets
Bike racks next to the garage door rail save space: For the longevity of your bike frame, gears, and chains, avoid simply piling them together or leaving them on the floor. The way we constructed the cabinetry in this garage shown below frees up space underneath and around the garage door rail and allows for extra storage bins next to your bike rack. This wall bike rack also puts the bike within easy reach, so you don't have to struggle with hanging your bike up on traditional hook storage. Bike racks are among the many examples of useful accessories we can suggest, which complement the design of the cabinetry while also allowing you to truly customize the space to your needs.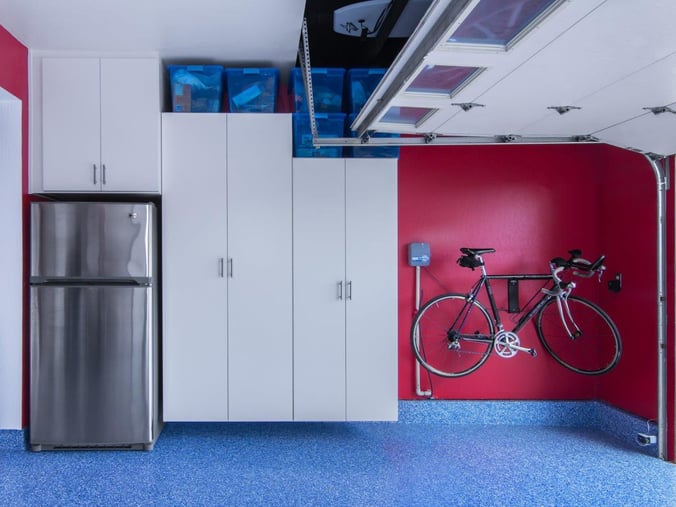 This garage coordinates jewel-toned blue epoxy flooring with blue storage bins. Even more
storage space is made possible by the custom sizing of the cabinetry.
Image source: Valet Custom Cabinets & Closets
Organize by building cabinets to fit your gear, not by fitting your gear in cabinets: By partnering with Valet Custom Cabinets & Closets to design personalized cabinetry, you can develop a shelving solution that actually suits your needs: for example, if one of your kids is on the lacrosse team, we can design a cabinet where their lacrosse stick and cleats can be hung up alongside their bike gear. Pull-out clothes rods can even help keep athletic uniforms organized. If the family has skiing gear that only gets taken out once a year, consider bench storage where things like snowsuits and skis can be folded away for the off-season, and shelving designed to hold your bulky ski boots.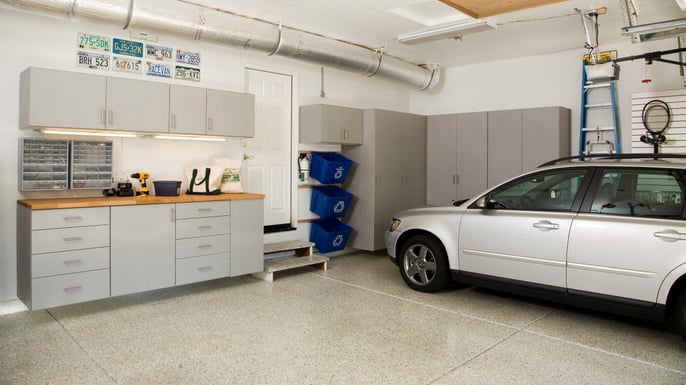 With specialized cabinets and options for various items, everyone has storage space for their equipment and tools.
Image source: Valet Custom Cabinets & Closets
Coordinated Epoxy and High Pressure Laminate for a Modern Garage: Your dream garage starts with choosing the right materials. We recommend epoxy flooring—it's easy to clean, durable and looks modern and stylish. Epoxy floors are a rigid plastic made from two-part resin. It resists weathering and it develops an extremely strong bond with its substrate. These properties have made it popular for industrial applications, but Valet Custom Cabinets & Closets also offers it as an option for residential projects. It's perfect for garages and comes in a wide range of color options, from sandy neutrals to cobalt blue—so whether you want to go bold or keep a more conservative palette, you can find something to suit your tastes. A lot of our customers like to pair their epoxy flooring with their thermally fused laminate or high pressure laminate cabinets.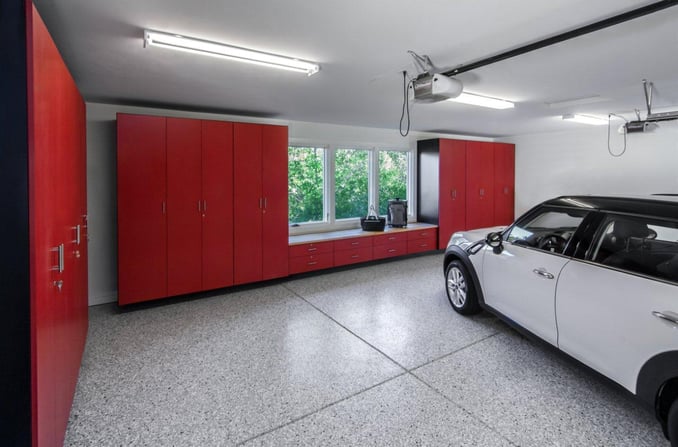 This garage pairs full width high pressure laminate cabinets in "Red" with chic, grey epoxy in "Yosemite."
Image source: Valet Custom Cabinets & Closets
Your design consultant at Valet can help guide you toward coordinated finish colors to give your garage the look you'll love.
Designing Your Garage with Valet Custom Cabinets & Closets
If you're ready to rethink your garage and kick-start your new bicycling routine, our designers can work with you to create a custom garage storage system that facilitates your hobbies and lifestyle. Come by our nearby showroom in Campbell to learn more about our materials and designs, or get in touch with the team for a consultation. We're confident that with our custom storage solutions and epoxy flooring, you'll be able to easily swap the car for a bike for your morning commute—and with the open space you'll get with an effective storage, the garage might just become your new favorite place to hang out.
---
Valet Custom Cabinets & Closets designs, manufactures and installs custom organizational solutions that enhance the functionality of your living space while complementing the décor of your home.
Our talented design team creates unique solutions tailored to your specific needs, style, and budget. We are independently owned and a direct manufacturer.
Our areas of specialty include Home Offices, Wall Beds, Media Centers, Closets, Pantries, Garage Cabinetry, and much more.
Your Space - Exceptionally Designed - Uniquely Styled - Expertly Crafted
---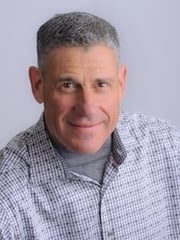 About Larry Fox, President
Larry is a graduate of the University of Southern California School Of Business. After receiving his degree he returned to the Bay Area and spent 18 years working in his family's 100+ year old metals recycling business. Upon the sale of that business in 2000, Larry and his wife Audrey purchased Valet. Larry has become a leader in the industry and is a past president of the National Closet Group. Larry loves turning people's dreams into reality, and remains as enthusiastic about the business today as he was when he first acquired it. View Larry's Houzz Page.