Is your family feeling cramped in your current space? As kids grow up (or more come along), you might be mulling over a move to a larger home—and there's certainly plenty of real estate on the market in Dublin right now. The Terrace Ridge real estate development is just one example of the many massive newer projects in the town, and 10,000, residential units have been built since 1994. Moving into one of Dublin's new homes can be an alluring option for growing families that need additional space, but sometimes the expense and logistical complexities of moving outweigh the advantages offered by the new house at this point in time. Before you pack up lock stock and barrel, why not reexamine creative ways to expand without expanding? Incorporating custom furniture solutions like the murphy bed into your home can make it feel as spacious as a new one.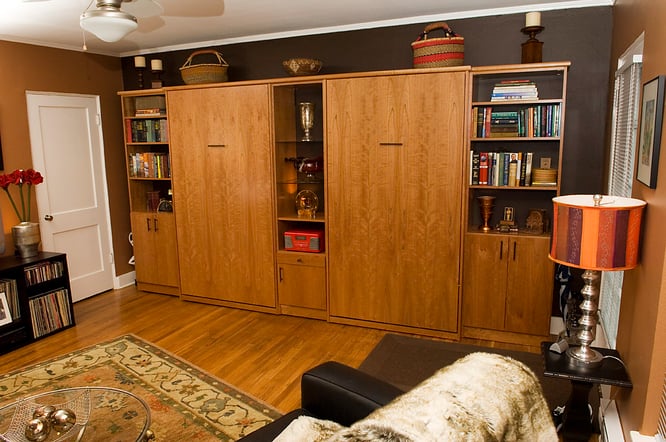 These rustic cherry thermal fused laminate system with two twin murphy beds creates the equivalent of an extra bedroom in this home office.
Image Source: Valet Custom
Tallying Up the Custom Murphy Bed's Addition to Your Square Footage
Let's take a look at what a custom murphy bed can do for your property value. A well-designed custom murphy bed is going to add significant value (and style) to your house, as well as square footage.
In terms of square footage, a murphy bed frees up quite a bit of space: the average queen mattress is about 60"x 80"—so you're looking at just over 33 square feet per mattress. A standard solid bed frame makes that measurement a bit larger. Compare that to the average price per square foot in Dublin right now—$421. By those numbers, being able to fold away that mattress is going to give you almost $14,000 worth of square footage to enjoy every day. Considering that the average price per square foot in Dublin is skyrocketing right now—up 12.3% from last year—that space is an investment that's only going to become more and more valuable over time. You can repurpose that room into the home office or craft room you've always wanted, and save the money you might otherwise be spending on a home addition or larger house down the line.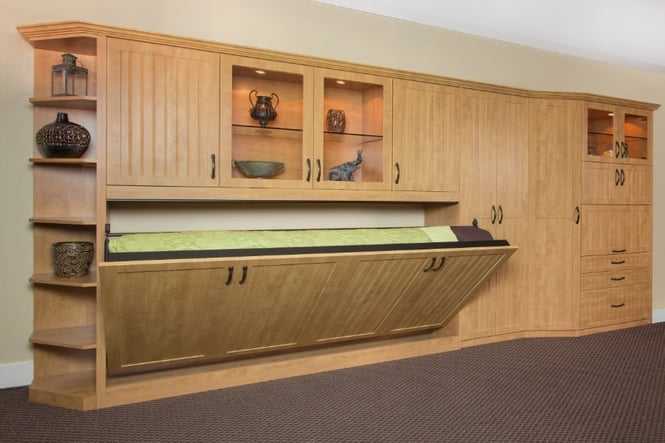 This honey apple thermal infused laminate murphy bed with a beaded shaker foil front has a traditional look for a bungalow or craftsman style home.
Image Source: Valet Custom
True Style Is in the Personal Touch
Another aspect to consider, of course, is style—custom cabinetry adds a personal kind of beauty. It's a touch that's noticeably a cut above anything you could find on the mass market. When you see a home that's really loved and is an expression of someone's presence there, it's about the attention that was paid to each detail in design. For example, if you take a look at Georgia O'Keeffe's living room in the image below, it's not the square footage that adds elegance and functionality to the space. Rather, it's the attention that was paid to each element of design, from the length of the curtains that perfectly graze the bottom edge of the adobe windowsill, to the height of the table that's perfectly proportioned in relation to the painting and rug beside it.
That aesthetic sensibility of economy of space is exemplified in the honey apple thermal fused laminate murphy bed pictured below: the chic quality it possesses comes from the careful consideration of hardware, and the size ratio of the bed to the other cabinetry in the room.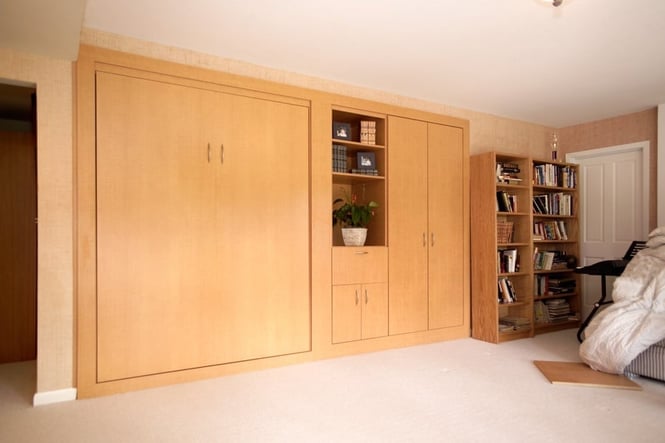 The well-designed scale and attention to detail on this honey apple thermal fused laminate murphy bed give the room a casual sophistication.
Image Source: Valet Custom
A room with clean lines and efficient storage makes you feel bright, airy, and casually elegant. Instead of relocating to a bigger space, try refocusing your energy on accentuating the assets in your own home, and making the most of the spaces you love.
Hideaway Furniture Means Scalability for the Long Run
As you add those personal design touches over the years in your home, you also may find that your family's needs change. In the short term it may seem like you need more space, but you bat an eye and suddenly the kids have flown the nest and you're looking to downsize again. When you opt for custom furniture solutions like the murphy bed over expanding to a home with an additional bedroom, you're keeping your options flexible down the road. When the kids move out and you don't need that extra bedroom, just stow it away, and feel free to repurpose the room as a guest bedroom, office—even a home gym. Sounds easier than calling the movers, right?
Not to mention, downsizing your home in the long-run can offer quite a few benefits for both your pocketbook and your lifestyle:
Less space to furnish, heat/cool, clean

Keep property taxes low

Cut down on the amount of house you'll need to clean (my personal favorite!)
To keep your options open, scale up today with a custom murphy bed, so that down the road you have the option to downsize—as easily as flipping the bedframe back up into the wall.
Getting Started On Your New "Addition"
Custom furniture solutions like the murphy bed are a smart way to make the most out of your space and add a personal design touch to your house. In a hot real estate market like Dublin, it can stretch your space and your dollar, offering more bang for your buck than moving to a bigger house. If you're ready to start enjoying that extra space in your Dublin home, stop by Valet Custom's showroom in Danville and we can show you our wall beds/murphy beds, finish materials and design features. You can be sure that our team will create a complete custom storage solution that you'll cherish throughout the years.
Valet Custom creates custom storage solutions for homeowners in Dublin and surrounding Bay Area communities. Get in touch with our design team today for a consultation!
---
Valet Custom Cabinets & Closets designs, manufactures and installs custom organizational solutions that enhance the functionality of your living space while complementing the décor of your home.
Our talented design team creates unique solutions tailored to your specific needs, style, and budget. We are independently owned and a direct manufacturer.
Our areas of specialty include Home Offices, Wall Beds, Media Centers, Closets, Pantries, Garage Cabinetry, and much more.
Your Space - Exceptionally Designed - Uniquely Styled - Expertly Crafted
---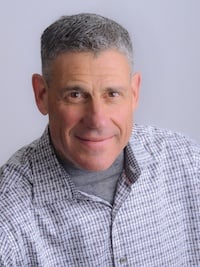 About Larry Fox, President
Larry is a graduate of the University of Southern California School Of Business. After receiving his degree he returned to the Bay Area and spent 18 years working in his family's 100+ year old metals recycling business. Upon the sale of that business in 2000, Larry and his wife Audrey purchased Valet. Larry has become a leader in the industry and is a past president of the National Closet Group. Larry loves turning people's dreams into reality, and remains as enthusiastic about the business today as he was when he first acquired it. View Larry's Houzz Page.