I find it fitting that Palo Alto, a name that translates to "tall tree," is such a haven for outdoorsy folks. A sizeable minority of commuters bike to work, and the city's proximity to Foothills Park and Los Trancos Woods makes it a great location for professionals who still like to get away on the weekend. But all those beautiful views and green spaces (and high-profile tech companies like HP and Tesla) mean that housing is in high demand, and I've watched many of my clients make compromises on square footage when they buy homes here.
A woman I worked with recently was relocating to Palo Alto, where she'd be downsizing to a 2-bedroom house (still large, compared to some of the city's options). The trouble was, she had two adult children, both married, who frequently came to visit over the holidays, and she was worried about being able to host everyone comfortably. Fortunately, custom cabinetry allowed for some elegant solutions—you can still have space for guests without needing a physical spare bedroom.
Keeping Your Guests Comfortable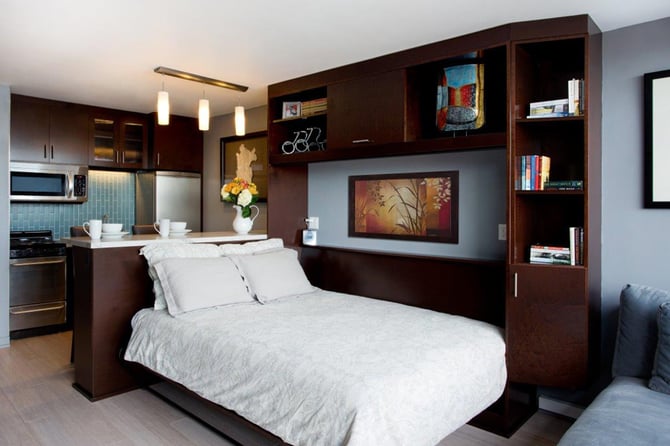 Horizontal tilt wall beds are a great solution for narrow spaces.
Image Source: Valet Custom Cabinets & Closets
The living room often turns into a makeshift guest room by default—all you have to do, it might seem, is add a couch with a fold-out bed. But if you've ever slept on a fold-out bed, you know just how uncomfortable they can be, with springs and crevices that make a weekend trip seem unending. Putting one away also requires multiple steps and a little elbow grease, which can be a hassle if you want to use the living room for other activities
A more accommodating option is a wall bed, which we can design as a standalone unit or as part of a custom entertainment center for your living room. The bed can be easily stowed with a nudge of your hand, freeing up floor space for other activities. It's also vastly more comfortable: our beds come with full-sized mattresses, and you can even add your own mattress if you have a preferred brand.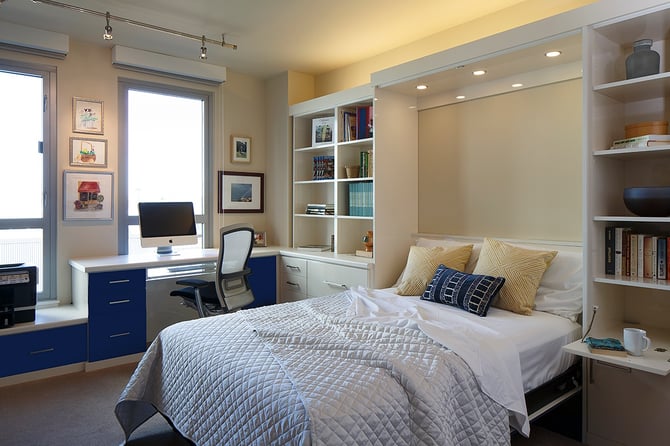 A vertical tilt wall bed is much more comfortable than sleeping on the sofa.
Image Source: Valet Custom Cabinets & Closets
Custom design also means that a wall bed will work with a room of virtually any size or shape. Horizontal tilt wall beds are often the best option for narrow rooms, for instance, while larger areas can better accommodate a vertical tilt design.
Entertaining and Decorating
Since you'll probably want to use your freed-up floor space to do some actual entertaining, a custom media center, either attached to your wall bed or as a separate unit, provides a lot of additional options. Video game consoles, DVRs, surround sound systems, and Blu-Ray Players can be organized in drop-front cabinets so that they're hidden when not in use. They can also be housed on slide-out shelves, making them easy to move if you need to rearrange cords.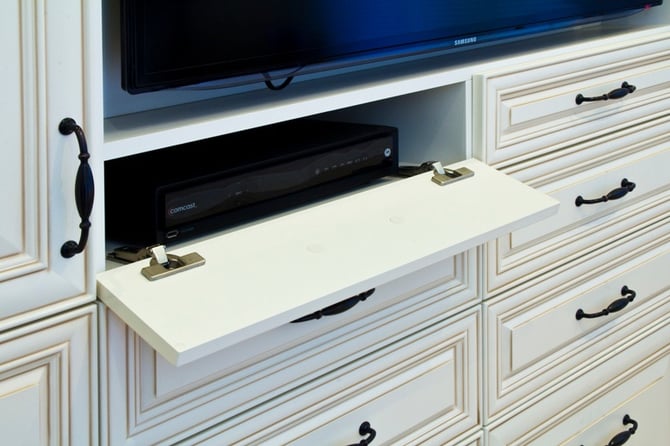 Keep visual clutter to a minimum by hiding electronics behind drop-front cabinetry.
Image Source: Valet Custom Cabinets & Closets
Adjustable shelving is another important element, whether you want to display books, artwork, or cherished heirlooms. The counterbalancing mechanism on all of our wall beds means that you can add shelf space directly above the bed without worrying about knickknacks and books being disturbed every time you open or close it.
You also shouldn't overlook the wall space behind your bed. It seems like a small touch, but you can transform this area with artwork that's only visible when the bed is down and guests are using their "hidden room."
Freeing up More Floor Space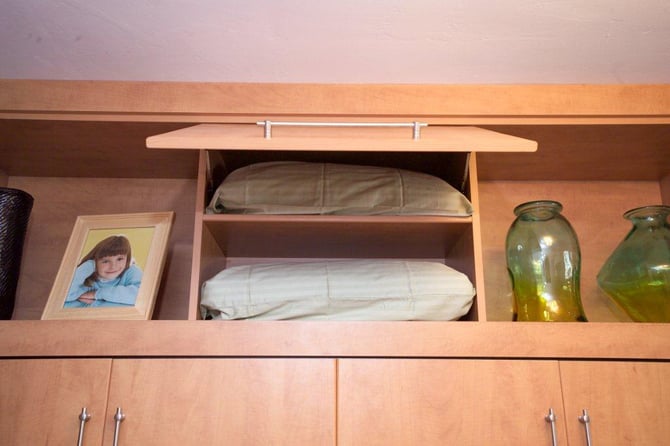 Cabinet doors hide guest amenities.
Image Source: Valet Custom Cabinets & Closets
Finding a spot to stow spare bedding during the day is a challenge in itself. Custom cabinetry can hide amenities like extra pillows, blankets, and towels, while LED lighting above your wall bed or along shelving units can free up additional space by taking the place of floor lamps. (This also makes it easier for guests to find what they need without hunting around for the main light switch.)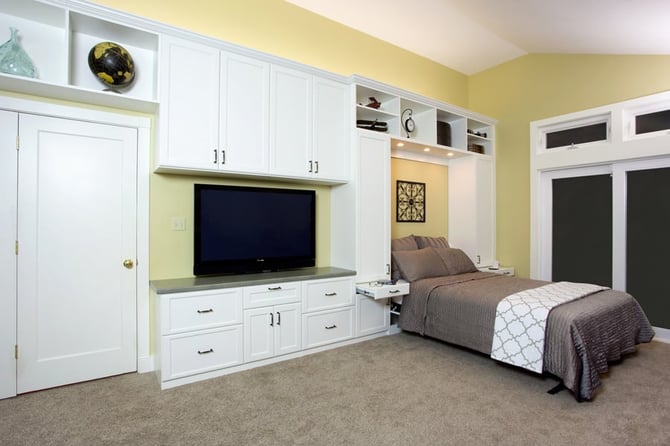 Slide-out nightstands don't take up much space but make guests' bedtime routines much easier.
Image Credit: Valet Custom Cabinets & Closets
Slide-out nightstands are another excellent option, a place for guests to put glasses of water or to charge their smartphones, and they can be hidden away during the day. Space permitting, you can even add a built-in wardrobe, with empty drawers and hanging rods for guests to keep their clothes while they're staying. I often suggest adding shelves for shoes and space for luggage, too—this helps keep your living area free of trip hazards.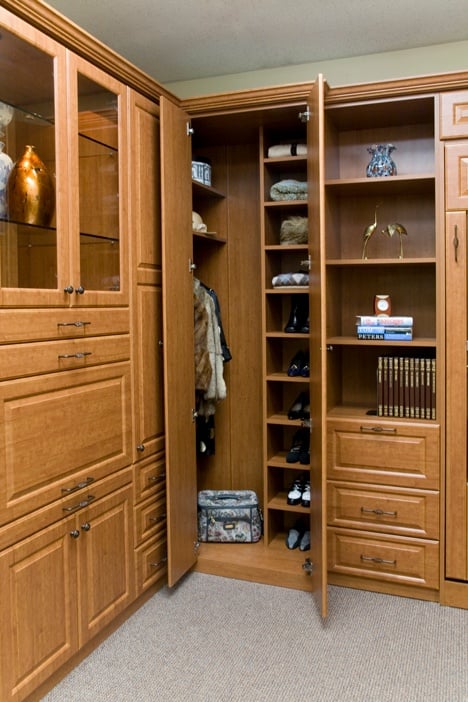 Wardrobe space for your guests allows them to unpack even in the living room.
Image Credit: Valet Custom Cabinets & Closets
In a beautiful city like Palo Alto, where space is at a premium, it isn't always possible to have a guest room. Whether you're moving to the city for the first time, or hoping to finally invite family down for the weekend, we have beautiful custom options to add a guest "room" to your home even if you don't actually have a spare bedroom. Get in touch for a consultation, and we'll help you create the space that you need.
---
Valet Custom Cabinets & Closets designs, manufactures and installs custom organizational solutions that enhance the functionality of your living space while complementing the décor of your home.
Our talented design team creates unique solutions tailored to your specific needs, style, and budget. We are independently owned and a direct manufacturer.
Our areas of specialty include Home Offices, Wall Beds, Media Centers, Closets, Pantries, Garage Cabinetry, and much more.
Exceptionally Designed & Styled * Expertly Crafted with 5-Star Execution
---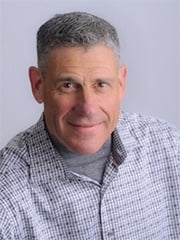 About Larry Fox, President
Larry is a graduate of the University of Southern California School Of Business. After receiving his degree he returned to the Bay Area and spent 18 years working in his family's 100+ year old metals recycling business. Upon the sale of that business in 2000, Larry and his wife Audrey purchased Valet. Larry has become a leader in the industry and is a past president of the National Closet Group. Larry loves turning people's dreams into reality, and remains as enthusiastic about the business today as he was when he first acquired it. View Larry's Houzz Page.